Marcel van Eeden, Sprueth Magers London |

reviews, news & interviews
Marcel van Eeden, Sprueth Magers London
Marcel van Eeden, Sprueth Magers London
Seeing things in black and white: a film noir drawn in pencil
Van Eeden has created a mysterious story based around three characters - an athlete, an assassin and an artist - who meet on 22 November, 1948, the title of the show. There is murder in the Seychelles, a tram accident in Zurich, maps and guns and explosions, a complex plot which we can only ever see fragments of in his drawings. The Third Man plays a key role - it was also set in postwar Switzerland, with three mysterious men moving through the shadows - as does a murder that occurred during World War Two when the Duke of Windsor was in the Caribbean (hinted at in the picture below).
Working almost entirely in nero pencil, which gives a waxy yet deep sheen, an almost comic-book chiaroscuro, Van Eeden hitches his world to ours by use of archive photos and text, which he repurposes to be part of his story, removing all the names and specific indicators. His fictions occur in the real world yet embrace our fictions and the elliptical narrative that results reminds us that a story can be compelling both for what it says and what it hides. You follow the story from one picture to another, like a movie storyboard, but you must supply the missing scenes.
Van Eeden, who in the past made a drawing a day (until, one divorce later, he realised it was bad for his social life), says that he has chosen a point before his birth to spin the story around because - like the time after his death - it may as well not exist. By combining an unreal perception of real time with an unreal story set in the real world, you begin to see that the clear lines between his black pencil and the white paper are not in fact so clear.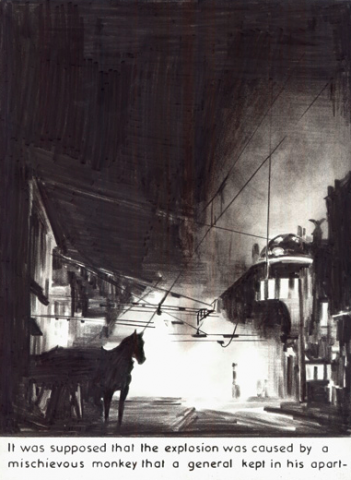 There is real, old-fashioned beauty in these works too, almost all of which are A4 size, cleverly displayed against a dark wall in a jumpy sequence which reflects the jerkiness of the narrative. Instead of an ugliness which tries to push us away, one of the keystones of contemporary art, there are drawings that make you stop, like the black horse in a black scene, only illuminated by what seems to be an explosion of pure white in the background (pictured right). The shading is, for lack of a better word, perfect.
The narrative has taken on a non-narrative life of its own. In the back space, there are drawings by category, including Occult, with inspiration from Revelation, and another category with some wonderful drawings of houses that look like Van Eeden's interpretation of Julius Shulman's Modernist house photos.
Like a great film, Van Eeden draws you in with an intriguing story, even as he proceeds to turn your certainties about how stories work on their head, and like the best films, he makes each scene beautiful.
Share this article