My Summer Reading: Sculptor Cornelia Parker |

reviews, news & interviews
My Summer Reading: Sculptor Cornelia Parker
My Summer Reading: Sculptor Cornelia Parker
The sculptor turns the pages of Colm Toibin and Barbara Kingsolver
Sculptor and installation artist Cornelia Parker is our fourth guest to choose some favourite books for holiday reading. Born in 1956, she is known in part for her suspended sculptures that appear to capture the moment of explosion, as well as for her celebrated sleeping installation of actress Tilda Swinton (The Maybe) at the Serpentine in 1995.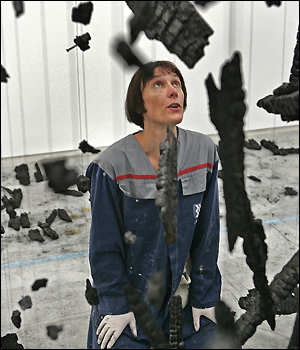 Her inquiring, deconstructing ideas that include wrapping Rodin's The Kiss in a mile of string (Tate Britain, 2003) or dropping, crushing and variously destroying objects have brought Parker constant explosure in major galleries, from Tate Britain and Hayward to the Whitechapel. Currently she has an exhibition in Gateshead till 19 September, and a new permanent piece at Jupiter Artland Sculpture Park near Edinburgh. Given her interest in destruction, it's interesting that she likes reading very human and linear narratives about characters.
Mothers and Sons by Colm Tóibín. It was bought for me by my husband, as I had read his novel Brooklyn which I loved. I read it in one sitting on a flight to New York which fits perfectly with the story. I would thoroughly recommend it as compelling holiday read.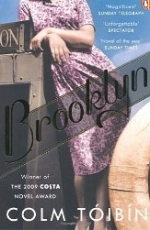 [Extract from Brooklyn: A Novel by Colm Tóibín (Penguin 2010): pp 5-6]

[Eilis] knew Miss Kelly by sight, but her mother did not deal in her shop as it was too expensive. Also she believed that her mother did not like Miss Kelly, although she could think of no reason for this. It was said that Miss Kelly sold the best ham in the town and the best creamery butter and the freshest of everything including cream, but Eilis did not think she had ever been in the shop, merely glanced into the interior as she passed and noticed Miss Kelly at the counter.
Miss Kelly slowly came down the stairs into the hallway and turned on a light.
"Now," she said, and repeated it as though it were a greeting. She did not smile.
Eilis was about to explain that she had been sent for, and to ask politely if this was the right time to come, but Miss Kelly's way of looking her up and down made her decide to say nothing. Because of Miss Kelly's manner, Eilis wondered if she had been offended by someone in the town and had mistaken her for that person.
"Here you are, then," Miss Kelly said.
Eilis noticed a number of black umbrellas resting against the hallstand.
"I hear you have no job at all but a great head for figures."
"Is that right?"
"Oh, the whole town, anyone who is anyone, comes into the shop and I hear everything."
Eilis wondered if this was a reference to her own mother's consistent dealing in another grocery shop, but she was not sure. Miss Kelly's thick glasses made the expression on her face difficult to read.
"And we are worked off our feet every Sunday here. Sure, there's nothing else open. And we get all sorts, good, bad and indifferent. And, as a rule, I open after seven mass, and between the end of nine o'clock mass until eleven mass is well over, there isn't room to move in this shop. I have Mary here to help, but she's slow enough at the best of times, so I was on the lookout for someone sharp, someone who would know people and give the right change. But only on Sundays, mind. The rest of the week we can manage ourselves. And you were recommended. I made inquiries about you and it would be seven and six a week, it might help your mother a bit."
Miss Kelly spoke, Eilis thought, as though she were describing a slight done to her, closing her mouth tightly between each phrase.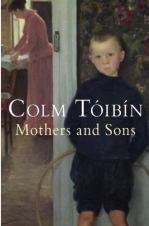 [Extract from Mothers and Sons by Colm Tóibín (Picador 2007), "The Use of Reason", pp 3-4]

He stood at the balcony and did not move when his visitor, who had approached the building by the hidden side door of the complex, appeared. As he did each week, he allowed Detective Inspector Frank Cassidy to pass him and enter the small flat. [...] He paid Cassidy every week, a sum either too much or too little, the amount wrong enough to make him feel that Cassidy was fooling him rather than betraying his own side. In return for the money, Cassidy gave him information he mostly knew already. [...]
"They're watching the Wicklow Mountains," Cassidy said by way of greeting.
"Tell them to watch away. The sheep are eating grass. It's against the law."
"They're watching the Wicklow Mountains," he said again.
"From a cosy armchair in Harcourt Street," he said.
"Do you want to hear it a third time?"
"They're watching the Wicklow Mountains," he imitated Cassidy's Midland drawl.
"And they've put a young fellow on your case. Mansfield is his name and you'll be seeing a bit of him, I'd say."
"You told me that last week."
"Yeah, but he's busy already. He doesn't look like a Guard. He's looking for jewellery."
"Tell me something new next week."
When Cassidy left, he went back to the balcony and surveyed the grimy world once more. As he turned away, something came to him, a sharp memory from Bennett's jewel robbery. They had ordered five of the staff, all men, up against the wall when one of them asked if he could use his handkerchief.
He was alone guarding them with a pistol, waiting for the others to round up the rest of the staff. He had told the guy in a fake lazy American accent that if he wanted to blow his nose then he had better take out his handkerchief all right, but if he took out one other thing, he would be dust. He had sounded casual, trying to suggest that he was not afraid to address such a stupid question. But when the guy removed the handkerchief, all the loose change in his pocket had come too, coins rattling all over the floor. The men looked around until shouted at them to face the wall again quickly. One coin kept rolling; his eyes followed it and, as he bent to pick the other coins up, he moved to pick that up too. Then he walked over and handed the coins to the man who had needed to use his handkerchief. This made him feel calm, relieved, almost happy. He would rob more than two million pounds worth of jewellery, but he would give a man back his loose change.
2. What do you intend to read next while you're on holiday?
The Poisonwood Bible by Barbara Kingsolver, which is an International bestseller, therefore should be a guaranteed unputdownable holiday book.
Explore topics
Share this article