Shadow Catchers: Camera-less Photography, Victoria & Albert Museum |

reviews, news & interviews
Shadow Catchers: Camera-less Photography, Victoria & Albert Museum
Shadow Catchers: Camera-less Photography, Victoria & Albert Museum
Five contemporary artists in unusual and entrancing photo exhibition
Camera-less photography isn't, as some might think, a 20th-century invention, discovered by experimental Modernists such as Moholy-Nagy and Man Ray. Thomas Wedgwood, before the invention of the camera and at the very beginning of the 19th century, made paintings on glass and placed these in contact with pieces of paper and leather which had been rendered light sensitive with chemical treatments. Where the painted areas blocked the light, the image left its trace. Unfortunately, since Wedgwood lacked knowledge of how to fix the images, the results vanished almost as soon as they appeared.
From 1834, William Henry Fox Talbot made similar camera-less images. He placed botanical specimens and pieces of lace directly on to sensitised paper. He also learnt that you could fix these images by using common salt. Unlike Wedgwood's lost efforts, you can see the beautiful and pioneering work of Fox Talbot at the V&A, where five contemporary camera-less photographers – some using pretty similar techniques –  are also showing their work in a stunning exhibition.
German photographer Floris Neusüss and Frenchman Pierre Cordier (pictured right: Chemigram 8/12/61 III, 1961) are the oldest in this selection. Their work picks up where the photo experiments of the abstract and Surrealist artists of the inter-war years left off. Both began exploring camera-less techniques in the Fifties, when the dominance of documentary photography was at its strongest. Indeed, Cordier resists being called a photographer at all. "Saying that I am a photographer because I make chemigrams [a rather cumbersome term which describes a technique that uses photo chemicals rather like paint] is like saying that Leonardo Da Vinci was a cabinet maker because he painted the Mona Lisa on wood."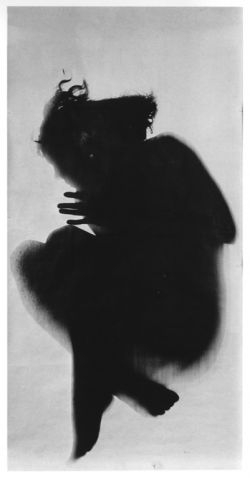 Both aesthetically and technically, the work of Neusüss and Cordier couldn't be more different. Whereas Neusüss taps into a Romantic and mystical figurative tradition, some of Cordier's abstract images could pass for intricate mathematical puzzles. Working on a much smaller scale than Neusüss's to-scale images of the human figure, Cordier has a strong affinity with the rigorous and repetitive geometry of traditional Islamic art. He also works with a large element of chance: by repeatedly dipping photo-paper into developer and fixer – one for darker tones, the other for lighter - he creates chemical reactions around the lines he has delicately etched on to the paper. In contrast, softly overlapping, organic forms are created by simply pouring photo chemicals on to the paper. These spectral images, with their long, rounded shapes, might suggest faint traces of bone imprinted on shrouds.
Ghostly, and occasionally rather sinister-looking, are the figures from Neusüss's photograms, in which the subject lies directly on the paper. Curled tightly, or elegantly contrapposto, or else reaching up with lithe, athletic bodies, the balletic figures here immediately draw you into a world of myths and fairytales: the crouching figure (pictured above left) of a mischievous imp, say, creepy with malign intent, or the airily dancing figure of Flora with her two woodland sprigs. These shadow figures, seemingly levitating, are impressive in the dimmed light of the gallery. They also look as if they might, at any point, punch their way out from behind the screen. Or perhaps as if they are eternally trapped.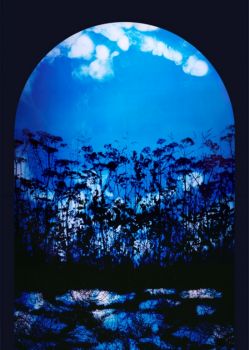 The three other artists are all British and began working with camera-less photography in the Eighties. Garry Fabian Miller produces images of startling luminosity that are inspired by nature. In Twenty-Four Days of Sunlight he has produced a "colour-chart" of beech leaves: each leaf is slightly darker than its predecessor, having been selected each day in the spring when the leaves turn from pale yellow to deep green. The light shone through them, directly on to the paper, captured the image. In his more abstract images, distant, shimmering worlds are evoked (pictured above, Year One: Edrinios).
Meanwhile, Susan Derges makes the familiar look very strange indeed: her series of photograms entitled Vessel, for instance, which depicts jars of toadspawn through their life cycle, resemble little more than abstract patterns when viewed at a distance. In her most recent series, Arch , watery, dream-like landscapes represent the four seasons (pictured above right: Arch 4, Summer) and suggest stained-glass windows through which the viewer might be looking. The perspective is low, as if from a child's-eye view.
Finally, in a vein similar to the Victorian photographers who sought to trick us with photographs of fairies, Adam Fuss creates a world that is both enchanting and slightly sentimental: white, ectoplasmic birds flutter in the air, while an extravagant plume of smoke configures to vaguely resemble a human form. But one is certainly touched by a baby (main picture) forming an imprint on a sea of bright, searingly luminous yellow.
Explore topics
Share this article