theartsdesk in New York 1: Guitar Month |

reviews, news & interviews
theartsdesk in New York 1: Guitar Month
theartsdesk in New York 1: Guitar Month
Stradivari, Picasso and Knopfler meet in the city's biggest museums
February is guitar month in New York City. Synchronicity rules at those two giants, the MoMA and the Met. At MoMA, Picasso: Guitars 1912-1914 shows his austere guitar paintings, collages and drawings - often using newspaper, wallpaper and sand - as well as constructions of guitars made of cardboard and one of sheet metal and wire. "What is it? Painting or sculpture?" asked snooty visitors to his Paris studio. "It's nothing, it's el guitare," Picasso, who didn't play an instrument, is said to have replied.
(Pictured right: Still life with Guitar, 1913. Paperboard, paper, string and painted wire installed with cut cardboard box. The Museum of Modern Art, New York)
As a counterpoint to Picasso's "imagining a guitar", as he descibed it to Braque, the Metropolitan Museum's new show Guitar Heroes: Legendary Craftsmen from Italy to New York (on till 4 July), shows guitars, and the Italian-American tradition of making them, in glorious reality and Technicolor. These guitars are art objects, almost sculptures in themselves. The 80 or so instruments, many of them lusciously decorative, some centuries old, some made for collectors and some for jazz and rock greats with their names on the headstocks, are very satisfying to behold. There are lovely, tiny 18th-century mandolins with checkerboard patterns on the back and sides in ebony, ivory and mother of pearl; there are elegant archtop Art Deco guitars which echo the architecture of New York; harp guitars; electric guitars; blue guitars; a 1950s Rifle electric mandolin shaped like a gun; a plastic guitar (not a good look); guitars shaped like teardrops, commissioned by Pete Giraldi of the Teardops in 1957; a Deco Vox, inspired by the Chrysler Building at sunset, and a collection of Four Seasons guitars which include silver, diamonds and rubies in their components.
The show is the brainchild of Jason Kerr Dobney, an associate curator at the Met who has been fascinated for years by a school of instrument-making that is "right here in New York City". He's picked three brillliant, innovative craftsmen, representing three generations of Italian-Americans: John D'Angelico, James D'Aquisto and John Monteleone.

A bit of context: if you wanted a stringed instrument in the 16th century, you went to northern Italy to get it - more specifically, Venice for lutes, Cremona, home of Stradivari, for violins and guitars, often gorgeously ornate Baroque creatures made of exotic materials such as bone, snakewood and ivory. Stradivari used the same wood for guitars as he did for violins: spruce for the top, maple for the sides and back, still standard for modern archtop guitars. In the show is his simple Rawlins (pictured left), made in 1700, one of only four guitars by him that survive. In the 18th and 19th centuries - perhaps connected with the death of Stradivari in 1737 - Naples, where the modern six-course single-string guitar was born, took over as luthier central. "Luthier" may be an unfamiliar word; in fact, even luthiers themselves haven't always heard of it. "I didn't know I was a luthier till years later when someone said I was one," says self-taught John Monteleone, 63. "I said, 'OK, I thought I was a guitar maker.' I hadn't heard of the term."
In the USA a strange case of mistaken identity sparked off a movement that would lead to mandolin mania. In 1880, when the huge wave of Italian immigration was beginning, a group of Spanish bandurria-playing musicians called the Spanish Students toured the USA. They were a big hit, but the American press, not knowing a bandurria from a mandolin, thought the instruments were one and the same. So when Italians formed their own imitation ensembles featuring mandolins, a craze was born. Thousands of mandolins were imported from Italy and many Neapolitan luthiers took the opportunity to move to New York and set up shop.
The guitar heroes of the Met's show belong in this tradition. John D'Angelico (1905-1964) was born in Little Italy, New York and apprenticed to his great uncle in his shop on Kenmare Street. When his uncle died in 1923, D'Angelico took over and in 1932 he opened his own shop, also on Kenmare Street, making archtop guitars when the mandolin market went into decline. He made 1,200 instruments, sought after by many musicians - Les Paul, Pete Townshend, George Benson, Chet Atkins (June Carter Cash knocked Atkins's D'Angelico Excel guitar off its stand and broke off the headstock in 1953). And what could be more native to New York than D'Angelico's top-of-the-range, big-sound New Yorker guitar, with its design inspired by the Art Deco New Yorker hotel that opened in 1930?
'One of the greatest inventions since spaghetti': a short film about the Met's Guitar Heroes
James D'Aquisto (1935-1995) was born in Brooklyn and became an apprentice to his mentor D'Angelico when he was an enthusiastic 17-year-old musician. He took over the shop in Little Italy when D'Angelico died aged 59, then later moved to Greenport, Long Island, developing a simpler, cleaner aesthetic than D'Angelico's. He thought metal and plastic parts and added inlays all interfered with the sound; plastic bindings also quickly deteriorated, so he stopped using them in favour of all natural materials. He made electric guitars for jazz icon Jim Hall and a beautiful acoustic oval-hole - the shape gives a sweeter sound - archtop for Paul Simon with his name inlaid in mother of pearl on the headstock. He collaborated with Steve Miller for years. (Pictured below, archtop guitar by James D'Aquisto, 1994)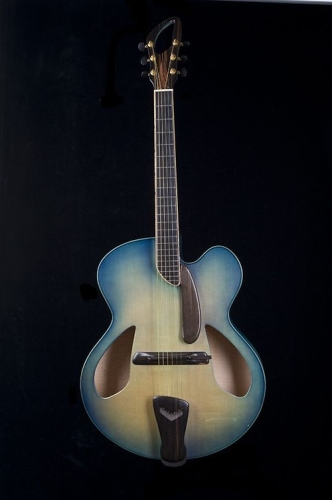 "He gave me the greatest voice I"ve ever had," says Miller, as he describes the first big archtop guitar D'Aquisto built for him. "I went out to his shop... It was like a tiny little dollhouse. You could hardly stand up in it." D'Aquisto showed Miller his guitar, which was still drying. "It was the most beautiful thing I had ever seen... It was extremely light. The tolerances had been taken farther than most guitar makers would ever do... It had all this coiled energy inside it."
John Monteleone, whose father was a sculptor, taught himself by examining high-quality instruments and working out how they were made - his first experiment, aged 12, consisted of smashing up an old guitar and inspecting its components. A white-haired, distinguished-looking man, he plays every day on a Steinway grand piano that he rebuilt himself. He specialised in mandolins for the folk scene when the acoustic guitar business was in decline and his Grand Artist was the first new model of mandolin in over 50 years.
"You learn to decipher quickly why one instrument might be better than another," he says, and his Radio City - one of these models is nicknamed Marilyn because a dimple on the wood reminded Monteleone of Marilyn Monroe - Sun King, Deco Vox, Four Seasons (main picture) and Teardrop mandolins and guitars are all testament to his skills. Mark Knopfler compared meeting Monteleone, who works in Islip, Long Island, with meeting Stradivari or Leonardo da Vinci and wrote a song about him, based on emails that he sent when making Knopfler an archtop guitar: "The chisels are calling, it's time to make sawdust/ Steely reminders of things left to do/ Monteleone, a mandolin's waiting for you". A musician writing a song about his guitar maker: there's a wonderful circularity of inspiration here.