theartsdesk in New York: Spruce Flats by Gehry |

reviews, news & interviews
theartsdesk in New York: Spruce Flats by Gehry
theartsdesk in New York: Spruce Flats by Gehry
Real estate on the boldest, most beautiful, artistic scale - but no walk-in closet
"Do you realise we're talking about a rental apartment building? It's unheard of," says a friend. We're standing on a street corner discussing the new Frank Gehry building in lower Manhattan. Most new apartment buildings here are concrete and glass, flat and dull, every apartment the same white box, not worth a conversation (I've lived in two). Gehry's building is different. New-York-by-Gehry, as it's grandiosely monikered, is at 8 Spruce Street near the Brooklyn Bridge, bordering the financial district. When you come out of the subway at City Hall, it shimmers above you. It's big: 76 stories high, 870 feet tall. It contains 903 rental units and is the tallest residential tower in the western hemisphere.
Height isn't its main talking point, though - its façade is, which is a wonder: sculptural, undulating, asymmetric, its bay windows shifting in position from floor to floor and looking like Bernini-inspired folds of fabric. "Instead of lining them up on each floor," Gehry, 82, told Paul Golderberger, architecture critic of The New Yorker, in a talk at the 92nd Street Y, "I moved them subtly along the facade to get this fabric-y feeling."
Gehry used the same computer technology - aircraft software that he's adapted for the construction industry - that he used for the Guggenheim in Bilbao. And his wizardry wasn't even that expensive. "An extraordinary building," says Goldberger, "has been brought in apparently at the cost of any of the ordinary pieces of crap we see all the time."
The critics have raved. Nicolai Ouroussoff of the New York Times says it lifts lower Manhattan out of its decade-long gloom and calls it "the finest skyscraper to rise in New York since Eero Saarinen's CBS building went up 46 years ago. And like that tower, and Philip Johnson's AT&T (now Sony) building after it, 8 Spruce Street seems to crystallise a particular moment in cultural history, in this case the turning point from the modern to the digital age".
OK, so the exterior is amazing, but what's it like inside - and would you want to live there? The first renters have just started to move in. I spot one, an incongruously ordinary-looking chap with a shopping bag, looking slightly dwarfed by the massive, honey-coloured Douglas-fir walls in the lobby of 8 Spruce Street.
I'm meeting Jayson, an arty real estate agent (interesting specs, several ear studs) who'll show me some apartments. He was in theatre for years and studied at Yale and Oxford. "And now I'm a realtor. Oh, well, there's drama in New York real estate."
He's moving apartments himself soon and this building is at the top of his list, along with a couple of other new ones on the Upper West Side. We whizz up to the 37th-floor rental gallery to sign application forms and admire the stunning views from those bay windows. When you walk into the bay, says Gehry (pictured below), it's like stepping into outer space if you're on a high floor. Yikes. "The window surrounds you," he told Goldberger. "There's nothing like that in New York."
All the East River bridges span out on one side, landmarks like the Chrysler building and the Empire State to the north. Nearby to the west is the Neo-Gothic 1913 Woolworth Building, one of New York's first skyscrapers, with a cream terracotta facade that the Gehry building echoes, and, farther away, the Hudson river and its piers. And you can see the shining folds of other bay windows, too, when you peer out to the side. There are 10,500 of these individual steel panels, all slightly different in shape.
Even the hallways, usually grim Eraserhead places where no one lingers, have the Gehry touch: the lighting changes depending on which direction you're headed. There are zigzag LED pointers if you're going south and soft sun-like globes to the east - to be used as compass points if you get lost, which you might. This huge building - 1.1 million sq ft of it - could be overwhelming.
There are scores of apartments on the lower floors, fewer as you get higher up (rents get higher too up there). The hallway walls are lined with a linen-like fabric. "Texture," murmurs Jayson as I run my hand over it. Turns out it's bamboo - very green. As is the iCrete, rather than concrete, used in the building (and also in the Freedom Tower at Ground Zero). No, it's not an iPad app. iCrete is a concrete formula that contains less cement and is less wasteful than conventional concrete, another reason Gehry was able to meet the tight budget he was given by Forest City Ratner, the developers.
There are some - but not enough - closets, with rails and a few shelves. And do I see a walk-in wardrobe? No, I don't
Because the exterior is so wild, the apartments themselves are a slight come-down. First we see the show units, equipped with mainly white, undulating Gehry-designed furniture - which you can buy if you want - and imposing views from the walls of those asymmetric windows. Then on to a studio ($2,630 a month): small, and on the south side of the building which is flat and "presents its backside to Wall Street", as Ouroussoff puts it. This wasn't to cut costs but, Gehry says, because he wanted a "sharp cut-off". So no bay windows here, but a good industrial view of the hoist, still in use as the building's upper floors won't be finished until the end of the year.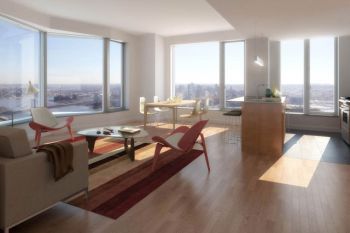 On to some one and two-bedroom apartments, rents starting at $3,580 and $5,945 - not at all extortionate for this market. There are over 200 different floorplans, so each apartment has a different feel. Not your run-of-the-mill cookie-cutter. The windows come equipped with stylish solar blinds instead of the usual boring, brittle Venetian kind. No intrusive, bulky a/c units, but flat, vertical ones. The kitchen cabinets are all made of that signature Gehry Douglas fir, which begins to feel a bit flat and samey, and is, after all, just another name for pine. But the custom-designed brushed stainless steel door furniture is lovely - more sculptural waves - and the flooring is white oak instead of standard-issue fake parquet.
Some of the two-bedroom apartments have windows in the bathrooms, a real rarity in New York. The tiles are tasteful gray porcelain rather than the usual fake marble, the showerheads are the watering-can variety. And the wooden bathroom cabinets - not the mirrored kind, but long, vertical and set back unobtrusively - are big. Jayson and I admire the little racks for cosmetics. Every apartment has a washer-drier, not a given, strangely enough, even in new Manhattan buildings. There are some - but not enough - closets, with rails and a few shelves. And do I see a walk-in wardrobe? No, I don't. Full disclosure: I've got one in my apartment, a few blocks from Spruce Street in a building that's about three years old, and - am I turning into Carrie Bradshaw? - I love it so much I take photos of it.
I ask to see the swimming pool and other amenities - three floors of them and $300 extra a year (my pool and gym, on the other hand, come included in the rent) - but they're not ready yet. The list is spectacular, though I wonder how much they'll actually be used. There's a Tweens Den with Wii, a library, a spa suite, a chef's demonstration and catering kitchen, a drawing room with grand piano, a grilling terrace with dining cabanas, a yoga and Pilates studio and a screening room. And there'll be two public plazas designed by Field Operations, the people behind the High Line park. You need never leave, especially if you're a kid, because on the five lower floors there'll be a school. And if you're ill, there'll be a branch of the Downtown Hospital. Interiors not designed by Gehry and with, of course, a different entrance.
"I live in the Gehry building." A declaration with an inbuilt wow factor. And there's no doubt that the building answers venerable architecture critic Ada Louise Huxtable's definition of a successful skyscraper, written in 1973 when she was criticising the Twin Towers for their narrow grid. "The most beautiful skyscrapers are not only big, they are bold; that is the essence and logic of their structural and visual reality. They are bone beautiful, and the best wear skins that express that fact with the strength and subtlety of great art." But wouldn't it be nice if they came with walk-in closets?
Explore topics
Share this article