theartsdesk Q&A: Artist Mark Wallinger |

reviews, news & interviews
theartsdesk Q&A: Artist Mark Wallinger
theartsdesk Q&A: Artist Mark Wallinger
The Turner Prize-winner talks politics, multi-tasking and meeting Dennis Hopper
For his new show at Anthony Reynolds Gallery, London, Turner Prize-winning artist Mark Wallinger will be unveiling a first: a life-sized, three-dimensional "self-portrait". But it won't be a straightforward representation of the 50-year-old conceptual artist. It will, instead, be a representation of himself as the letter "I" in Times New Roman. His Vauxhall studio, in South London, is filled with pictures of "self-portraits" of the artist as a series of letters. It is also filled with the debris of current and recent projects: bits of string and deflating balloons; scrappy reproductions of Velázquez's
Pope Innocent X
; poster-sized pictures of sleeping commuters downloaded from the Internet; images of his
Ebbsfleet horse
that will eventually greet Eurostar passengers arriving from the Continent; and quite a few mirrors.
Wallinger has a  fascination with the idea of doubling-up and "mirroring" that has formed the basis of much of his work in recent years, from his ambitious curatorial project
The Russian Linesman
, at the Hayward Gallery last year, to
Tate Britain's
State Britain
, his replica of Brian Haw's anti-war protest placards, for which he won the Turner Prize in 2007. In addition to his Anthony Reynolds show, he'll be unveiling a new British Arts Council commission in Turkey later this year. And one day we may even get to see that giant horse.


Fisun Güner: You've had non-stop projects on the go since winning the Turner Prize in 2007. I imagine it's been a bit like spinning plates.

Mark Wallinger: The last few years have been curious in that I started getting together things and thoughts for The Russian Linesman and then the Turner Prize, and the Horse came in-between, and so that was like keeping a few plates spinning. It was difficult to keep The Russian Linesman thread going through all that.

That was a very complex project, and a very creative exercise in curating.


It felt like a debut album or something, but it didn't take me long to identify my subject matter. I just looked back through my own work and I do seem to be detained by frontiers and borders, and also this idea of mirroring (Double Still Life, 2009, pictured right). But it was quite draining. And, you know, I'm not an academic and I didn't have a sort of waterproof thesis, but I knew that I had enough to say and enough of a structure. At the same time the work's got to remain its own thing, not just an illustration of something else. Plus these were works by my peers that I didn't want to louse up. And I've never written anything like a catalogue before, so that was an interesting challenge. So, with all that going on, I was actually more nervous than I've been about my own work.

You'd created new ideas with existing works by the way you'd placed them. You were very "present" in that exhibiton.

That's a good point. I did, in my head, tend to think of these things as "my work". But like I said, it's a bit like the first album and the second one's not going to be nearly as good if I try again. Pretty much everything and anything I knew or had learnt went into that exhibition, so I'm not sure whether I'd curate again. 

Do you work well under pressure?

I'm hell to live with and I moan, but I do generally come up with the goods. And thematically, different projects feed into one another. For instance, for a recent show I had in Oslo, I knew that they'd be something to do with the idea of mirroring that I'd used in The Russian Linesman. Also, on the building frontage for that show I'd put the letters UN, which was inspired by a thought that occurred to me within The Russian Linesman about the fact that I've been to quite a lot of divided places over the years and, after a while, I'd started seeing that UN sign that I was seeing everywhere as meaning "un". It was as if we were trying to "undo" the terrible things that had been done. There's a sense of "We've failed, but at least we're here".

So does this new show at Anthony Reynolds expand on these ideas?


It does, but it's a very distilled version because it's a much smaller space, it's tiny. Downstairs will be a piece called Self which is a representation of myself as the letter "I". I've done a number of self-portraits which are like that, and now I'm making a sculpture which is the same height as me but it's a capital letter "I" in Times New Roman.

I want to talk about this up and coming Arts Council project in Çanakkale, Turkey. What was it like working there?

It's in the most amazing part of the country. It's on the Dardanells, so you've got Gallipoli opposite and you've got Troy just down the road. And I got taken around pretty much every battle field and cemetery in Gallipoli. What's so odd is that there are no Turkish people living there, which, with the scale of the slaughter that happened there, I suppose you can understand. It's mainly Romanian and Bulgarian workers who are left and the rest of it's like a memorial, in an sense. You inevitably find out more about Ataturk and quite how remarkable he was. The last battle (in January, 1916) was pretty much hand-to-hand combat, but within 10 years he'd changed the written language and given women the vote. So it's actually a more impressive revolution that he effected than almost anywhere else you can imagine. And Çanakkale is a small city - about 60,000 people, I think – situated at the narrowest point of the straits. So, with all the historical associations, the commission was a bit of a big ask.

You're going to use these historical associations?

It's very hard to avoid. I mean it is the most over-determined site in terms of history and myth. The thing that struck me most in Çanakkale is the ceaseless passage of these enormous cargo vessels. They're the only way in and out of the Black sea and I read somewhere that half the world's trade, in the history of the world, has passed there. I worked out that every six minutes one of these vessels go by. So my idea was to make a little cinema, a little camera obscura box, that will point across to the straits and the passing cargo vessels. But it'll be 24-hours previous, so it will be contantly playing yesterday.

You finally got the Turner Prize in 2007. What was it like getting it at that stage in your life? It can hardly make any difference in terms of your career or the commissions you're receiving.

It honestly didn't occur to me that I'd be nominated. Because I was nominated 12 years beforehand (the prize was awarded to Damien Hirst in 1995), I thought, "Well, it's 12 years since then, why not?" And I spent the rest of the summer practising not being disappointed. The only thing was that you get a slightly febrile sense of, "What do I put in the show?" You get nominated for one thing, and than you have to decide what to put in the Turner Prize exhibition and that's always tricky.

Dennis Hopper was giving out the prize (credit BBC; pictured below right). What was he like?


Oh, that was cool. And not at all intimidating. He was utterly charming and after the award when I had my little say, I got taken upstairs by the photographers and Dennis came up to me – sort of like my mate or my mentor, or something - and I said to him, "Do you know, Dennis, I always think about you every time I'm on an aircraft when they tell you, in that bit of the pre-flight drill, "In the event of a drop in cabin pressure" and the mask drops down in front of you. So he quite liked that.

Did he talk to you about art?

Well, we did talk about one or two things about art, because I know he's a photographer and a collector. But what was impressive as well is that he'd been in Liverpool for a few days (the Turner Prize that year was held at Tate Liverpool), just kind of looking around. I mean you imagine other celebs who are just barely there a nano-second and then they're off for another engagement.

You won the Turner Prize for State Britain. Did you feel that work was misunderstood by a lot of critics who thought it was little more than agit-prop?



The thing about State Britain (pictured left) was that, as a work of art there was a high degree of likeness to the original. That was part of the work that wasn't taken on board by a lot of people. It's like a double-take and then you're scrutinising it in a different way. It's normally things that are more officially sanctioned that are remade to every last detail.

You've often worn your politics on your sleeve in your work. Is that a fair statement?

I just get very angry about the infringements on liberty, of the right to protest. I was living in Berlin when the war started, and no-one there could understand what we were doing in that war, and nor could I. And what really shocked me, and what I found incredibly odd, was everyone's acquiescence. Everyone came out for that big march and it was a bit like, "Oh, well, we tried and it didn't work". Meanwhile the war goes on. Brian (Haw) did feel like the last protestor left in Britain pretty quickly. And then he was portrayed in a certain way by papers that should have known better, like the Guardian, who described the protest as an eyesore. But it was the most effective document against that war that I'd come across.

That's a protest with very specific aims. What do you think of the current campsite on Parliament Square?

I haven't seen it yet. I got a text from Brian a couple of days ago saying, "You've got to come down to see this". He's not very impressed. He's very good at rooting out that kind of sanctimony, as he sees it. And I think he might be slightly worried that it's some kind of ruse to clear the whole square, including him. I don't know.

I haven't asked about your horse (model for Ebbsfleet horse, pictured below left). When are we going to finally see it?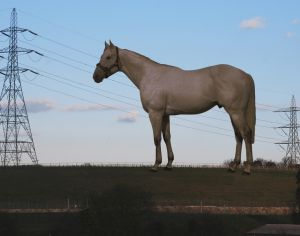 It got permission about a month ago. There was only one objector in the council meeting and it got passed unanimously, so that's good. But it's going to cost £10-12m and we've got to raise the money -  I really think I'm going to have to drive it on a bit. It will be as tall as Nelson's Column, but until the money is there nothing is going to happen at all.
Mark Wallinger is at Anthony Reynolds Gallery, London, from 9 June-17 July
Share this article