Coming soon: trailers to the next big films |

reviews, news & interviews
Coming soon: trailers to the next big films
Coming soon: trailers to the next big films
Get a sneak preview of major forthcoming movies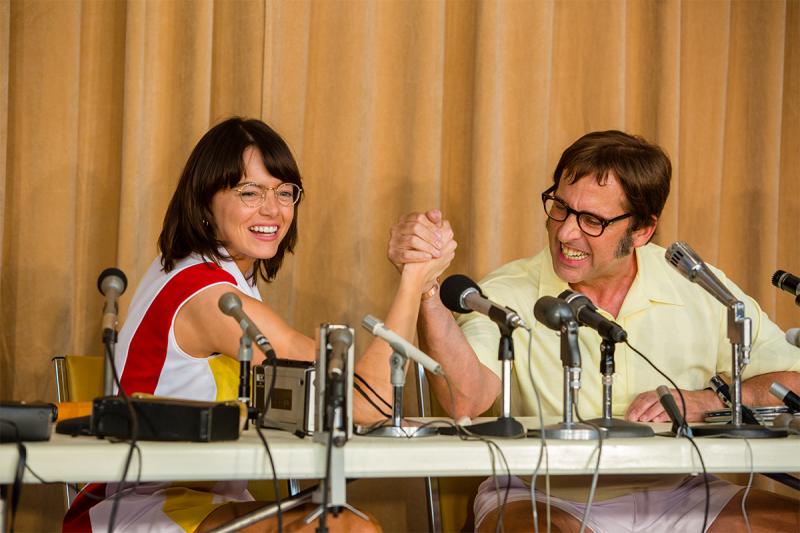 Billie Jean King takes on the patriarchy: Emma Stone and Steve Carell in 'Battle of the Sexes'
Summer's here, which can only mean Hollywood blockbusters. But it's not all Spider-Man, talking apes and World War Two with platoons of thespians fighting on the beaches. There's comedy, a saucy menage-à-trois, a film about golf and even a ghost story. It's called A Ghost Story. We hereby bring you sneak peeks of the season's finest and more titles anticipated in the autumn (and hey, the trailer might even be the best part).
JULY
Girls Trip. Director: Malcolm D. Lee. Starring: Regina Hall, Queen Latifah, Jada Pinkett Smith. Ladies behaving badly. Released 26 Jul
The Big Sick. Director: Michael Showalter. Starring: Kumail Nanjiani, Zoe Kazan, Holly Hunter. "Can you imagine a world in which we end up together?" Cross-cultural romcom about a Pakistan-born comedian who falls for an all-American girl. Nanjiani also wrote the script. Released 28 Jul
47 Meters Down. Director: Johannes Roberts. Starring: Mandy Moore, Claire Holt. If you go down to the deep today, you're in for a big surprise. Very big. Sharks are back. Released 28 Jul
The Wall. Director: Doug Liman. Starring: Aaron Taylor Johnson, John Cena. US soldiers pinned down by an Iraqi sniper. Psychological thriller in the desert. Released 28 Jul
AUGUST
Maudie. Director: Aisling Walsh. Starring: Sally Hawkins, Ethan Hawke. Touching awkward romance in Nova Scotia. Released 4 Aug
The Ghoul. Director: Gareth Tunley. Starring: Tom Meeten, Alice Lowe, Paul Kaye, Niamh Cusack. Low-budget British psychological horror in which a detective goes undercover to catch a shrink. Released 4 Aug
England Is Mine. Director: Mark Gill. Starring: Jack Lowden, Jessica Brown Findlay. Origin story of The Smiths. Can Lowden pull off Morrissey? Released 4 Aug
Valerian and the City of a Thousand Planets. Director: Luc Besson. Starring: Dane Dehaan, Cara Delevingne, Clive Owen. Besson enters the summer blockbuster zone with kids' sci-fi caper with monsters and flying machines. Rare appearance of the Beatles on the soundtrack. Released 4 Aug
6 Days. Director: Toa Fraser. Starring: Jamie Bell, Mark Strong, Abbie Cornish. The 1980 Libyan embassy siege revisited. It's not quite clear why this story needs telling in 2017, several years after the death of Gaddafi, but it was a big public relations boon for the SAS. Released 4 Aug
Atomic Blonde. Director: David Leitch. Starring:Charlize Theron, James McAvoy, John Goodman. Theron plays Agent Lorraine Broughton, a top MI6 operative who is good at punching and shooting and being blonde. Released 9 Aug
A Ghost Story. Director: David Lowery. Starring: Casey Affleck, Rooney Mara. Poetic meditation on grief, time and memory. Released 11 Aug
Step. Director: Amanda Lipitz. Starring: Blessin Giraldo, Cori Grainger, Tayla Solomon, Gari McIntyre, Paula Dofat. Inspirational step class true story set in Baltimore. Think Full Monty, only with women in clothes and not in Sheffield. Released 11 Aug
Tom of Finland. Director: Dome Karukoski. Starring: Pekka Strang. Biopic of Finnish homoerotic artist Touko Laaksonen, better known as Tom of Finland. Released 11 Aug
The Odyssey. Director: Jérôme Salle, starring Lambert Wilson, Pierre Niney and Audrey Tautou. Jacques Cousteau: le movie. Released 18 Aug
Final Portrait. Director: Stanley Tucci. Starring: Geoffrey Rush, Armie Hammer, Tony Shalhoub, Sylvie Testud and Clémence Poésy. Alberto Giacometti works on his final portrait, only for a friendship to develop with his sitter. Released 18 Aug
The Dark Tower. Director: Nikolaj Arcel. Starring: Idris Elba, Matthew McConaughey. Stephen King's latest visit to the multiplex. Released 18 Aug
The Hitman's Bodyguard. Director: Starring: Ryan Reynolds, Samuel L Jackson. Bodyguard action caper. Not big on nuance. Released 18 Aug
American Made. Director: Starring: Doug Liman. Tom Cruise. Low-flying drug runner becomes international mule to the CIA. Based - perhaps loosely - on a true story. Released 25 Aug
Detroit. Director: Kathryn Bigelow. Starring: John Boyega, Will Poulter. Fifty years on, Bigelow revisits a powderkeg city which blew up in 1967. Boyega plays a security guard fitted up for a shooting. Released 25 Aug
Logan Lucky. Director: Steven Soderbergh, Adam Driver. Starring: Channing Tatum, Two brothers from the Deep South go heisting at a NASCAR rally. Released 25 Aug
Rough Night. Director: Lucia Aniello. Starring: Scarlett Johansson, Kate McKinnon, Zoë Kravitz. The Hangover meets Bridesmaids. Then throw in one dead body. Released 25 Aug
SEPTEMBER
God's Own Country. Director: Francis Lee. Starring: Josh O'Connor, Alec Secareanu, Ian Hart, Gemma Jones. Sexual awakening on a North of England hill farm. Yorkshire's Brokeback Mountain? Released 1 Sept
The Limehouse Golem. Director: Juan Carlos Medina. Starring: Bill Nighy, Olivia Cooke, Sam Reid. Jane Goldman adapts Peter Ackroyd's murky Victorian chiller. Released 1 Sept
Patti Cake$. Director: Geremy Jasper. Starring: Danielle Macdonald. Breakout lead role for Macdonald as aspiring hip-hopper cheered on by her grandmother. "An unambiguous joy," reckons the New York Times. Released 1 Sept

Moon Dogs. Director: Philip John. Starring: Jack Parry-Jones, Christy O'Donnell, Tara Lee, Dennis Lawson. Coming-of-age Scottish road trip. Released 1 Sept
Menashe. Director: Joshua Z Weinstein. Starring: Menashe Lustig, Ruben Nyborg. Family drama about a father and a son and strict Orthodox rules about single parenthood. First Yiddish film in decades. Released 8 Sept
Wind River. Director: Taylor Sheridan. Starring: Jeremy Renner, Elizabeth Olsen, Jon Bernthal. Rookie female cop employs gnarled tracker to solve crime in winter wilderness. Thriller. Released 8 Sept
Victoria and Abdul. Director: Stephen Frears. Starring: Judi Dench, Ali Fazal. Twenty years on from Mrs Brown, Her Imperial Majesty has another special friend. Released 15 Sept
Goodbye Christopher Robin. Director: Simon Curtis. Starring: Domhnall Gleeson, Margot Robbie, Kelly Macdonald, Will Tilston. "When I was one I had just begun. When I was two I was almost new..." The story of the AA Milne's relationship with his son Christopher Robin. Curtis last visited period England in My Week with Marilyn. Released 29 Sept

OCTOBER
Finding Your Feet. Director: Richard Loncraine. Starring: Imelda Staunton, Celia Imrie, Timothy Spall. Posh married woman of a certain age learns to love life after marital breakdown, with some sisterly support. Released 3 Oct
The Mountain Between Us. Director: Hany Abu-Assad. Starring: Kate Winslet, Idris Elba. Two strangers hire a private jet to get somewhere fast, crash in the titular wilderness, consider their options. Not exactly a summer movie. Released 6 Oct
The Ritual. Director: David Bruckner. Starring: Rafe Spall, Robert James-Collier, Arsher Ali, Sam Troughton. Recuperative Scandi hiking trip goes wrong. Horror. Released 13 Oct
Battle of the Sexes. Director: Jonathan Dayton. Starring: Emma Stone, Steve Carell, Andrea Riseborough. This story has been a long time brewing: the day tennis champ Billie Jean King took on Bobby Riggs, bastiion of male chauvinist piggery, and (spoiler alert) won. Released 20 Oct
Geostorm. Director: Dean Devlin. Starring: Gerard Butler, Jim Sturgess, Abbie Cornish, Ed Harris, Andy Garcia. Fight to control the world's weather. Sci-fi from the producer of Independence Day. Expect similar. Released 20 Oct
Breathe. Director: Andy Serkis. Starring: Andrew Garfield, Claire Foy, Hugh Bonneville, Tom Hollander. Old-fashioned inspirational weepie about the can-do spirit of a polio sufferer who challenges his disability with the love of a good woman. Based on the life of producer Jonathan Cavendish's own parents. Released 27 Oct
NOVEMBER
Murder on the Orient Express. Director: Kenneth Branagh. Starring: Judi Dench, Johnny Depp, Penélope Cruz, Derek Jacobi. Sir Ken reboots Agatha Christie's train-based case, and tries on a Belgian accent. Probably helps if you've not seen the 1970s version.
DECEMBER
Stronger. Director: David Gordon Green. Starring: Jake Gyllenhaal, Tatiana Masley. Based on the bestselling story of the man who lost two legs in the Boston marathon bomb. Released 8 Dec
JANUARY
The Greatest Showman. Director: Michael Gracey. Starring: Hugh Jackman, Michelle Williams, Zac Efron. Musical based on the life of PT Barnum, with songs from the guys who wrote the music for La La Land.
Subscribe to theartsdesk.com
Thank you for continuing to read our work on theartsdesk.com. For unlimited access to every article in its entirety, including our archive of more than 10,000 pieces, we're asking for £2.95 per month or £25 per year. We feel it's a very good deal, and hope you do too.
To take an annual subscription now simply click here.
And if you're looking for that extra gift for a friend or family member, why not treat them to a theartsdesk.com gift subscription?