h Club 100 Awards: Video games - pioneers with heart and soul |

reviews, news & interviews
h Club 100 Awards: Video games - pioneers with heart and soul
h Club 100 Awards: Video games - pioneers with heart and soul
High tech meets high calibre in this year's list of gaming's brightest sparks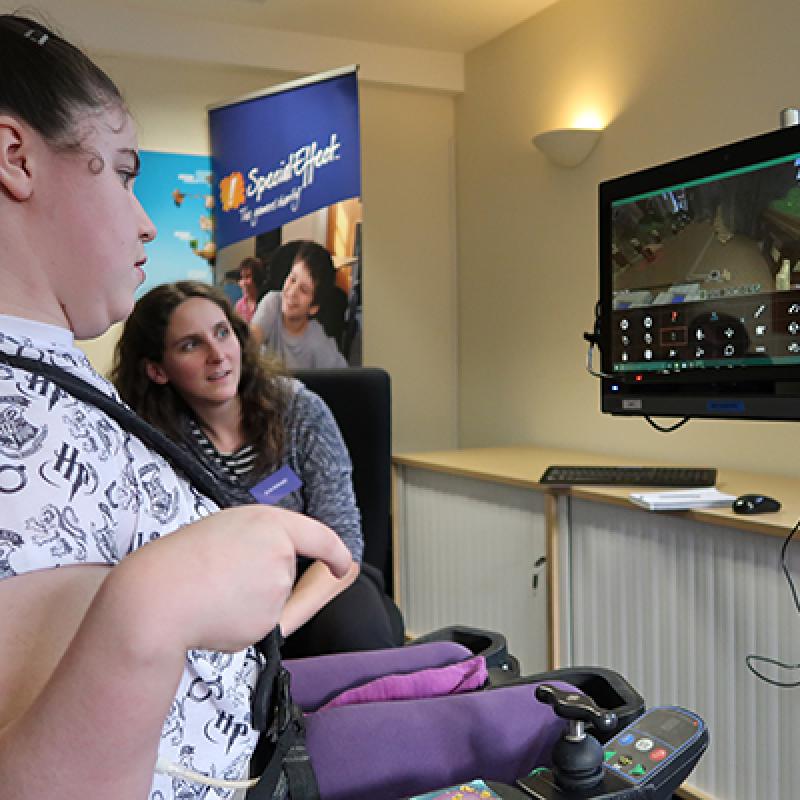 Innovation in action: SpecialEffect's EyeMine technology enables gamers to play Minecraft using eye control
Technical innovators, industry role models and champions of inclusivity make up the shortlist of nominees in the games category for this year's h 100 awards, an event that recognises the 100 most influential and innovative people across the breadth of the UK's creative industries.
One nominee that could easily adopt all three roles is Dr Mick Donegan, founder of SpecialEffect a charity dedicated to helping people with physical disabilities play videogames. By using technology ranging from modified joypads to eye-control, Dr Donegan's team have successfully found ways for thousands of people to play to the best of their abilities, bringing families and friends together and positively impacting on therapy, confidence and rehabilitation.
Meanwhile, several nominees have pushed the boundaries of inclusivity in the industry. Holly Pickering is Art Director and Narrative Designer at A Brave Plan. While Holly has impressed the industry with her talents both in the field of indie games design alongside AAA titles, it's her work as co-founder of LadyCADE, an organisation that provides friendly and safe spaces in which women can share their passion for games and game-making, that brings her to the forefront of gender inclusivity in the games industry.
Leigh Alexander (pictured right), widely regarded as an exciting and outspoken games writer, promotes inclusivity through her award-winning work, most notably Reigns: Her Majesty, the sequel in a series of monarchy-sim games that alongside fellow nominee and Reigns creator Francois Alliot, has been BAFTA-nominated multiple times. Alexander's refreshing take on a plot that looks past the king and instead focuses on his less powerful queen, earmarks her as a writing talent to watch.
One person many games fans tend to watch a lot is Hollie Bennett, the Channel Manager for the perma-popular PlayStation Access YouTube channel. Earlier this year Bennett won the MCV Women in Games Influencer of the Year award and has continued to showcase her lifelong passion for games – with particular focus on her personal favourites, namely the Final Fantasy RPGs and Yakuza action games.
Bennett's interesting path into the games industry – she has delivered over 140 babies in her prior role as a registered midwife – mixed with her high media profile and in-depth gaming knowledge makes her an important role model for those who love games and want to break into a traditionally male-dominated industry.
But what of the technical wizards that make the magic happen? Step forward Tameem Antoniades (pictured left), an obvious choice for the nominee shortlist and deservedly so. Antoniades leads the Ninja Theory team that produced the ground-breaking five-time BAFTA winner Hellblade: Senua's Sacrifice, a dark fantasy action game that tackles mental illness in an unparalleled realistic way.
Under his directorship, the team worked with neuroscientists and people living with psychosis to create a pioneering experience described by the Wellcome Trust as the best representation of psychosis put on screen in any medium. Not bad for an indie development studio that specialises in delivering high-end productions on modest budgets.
We've covered just over half the names of a 10-strong list of high-calibre, talented individuals working across the full spectrum of gaming including virtual reality, e-sports and content-rich websites.
You can have your say by casting a vote for who you think should be recognised for their achievements in the games industry – an industry that is bristling with diversity, innovation and inclusion.
We've covered just over half the names of a 10-strong list of high calibre, talented individuals working across the full spectrum of gaming
Explore topics
Share this article