Opera reviews, news and interviews
Tuesday, 26 October 2021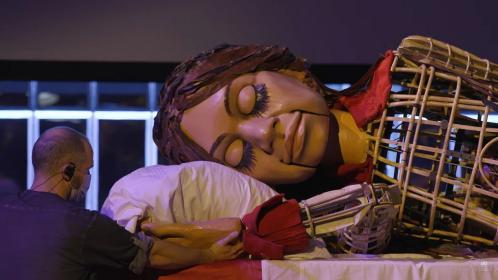 "I want to tell her that people will be good," Tewodros Aregawe of Phosphoros Theatre confided to us as Little Amal closed her eyes on the giant bed made up for her in the Paul Hamlyn Hall, "that all the people with kind eyes who have walked alongside her and listened to her story will be louder than those who wish she wasn't there".
Monday, 25 October 2021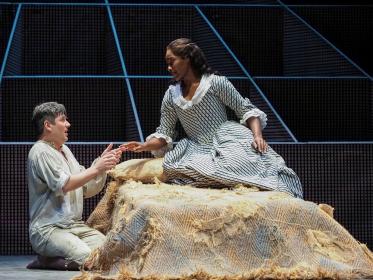 Tom Rakewell Esquire, the Glyndebourne edition generally known as "the Hockney Rake" though it is very much director John Cox's too, is 46 years old.
Britain has world-class opera companies in the Royal Opera, English National Opera, Welsh National Opera, Scottish Opera and Opera North, not to mention the celebrated country-house festival at Glyndebourne and others elsewhere. The first English opera was an experiment in 1656, as Civil War raged between Cromwell and Charles II, and it was under the restored king that theatre and opera exploded in London. Henry Purcell composed the masterpiece Dido and Aeneas (for a girls' school) and over the next century Handel, Gluck, J C Bach and Haydn came to London to compose Italian-style classical operas.
Hogarth_Beggars_Opera_1731_cTateHowever, the imported style was challenged by the startling success of John Gay's low-life street opera The Beggar's Opera (1728), a score collating 69 folk ballads, which set off a wave of indigenous popular musical theatre (pictured, William Hogarth's The Beggar's Opera, 1731, © Tate). Gay built the first Covent Garden opera house (1732), where three of Handel's operas were premiered, and musical theatre and vaudeville flourished as an alternative to opera. Through the 19th century, London became a hub for visiting composers and grand opera stars, but from the meshing of "high" and "popular" creativity at Sadler's Wells (built in 1765) evolved in time a distinct English tradition of wit and social satire in the "Savoy" operas of Gilbert and Sullivan.
In the 20th century Benjamin Britten's dramatic operas such as Peter Grimes and Billy Budd reflected a different sort of ordinariness, his genius driving the formation of the English Opera Group at Aldeburgh. English opera, and opera in English, became central to the establishment, after the Second World War, of a national arts infrastructure, with subsidised resident companies at English National Opera and the Royal Opera. By the 1950s, due to pressure from international opera stars refusing to learn roles in English, Covent Garden joined the circuit of major international houses, staging opera in their original languages, with visiting stars such as Maria Callas, Tito Gobbi and the young Luciano Pavarotti matched by home-grown ones like Joan Sutherland and Geraint Evans.
Today British opera thrives with a reputation for fresh thinking in classics, from new productions of Mozart, Verdi and Wagner landmarks to new opera commissions and popular arena stagings of Carmen. The Arts Desk brings you the fastest overnight reviews and the quickest ticket booking links for last night's openings, as well as the most thoughtful close-up interviews with major creative figures and performers. Our critics include Igor Toronyi-Lalic, David Nice, Edward Seckerson, Alexandra Coghlan, Graham Rickson and Ismene Brown.