Dance reviews, news & interviews
Friday, 16 April 2021
Like the British high street, the once richly diverse landscape of dance in the UK is likely to look very different once lockdown is fully lifted. There will be losses, noticeably among the smaller companies whose survival was always precarious. There will be downsizings. There will be painful gaps where a major talent has given up the fight, retired to run a flower shop or become a hill farmer.
Thursday, 31 December 2020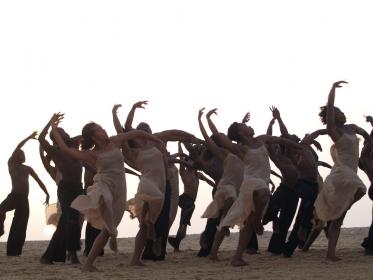 Hard as it is to recall how it felt to sit elbow to elbow in a red plush seat, plenty of us did that during the first 10 weeks of 2020, with no heed at all to who might be breathing over us. I have since wondered what proportion of the dance sector had any inkling of the wrecking ball that was about to hit. None, to judge by the many weeks it took for dance companies and theatres to reinvent themselves online, and to start dredging their archives for decently recorded material.
Britain's reputation as one of the world's great ballet nations has been swiftly won, as home-grown classical ballet started here only in the 1930s. Yet within 30 years the Royal Ballet was recognised as the equal of the greatest and oldest companies in France, Russia or Italy. Now the extraordinary range in British dance from classical ballet to contemporary dance-theatre, from experimental new choreography in small spaces to mass arena-ballet spectaculars, can't be matched in the US or Russia, where nothing like the Arts Council subsidy system exists to encourage new work.
Fonteyn_OndineWhile foreign stars have long been adored by British audiences, from Anna Pavlova and Rudolf Nureyev to Sylvie Guillem, the British ballet and dance movements were offspring of the movement towards a national subsidised theatre. This was first activated in the Thirties by Lilian Baylis and Ninette de Valois in a tie-up between the Old Vic and Sadler's Wells, and led to the founding of what became the Royal Ballet, English National Opera and the National Theatre. From 1926 Marie Rambert's Ballet Club operated out of the tiny Mercury Theatre, Notting Hill, a creative crucible producing early stars such as choreographer Frederick Ashton and ballerina Alicia Markova and which eventually grew into Ballet Rambert and today's Rambert Dance. From all these roots developed Sadlers Wells Theatre Ballet (now Birmingham Royal Ballet), London Festival Ballet (now English National Ballet), and Western Theatre Ballet which became Scottish Ballet.
Margot Fonteyn's dominance in the post-war ballet scene (pictured in Ashton's Ondine) and the granting of a Royal charter in 1956 to the Royal Ballet and its school brought the "English ballet" world renown, massively increased when Soviet star Rudolf Nureyev defected from the Kirov Ballet in 1961 and formed with Fonteyn the most iconic partnership in dance history.
The Sixties ballet boom was complemented by the introduction of American abstract modern dance to London, and a mushrooming of independent modern choreographers drawing on fashion and club music (Michael Clark), art and classical music (Richard Alston), movies (Matthew Bourne) and science (Wayne McGregor). Hip-hop, salsa and TV dance shows have recently given a dynamic new twist to contemporary dance. The Arts Desk offers the fastest overnight reviews and ticket booking links for last night's openings, as well as the most thoughtful close-up interviews with major creative figures and performers. Our critics include Ismene Brown, Judith Flanders, David Nice, Matt Wolf and James Woodall
Advertising feature
Dance meets film in a unique digital season from English National Ballet
Brilliant new works from leading choreographers created in collaboration with exciting filmmakers. Watch world class ballet from home when you rent these original titles, released as world premieres via the brand new Ballet on Demand service from ENB.
---