Kiri at 70 |

reviews, news & interviews
Kiri at 70
Kiri at 70
The great New Zealand soprano embraces septuagenarian status in Covent Garden style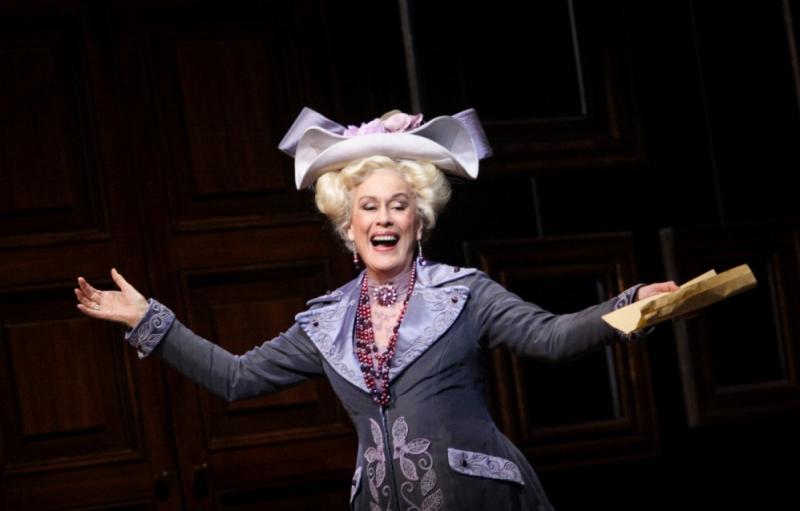 The Dame as the Duchess: Kiri te Kanawa in 'La Fille du régiment'
Even more deserving of the sobriquet "the beautiful voice" than Renée Fleming, the natural successor who virtually copyrighted it, Kiri te Kanawa was one of the great sopranos of the 20th century. With those big, candid brown eyes and bone structure she's still a beauty, as the images of her cameo role in the Royal Opera's La Fille du régiment underline. The voice now – well, as I wrote in my review of Monday's opening, it's what you'd expect of a 70 year old with form. Last night was the big birthday with Downton Abbey butler Carson (Jim Carter) wheeling on the cake for that other stately house's special visitor Dame Nellie Melba (pictured below by Alastair Muir). Adam Sweeting was there to report, and I follow up with memories of Kiri in her prime. David Nice
"Finally you became an adult," quipped José Carreras, one of the stellar guests appearing on a giant video screen above the Royal Opera House stage to wish Dame Kiri well on her 70th birthday. Kiri herself tried to keep it stoical and pragmatic, despite being clad in billowing floor-length lilac with a platinum meringue of hair on top. She was delighted, she told us, to be a part of this zingingly effervescent production of La Fille du régiment, even if she did only appear onstage for five minutes - "at this age, this is what you do now," she pointed out ruefully.
The battle-hardened stalwarts of the opera world seem a little jaded [quoi? Moi? - DN] with Laurent Pelly's production of Fille... (a scene with Eva Podleś' Marquise de Berkenfeld pictured right), but its farcical wit and brilliant singing make it one of the most festive nights you'll experience in an opera house, the perfect platform for a birthday celebration. To kick it off, veteran opera director John Copley pottered out at stage right ("none of you will have the faintest idea who I am," he muttered). He sauntered through a string of Kiri-centric anecdotes which climaxed with the one about a production of Le nozze di Figaro in San Francisco, where Kiri was left stranded at the back of the stage, unable to let the Count in. "John, the bloody door's locked," she wailed, in (if Copley is to be believed) the world's most ear-splitting Kiwi accent.
Then down came the video screen and up popped a string of superstars, from Placido Domingo to Frederica von Stade to James Galway playing Happy Birthday to You on the flute. Danielle de Niese brought greetings from the Met, while Jackie Stewart hailed Kiri from the QE2 as it traversed the Timor Sea. Dame Edna Everage boasted of how she personally persuaded the Queen to make Kiri a Dame, while Julian Fellowes led a tribute from the entire cast of Downton Abbey (in which she'd portrayed Dame Nellie Melba). Finally life imitated art, as Downton's butler Carson (aka Jim Carter) wheeled a giant birthday cake onstage.
I was rather hoping Kiri might launch into a harangue about the evils of classical crossover, but this probably wasn't the place. She merely urged us to "keep up the spirit and the love of classical music." Adam Sweeting
"Her star quality was obvious even as a teenager. But she was always a lazy girl, used to turn up late for filming". Thus a very mature student of mine, Margaret Clark, who worked in the fledgling New Zealand movie industry and knew the girl Kiri rather well on a professional level. Well, you don't get to the very top of the opera profession on talent alone, even if Kiri te Kanawa's grasp of music and other languages might be described as sublimely intuitive at its best. I well remember the often repeated criticisms of her performances in the 1980s and 90s, when I saw her live most, and there was certainly a Strauss Arabella on autopilot, a disappointment after her radiant recording of the role.
Yet you can't fake an intelligent Rosenkavalier Marschallin, and until the recent arrival on the scene of Anne Schwanewilms, Kiri's was always the loveliest, the brightest, the biggest-eyed and (still unchallenged in this respect) most radiant of tone. Here's the Act One Monologue where the Marschallin muses on the teenage girl being married off to an odious fortune-seeking older suitor, compares it to her own unhappy youth and muses on the passing of time. The scene in John Schlesinger's superbly detailed Royal Opera production is the one we want, but it's unavailable to UK YouTube users, so this later version from the Met, with Kurt Moll as Ochs and the late lamented Tatiana Troyanos as Octavian will certainly do.
The Marschallin was a natural progression from her role model, the Countess in Mozart's Le nozze di Figaro. Though Kiri started her career at Covent Garden, like Joan Sutherland, in smaller roles like the High Priestess in Verdi's Aida, it was in Figaro that she made her name, and she was never lovelier than in the Glyndebourne production. This (I think) is from that watershed run, happily available on DVD.
Perhaps you wouldn't get away with that slow tempo today; but the beauty of tone surely justifies it. As it does on what must be the slowest rendition of Pamina's "Ach, ich fühl's" from Mozart's Die Zauberflöte ever on the complete Neville Marriner recording. It shouldn't work, but once you buy it, there's no more amazingly phrased Mozart on disc.
I was there for the St John's Smith Square recording sessions, and a couple of years later I interviewed Kiri for Gramophone. She was what you might expect - down to earth, casually dressed in tartan trousers as if she were about to go off and play golf (perhaps she was). And, of course, spellbindingly beautiful. The images on the album covers, crossovers included, saw her morph into Angie from Eastenders and Michael Jackson, among others, but she's kept the looks as her Duchesse bears witness. Let's hope her vow to retire completely comes to nought, and here's to at least another 20 years. DN
'John, the bloody door's locked,' she wailed, in (if Copley is to be believed) the world's most ear-splitting Kiwi accent
Share this article
Subscribe to theartsdesk.com
Thank you for continuing to read our work on theartsdesk.com. For unlimited access to every article in its entirety, including our archive of more than 10,000 pieces, we're asking for £3.95 per month or £30 per year. We feel it's a very good deal, and hope you do too.
To take an annual subscription now simply click here.
And if you're looking for that extra gift for a friend or family member, why not treat them to a theartsdesk.com gift subscription?