The Chaser Years, Maverik Gallery, London |

reviews, news & interviews
The Chaser Years, Maverik Gallery, London
The Chaser Years, Maverik Gallery, London
Catch this brief but extraordinary show of music photographer Peter Williams
Thursday, 18 November 2010
Don Cherry, London, 1990: 'Ten minutes of frantic magic'
"Hot sweaty tight jammed in can't breathe heart pumping centre of the universe Monday night action in town. Racing down to Bar Rumba at midnight through the blaring siren wailing darkness of south London to the tinsel town wet streeted fakeness of the West End and the That's How it Is sessions, Gilles Peterson, James Lavelle, UFO, Patrick Forge, Roni Size spin…" [sic] Peter Williams, London, 1994.
That was written by the photographer whose 70 black-and-white photographs are showing at a blink-and-you-miss-it gallery in east London until Saturday. Since the heyday of London's New Jazz scene in the 1980s and Nineties, his work has become an archivist's treasure trove, preserving that too often overlooked strand of British music history. And as the above reveals, Williams is also something of a jazz poet - inspired, he says, by Hunter S Thompson and The Last Poets.
Almost as important as the photographs, Williams's captions illuminate the thrill of clubs like the dark, moody dive La Prison in Stoke Newington where Courtney Pine practised his Coltrane riffs in 1988, and the West End's Bar Rumba where Gilles Peterson introduced his eclectic tastes to his generation of jazz lovers and the new jazz dancers.
For Williams, the joy of photographing the icons of bebop and American jazz (Yusef Lateef, Herbie Hancock, Don Cherry) alongside new young British faces (Courtney Pine, Andy Sheppard, IDJ [I Dance Jazz] Jerry, Roni Size, Soweto Kinch) was matched by the way his photographs were used in the magazine Straight No Chaser, mouthpiece for the new scene.
Williams on IDJ Jerry, London 1988 (pictured right): "My first Straight No Chaser shoot, and I used the Baroque elegance of the ex-Yugoslavian embassy to capture the extraordinary jazz dancer with IDJ Jerry exploding energy, uncontainable brilliance, the space becomes a theatre... Jerry spirals over a checked marble floor."
Paul Bradshaw, the magazine's publisher and editor, created a wall of covers and inside spreads and explains, "Hanging them in a gallery alongside Peter's photographs illustrates how they were employed in a graphic context." Chaser was many times awarded for its radical originality in the pre-digital era and its influence on many young artists who understood the connection between the music and the images.
The exhibition is a showcase for Williams's recent prints of the originals used in the magazine, and it separates them away from the thrilling cacophony of layouts with custom-made jazzy hip-hoppy typography and audaciously colourful overprinted pages – the magazine's identity – and into the world of white-walled galleries where they now belong, and work as preservers of historical moments.
"I had had a furious argument with Herbie over a soundcheck photo misunderstanding and he didn't know that I was taking the record label portrait of him next day." Williams on Herbie Hancock, London 1994 (pictured below). "In his hotel room, he shouted, 'Oh, man, it's you!' I said, 'Yes.' We got talking about the music he wrote for Antonioni's film Blow Up. Pretty soon he was laughing."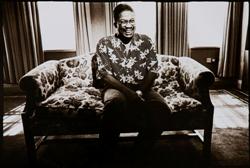 All around the gallery, we are reminded of how the images were originally used but, at the same time, can relish their quality in isolation from the text. Williams's background at the Royal College of Art influenced his approach to photography, especially printing. Strictly a dark-room, non-digital man, he uses a 19th-century silver gelatin process: "Wonderfully intuitive," he describes it. "No print ever looks the same."
He frames each one himself using beautifully treated oak. His personal style operates at all levels, introducing extremes of blackness and contrast as well as exploiting his liking for graininess and blur.
Another feature is the musicality in some portraits – most obviously in his collaboration with the balletic jazz dancer Jerry. For Robert Wyatt (pictured right), he took an entirely different approach, transforming him into a grand but modest 19th-century philosopher, which of course, perfectly captures his spirit.
As the exhibition was being planned, Jamie Cullum sent the world a message on his blog for Radio 2. He titled it "Straight No Chaser", and paid homage to the late magazine and to Williams's photographs. Reminiscing about his teen years in Chippenham, he wrote, "It was early on in my world of jazz appreciation." He describes his passion for NME, Melody Maker, "and one called Straight No Chaser… unlike any other. The magazine shone out at me, printed on gorgeous paper, the front cover proclaimed to have an article about Sun Ra inside. I picked it up and devoured the article about the outerspace jazz planeteer…"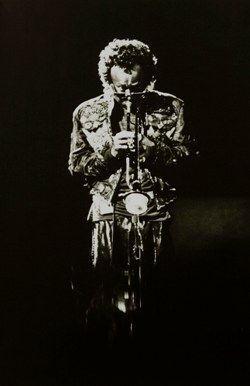 Cullum described Peter Williams's contributions as "giving the new vibrant world of jazz a fresh image with a strong link to the past. In keeping with the magazine's philosophy of presenting jazz like the club scene it always belonged to." And he closed with a plug: "There's an exhibition of Pete's work at the Maverik Showroom in London. Check it out and dig out an old copy of Straight No Chaser. It still feels like the future."
Williams on Miles Davis, London 1989 (pictured left): "An early job for the magazine, I arrived late and a young, nervous stage manager asked me to stand in the wings as it was pandemonium down at the front. I watched Miles walk on stage and start playing… I had little knowledge of his stage choreography in that he would often perform with his back or profile to the audience. He spent the entire gig in profile, staring straight into the wings where I stood. Phenomenal luck."

All around the gallery, we are reminded of how the images were originally used but at the same time, can relish their quality in isolation from the text
Explore topics
Share this article