theartsdesk in Philadelphia: In the house of an American Medici |

reviews, news & interviews
theartsdesk in Philadelphia: In the house of an American Medici
theartsdesk in Philadelphia: In the house of an American Medici
The Barnes Foundation's 181 Renoirs, 69 Cézannes, 59 Matisses and 46 Picassos have moved home
A gallery within a gallery: the new white-box exterior of the Barnes Foundation
MoMa and the Met, the Whitney and the Guggenheim – all very fine, but if you crave something different when in NYC, it's worth braving Penn Station's circles of hell to get a train to Philadelphia (takes just over an hour) to visit the mind-boggling Barnes Foundation. This private art collection, worth around $30 billion, is in a league of its own.
Dr Albert Barnes owned the largest number of Renoirs in the world - 181, acquired between 1912 and 1942; 69 Cézannes - more than the Louvre - 59 Matisses, 46 Picassos, many works by Monet, Degas, Van Gogh, Rousseau, Modigliani, Seurat, Pissarro, Soutine, de Chirico (the list goes on). Mixed in is a huge collection of Pennsylvania Dutch furniture, folk art (cookie cutters and urns have their place), jewellery, ironwork and African art, all displayed in his own inimitable, tightly symmetrical arrangements.
The collection moved recently to a new building on Museum Mile in downtown Philly from a mansion in Lower Merion, an inaccessible suburb five miles outside the city centre. Cabs would get lost on the way from the station. "The opposite of a white box," says a friend who went to the old Barnes in Merion in the Nineties. "Dim lighting and a rather dusty feel. And strict limits on the number of people allowed in. No café, no gift shop."
Barnes was devastated and vowed that the establishment would never get its hands on his art
Visiting the new place is easier but controversial. "I would never go to the new location," says an art-collector friend grimly. She studied for three years in the 1960s at the Barnes – "the only sane place to see art in America", according to Matisse – learning Barnes's methods of critical thinking and his theories of line, light, colour and space, always through the works themselves, never from reproductions. "Its move was a criminal act," she goes on. Other art-world verdicts: "a betrayal", "an act of vandalism", and "an enormous conspiracy involving money interests".
Albert Barnes, a doctor and chemist who died in a car accident in 1951 aged 78, was a pugnacious man from the wrong side of the Philadelphia tracks, vehemently at odds with the city's art establishment. He boxed, gambled and made a fortune by developing Argyrol, an antiseptic used in the pre-antibiotic treatment of gonorrhea. A brilliant businessman and champion of workers' rights, he became a dedicated modern-art collector with an excellent eye and a firm philosophy on what constituted a good painting, making frequent buying trips to Paris where he met Matisse and Picasso. Art is not separate from life, Barnes believed, but is life – radical for his day. Renoir was his obsession, closely followed by Cézanne. De Chirico painted his portrait.
One of his dealers called him "the Medici of the New World". Not everyone agreed: in 1923, when Barnes showed his collection at the Pennsylvania Academy of Fine Arts, it was panned: "debased", "horrible", "crude", "mad", "unclean", "degenerate" were some of the adjectives used in the Philadelphia Enquirer. Barnes was devastated and vowed that the establishment would never get its hands on his art. Oops.
He set up his foundation in 1925 as an educational establishment, not a museum, well away from the commercial downtown interests that ruled the city, and organised art appreciation and philosophy classes in the same way that he'd done some years earlier for the workers in his Argyrol factory. He stipulated in the trust he set up that the collection could never be loaned, moved or sold. It was only open to the public for three days a week and you had to write a letter of application to be allowed in. You often had to wait for three months for an appointment. Many, especially art critics and the rich and famous, were refused, TS Eliot among them. If he didn't like you, he wrote rude letters signed with his dog's name. He hung his paintings according to aesthetic value, not by artist or period, and his many-tiered "ensembles" are what make the collection unique.
After Barnes's right-hand woman and upholder of the faith Violette de Mazia died in 1988, a gradual erosion of Barnes's stipulations began, culminating in a lengthy court case that finally ruled – illegally and unethically, say many - that the collection could be moved. The result, betrayal or not, is a big success and critics agree that the light, natural and artificial (pictured above right), is a huge improvement. Although the new limestone building looks from the outside as though it could well be a white box, the collection sits like a gallery within a gallery. It's been hung exactly as Barnes left it in 1951: extraordinarily dense groups of paintings (pictured above left) with no wall labelling (though there are audio tours and guide booklets, blasphemies that would never have been allowed in Merion) in 24 rooms, all of the same configurations and proportions as at Merion, with windows in the same places and with the same mustard-yellow burlap wall coverings.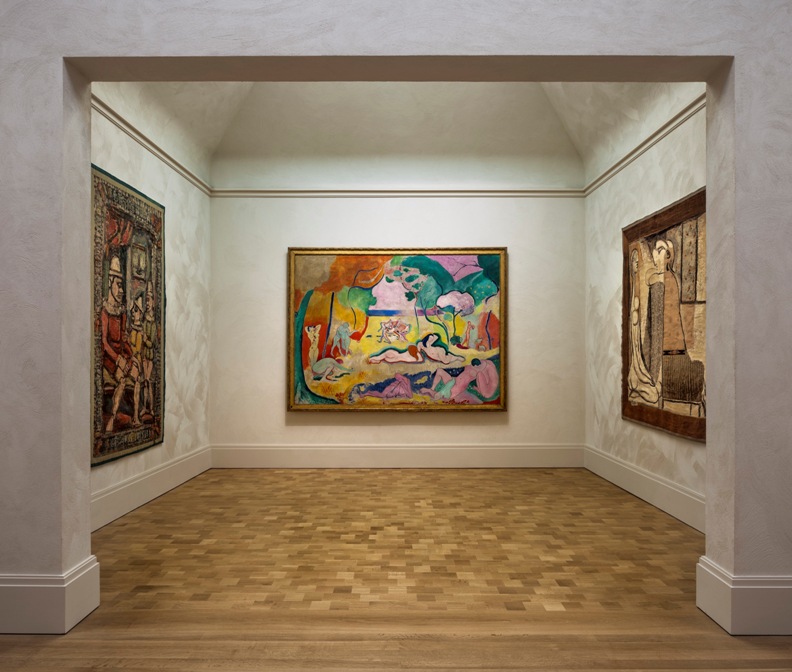 The rooms are much smaller than in most modern galleries and you must book well in advance. Time slots fill up quickly and some days are reserved for members only (shades of the old Barnes). We'd booked for 1pm, though we could stay till closing time if we wanted, and had to wait for about 10 minutes in the huge, light-filled atrium before entering the first, largest room. It's an amazing sight. One wall is dedicated to 33 Cézannes and Renoirs – nudes, landscapes and portraits – all interspersed with metal hinges, keyhole escutcheons and hooks that echo the forms within the paintings. It's an incredibly sensuous experience, more like being in someone's house than in a gallery, though guards are pretty fierce about telling you to keep your distance. On the opposite wall Matisse's Seated Riffian and Picasso's Peasants hang beneath an enormous mural of The Dance by Matisse, commissioned by Barnes in 1930 to fit the three arched recesses in his main gallery – a three-year project that may have inspired Matisse to adopt his paper cut-out methods: his Bonheur de Vivre, bought by Barnes in 1923, has a whole room to itself (pictured above).
There's always something small and extraordinary to search out in a corner or above a doorway
On other walls in this first room are paintings by Tintoretto, Daumier, Maurice Prendergast (a 20th-century American painter that Barnes was very keen on; Jules Pascin was another of his lesser-known faves), Corot, Van Gogh – and, stunningly, Cézanne's Card Players, conspicuously absent at a recent Met exhibition due to the no-loaning rule, beneath Seurat's Poseurs. A lovely painted wooden chest sits beneath Renoir's Bather and Maid. Other rooms have more eclectic combinations: a Gauguin landscape hangs between two Prendergasts, a large-bottomed Renoir nude sits above a particularly wide 18th-century chair; a Frans Hals is flanked by Renoirs (always Renoirs); paintings by neo-Impressionist Henri Edmond Cross and American Charles Demuth hang beside an angular Modigliani, a Picasso and a Toulouse-Lautrec, with a cabinet of African carvings completing the long-necked symmetry. Occasionally a room gets too crowded, mainly due to an annoying docent tour (Barnes would have banned them), but it's easy to escape the throngs by choosing another route. There's no set path. And there's always something small and extraordinary to search out in a corner or above a doorway.
A few hours of gazing at this many-layered collection and I feel I've looked more closely and learned more than I ever have in a text-filled modern museum. The juxtapositions are thrilling. Shape and colour – never has Picasso's blue period looked so blue - find echoes in the ironwork on those yellow walls and in the gorgeous vases, many by Renoir's son Jean, and in the quirky objects on the wooden chests. Balance and symmetry rule. Barnes believed in learning through lived experience. It still works. And the cafe's pretty good, too.
A gallery of images from The Barnes Foundation: click to enlarge
If Barnes didn't like you, he wrote rude letters signed with his dog's name
Share this article