Classical CDs Weekly: Bernstein, Rachmaninov, Jeffrey Roden |

reviews, news & interviews
Classical CDs Weekly: Bernstein, Rachmaninov, Jeffrey Roden
Classical CDs Weekly: Bernstein, Rachmaninov, Jeffrey Roden
A Broadway musical, Russian symphonies exhumed and a quiet American radical
Saturday, 22 September 2018
Man of few notes - Jeffrey Roden
Bernstein: Wonderful Town Danielle de Niese, Alysha Umphress, Nathan Gunn, London Symphony Orchestra/Sir Simon Rattle (LSO Live)
Wonderful Town's one problem is that it isn't On the Town or West Side Story. If you didn't already know those scores, you'd consider it a belter, a brilliant sequence of very witty, tuneful songs. That the words are great isn't a surprise, Bernstein teaming up again with Betty Comden and Adolf Green, the trio holed up in a cramped New York apartment in 1953 and finishing the piece in around five weeks. Based on a popular 1940 play, Wonderful Town follows two small town sisters looking for love in New York, with, er, hilarious consequences. As long as you don't think too much, it's very hard to dislike. Simon Rattle's earlier Birmingham recording still sounds nifty, but this live Barbican performance is just as good, the dryish Barbican acoustic an asset rather than a hindrance. He secures stunning playing from an audibly energised London Symphony Orchestra, brass and percussion especially impressive. Try the instrumental "Conquering New York", a dazzling five minute chunk of vintage Bernstein, at one point recycling material from his Prelude, Fugue and Riffs.
Danielle de Niese and Alysha Umphress are excellent as the sisters, their voices harmonising nicely in "Ohio", and Nathan Gunn's delivery of the brilliant "What a Waste" is matchless. And I'd forgotten what a gorgeous number "It's Love" is. But there's nothing which has anything like the impact of On The Town's "Some Other Time", for my money the best song Bernstein ever wrote. No worries – sit back and enjoy the goofy "Wrong Note Rag", and wiggle your hips to Bernstein's zippy conga. No texts are provided, but this cast's diction is so good that you'd never need them anyway.
Rachmaninov: Symphonies 1-3, Symphonic Dances, Mussorgsky: Pictures at an Exhibition, Prokofiev: Romeo and Juliet Rotterdam Philharmonic Orchestra, London Philharmonic Orchestra/Edo de Waart (Decca Eloquence)
Rachmaninov's reputation suffered a steep post war slump in some quarters, a 1950s edition of Grove's Dictionary advising readers that "his music is well constructed but monotonous in texture… the enormous popular success some few of Rachmaninov's works had in his lifetime is not likely to last…" Blimey. It's tempting to give André Previn's advocacy of the composer some of the credit for changing people's minds about Serge, particularly a famously refulgent and uncut recording of the Symphony no 2 taped with the LSO in 1973. Previn wasn't alone in programming Rachmaninov, though his LPs eclipsed much of the competition. So the reappearance of Edo de Waart's 1970s analogue cycle is welcome. When compared to Previn, these performances tend to be swifter and sharper-edged, the wind and brass sonorities unimpeded by the LSO's lush string tone. No 2 is excellent, the long first movement really plumbing the depths, and there's a taut scherzo. The Rotterdam clarinet doesn't eclipse the LSO's Jack Brymer in the adagio, but few do. De Waart's finale is a brassy blast, the positivity overwhelming. I liked his Symphony no 3 too, its nostalgic and jazz age sympathies nicely balanced, though I'm not sure about the slowdown in the final bars. These Symphonic Dances, recorded with the LPO, are similarly impressive, the last dance's tamtam ringing out after the final chord. Only de Waart's Symphony 1 disappoints; the darker moments don't chill enough. The Isle of the Dead and The Rock are both excellent. Well worth investigating, especially at this bargain price.
De Waart's first Rotterdam recording is also included, numbers from first two suites from Prokofiev's Romeo and Juliet reordered to match the ballet's plot. It's genuinely superb, with magnificent horns in the final scene and plenty of punchy string playing. We also get Ravel's finicky transcription of Mussorgsky's Pictures, Philips' spectacular engineering providing plenty of vicarious thrills. Four well-filled discs for a pittance - what's stopping you?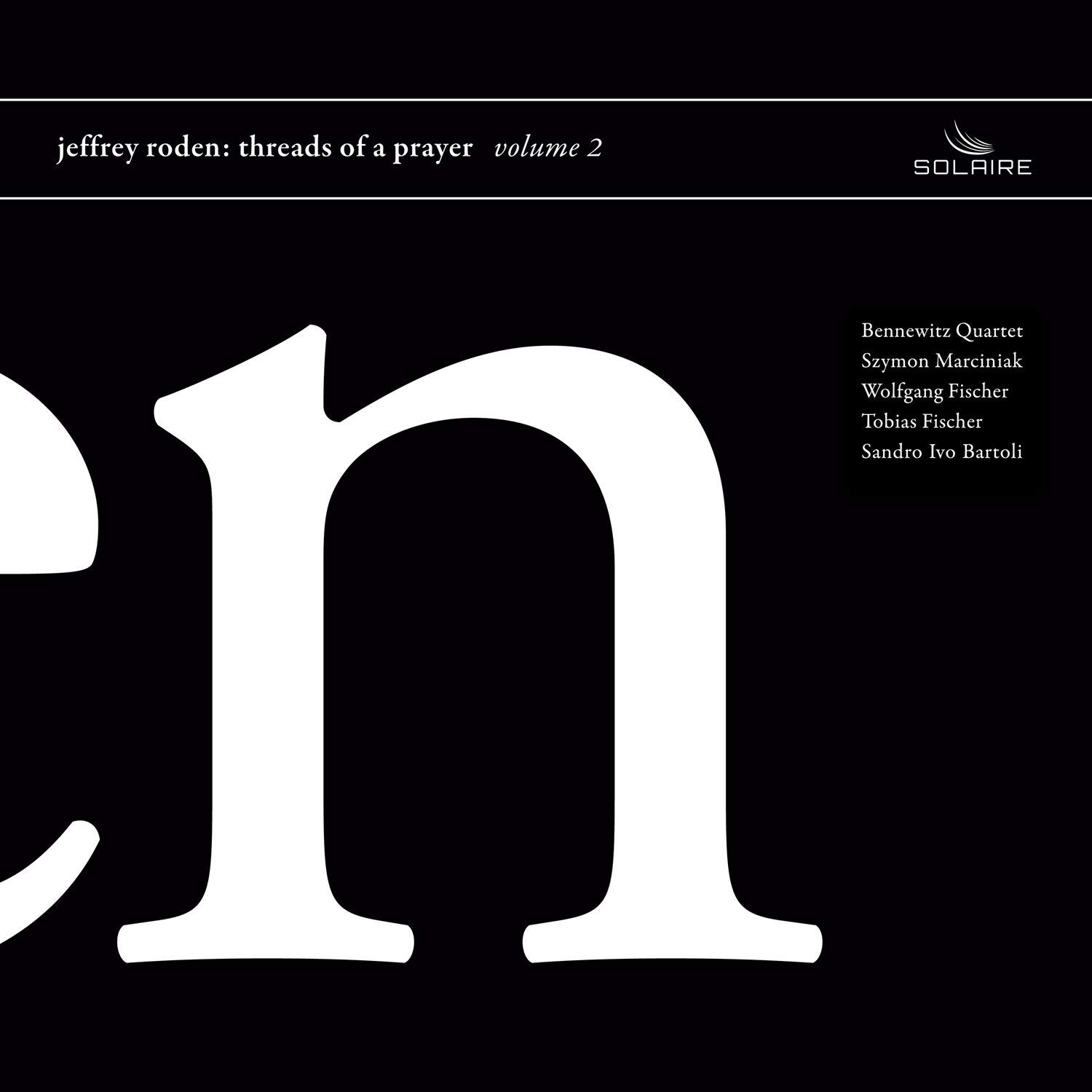 Jeffrey Roden: threads of a prayer volume 2 (Solaire)
Jeffrey Roden describes himself as "man of few notes and many words," whose life has included spells as a shop assistant and carpenter. He was also a highly successful bassist, taking a step back in the 1990s and deciding to create the music he'd rather listen to himself. This handsomely produced disc contains little information about the pieces included, but there's a useful interview with Roden in the booklet which explains all you need: he speaks of "always having been a listener," enjoying the sounds of wind, rain and birds, and that these pleasures are harder to find as the world becomes more noisy and discordant. This music abounds in "silences and repetitions", and a work like the solo piano threads of a prayer (Roden's pieces all have lower case titles) weaves the same magic as a piece by Cage or Feldman. Quite why this spare processional is so effective is impossible to explain, but it's wonderful stuff, played with incredible delicacy by Sandro Ivo Bartoli. You daren't move while it lasts, and what should be cold and chilly on paper is an electrifying, uplifting listening experience. Bartoli also performs 6 pieces for the unknown one, jewel-like whispers of piano sound which will enhance anyone's day.
Roden's the field starts as a slow violin duet, fleetingly joined by double bass and timpani. as we rise up's sumptuous string textures, heard over a barely audible organ rumble, will gladden the heart. Though it's the solo piano works which leave the strongest impression. Production values are high; even the silences sound appealing.
These jewel-like whispers of piano sound will enhance anyone's day
Explore topics
Share this article