Czech Philharmonic Benefit Concert online review – profound musicianship in sombre masked fundraiser |

reviews, news & interviews
Czech Philharmonic Benefit Concert online review – profound musicianship in sombre masked fundraiser
Czech Philharmonic Benefit Concert online review – profound musicianship in sombre masked fundraiser
Three violinists, two cellists, four pianists and a harpist play superbly to an empty hall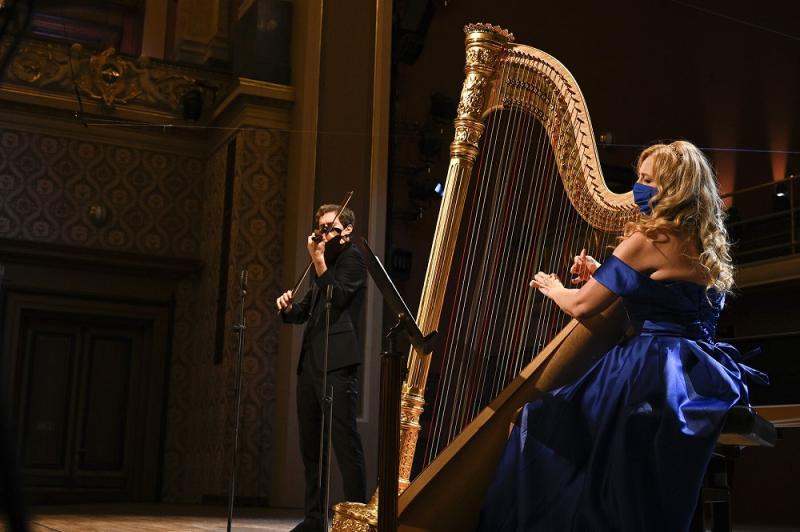 Josef Špaček and Jana Boušková launch the benefit concert
Less than six months ago Prague's most prestigious concert hall, the neo-Renaissance Rudolfinum, was all glittering lights and packed, smartly dressed audience for the Czech Philharmonic's hot ticket first performance there for 49 years of its national epic, Smetana's Má vlast (My Homeland) – a grand one indeed u
nder principal conductor Semyon Bychkov. No greater contrast could be imagined to this, its most recent event, in which an auditorium devoid of everyone but camera operators, presenter and two guests rippled with a filleted performance of the most famous movement – "Vltava", or "The Moldau" – as transcribed by Hanuš Trneček and dazzlingly executed by one of the world's greatest harpists, Jana Boušková, who with her colleague Barbara Pazourová had launched the October concert of the complete work.
Boušková may have played this virtuosic arrangement many times, but never wearing an obstructive face-mask to match her lovely blue dress. It seems strange and surreal to most of us to see everyone on camera so attired in this sombre setting, but such things are compulsory in the Czech Republic, a country which has moved fast to contain the coronavirus (and with apparent success). The event was broadcast live on Czech Television's ČT art channel as well as on the Czech Philharmonic's Facebook page, to raise money for Czech hospitals: the fundraising figure is what you have to try and avoid watching as it shoots up in the top right corner (suffice it to say that 4,690,922 korunas – CZK, with the symbol Kč – was the amount reached one and a half hours after the start, and the current total converts to £230,000).
The masks inevitably limited the performers who could take part: no wind or brass, obviously, only in this case string players and special-guest pianists alongside the harpist who was also the only woman (not an indicator of the orchestra's makeup, which is much more even handed than that of its not too distant neighbour the Vienna Philharmonic). Those featured are all superlative musicians, starting with concertmaster/leader Josef Špaček, who's already made an outstanding recording of violin concertos by Dvořák, Janáček and Suk.
He and Boušková eased us in with the famous Dvořák Humoreske; later his free, ardent but pitch-perfect playing of the same composer's fourth Romantic Piece, in the set where he was partnered by pianist Miroslav Sekera, scoured the soul. Elegy was the keynote, going deep with the equally perfect intonation of cellist Václav Petr (pictured below) in the Prelude, Sarabande and Gigue of Bach's C minor Cello Suite. Petr's resonance in this generous space – excellent for solo instruments, not always so good for full orchestra – also graced Dvorak's Silent Woods, in which he was.accompanied by the general director of the Czech Phil, David Mareček. How many CEOs can you name who are fine pianists too?
Smetana's From the Homeland for violin and piano gave a second violinist, Jiří Vodička, and pianist Martin Kasík less rewarding material to work on until the final dance, which broke the sobriety (Boušková, incidentally, didn't get the Polka in "Vltava" to play – too unharp-like, but compensated by some magical cadenzas and the inner gleam of the moonlight episode). Vodička also gave the only nod towards the 20th century, Václav Trojan's The Emperor's Nightingale – an offshoot from a film based, like Stravinsky's opera, on Hans Christian Andersen's tale.
The revelation for me came at the end with the second and third movements of Smetana's C minor Piano Trio, his first masterpiece. The scale and the schizoid moods here speak of a profound personal message, and so it emerges: Smetana had just lost a second daughter, aged four, to scarlet fever. It could be overwrought, but three more first class players, the Lobkowicz Trio – violinist Jan Mráček, cellist Ivan Vokáč and pianist Lukáš Klánský – made quicksilver work of the faster passages while never stinting on the lyric fervour. All this was presented with total sobriety in a country which needs no "isn't this so fantastic" TV or radio presentation (and no concealing of the odd little interludes where piano keys were treated with antibacterial cloth between players); musicians are respected in Czechia, and they responded in kind.