theartsdesk in Istanbul: Salzburg, Here We Come |

reviews, news & interviews
theartsdesk in Istanbul: Salzburg, Here We Come
theartsdesk in Istanbul: Salzburg, Here We Come
Thanks to steel pipes, an international Turkish orchestra rises to the top
At a sprawling car plant in the suburbs of north-eastern Istanbul mechanics are busy repairing camshafts and dynamos, applying blow torches to the undercarriages of a range of luxury cars and retouching paintwork. Visitors to the building are met by signs reading: "Sheer Driving Pleasure" and "Check Your Engine". Upstairs, away from the mechanical buzz, fine-tuning of a completely different kind is going on as the Borusan Istanbul Philharmonic Orchestra is taken through its paces by its vivacious Austrian conductor, Sasha Goetzel.
The heat is on for the Borusan Phil, which practises in the unlikely hangar-style space. The high point of the mere decade since its foundation as an orchestra, will be its upcoming tour to the Salzburg Festival, where it will play in a newly established preview concert on 25 July, the forerunner of a three-year visiting arrangement. The move is particularly appropriate in this, Istanbul's year as Europe's City of Culture, during which the metropolis is determined to prove that it is a valuable bridge between the Orient and the Occident, between Europe and Asia.
"You have to imagine we're the first Turkish orchestra that really has the chance of an international career," Goetzel tells me. "This is a big step not just for us but for Turkey."
The orchestra, better known in the Turkish cultural capital by its acronym, BIFO, is reaching new heights with the call to one of Europe's most prestigious classical music festivals. Its success is due in part to a rise in the interest in classical music in Turkey in recent years (an interest that it in turn, has arguably helped to boost). But its very existence is thanks to the nation's biggest supplier of steel pipes, Borusan Holdings.
The connection initially seems tenuous and decidedly unsexy. (Borusan means "tube investment"). But the company's CEO says he is determined to inject new zest into Istanbul's modern cultural life and to send out the signal that it is not a good idea to wait for the government to act. "We started off with the idea of wanting to make a contribution to society," BIPO's philanthropic founder and Borusan head, Ahmet Kocabiyik, explains in his stunning Gothic-style office with its sweeping views of the Bosporus and his favourite toy, a shiny World War Two telescope which is pointed towards the Asian side.
"We could have established a basketball team, or a football club, but we decided to concentrate on classical music because we realised at the time it was really dying in Turkey. We had all sorts of private radio stations springing up at the time and hardly anyone was playing classical music. Then even the government-run station that did play classical was taken over and it was a dire situation."
So Borusan started to act, firstly setting up a chamber orchestra in 1993, and then becoming a fully fledged Philharmonic in 1999. (BIFO is probably the first orchestra in the world to be owned and run by a private corporation.) A pool of musicians from Turkey and further afield (the most popular musician, a percussionist, is from Timisoara in Romania) was gradually expanded upon. Its major breakthrough came recently, Kocabiyik said, "when we performed Mahler's 6th with no less than 115 musicians". According to Goetzel, it was apparently the first time it had ever been performed in Istanbul.
Kocabiyik's pride in his band is evident. On the huge stereo system in his office whose price tag was apparently similar to that of a BMW, BIPO's debut CD booms out. An eclectic album, it showcases Ottorino Respighi's Belkis Queen of Sheba, and lesser-known works by composers such as Paul Hindemith and the forgotten French modernist Florint Schmitt who made it their business to cultivate Eastern sounds.
Nevertheless, BIPO's representatives baulk at the idea that its sound is in any way "Turkish" and strongly resist any attempts to label it as such. "What is Turkish? Those gypsy musicians playing outside on the street right now, or our young orchestra which is capable of playing everything from Brahms to Berlioz?" asks Zeynep Hamedi, one of the family members who is heavily involved in the company's Cultural Foundation which, among other projects, manages the orchestra.
"We're looking for our own sound," says Goetzel, prepared for what he knows in Turkey is a sensitive question. He joined the orchestra last year and has been credited with leading it in a more rhythmical, elegant and structured direction. "We're on the way to finding something that is unique to us, and on the way we'll have a lot of fun." The fun is already being had, at least according to the British violinist Daniel Hope who has just performed a Brahms Violin Concerto with the Philharmonic in their cinnamon-coloured concert hall (pictured above). "I've seldom experienced such a level of energy with an orchestra which is in the throes of being constructed," he says.
The feverish pace with which the BIFO has been raised and shaped – the hugely ambitious goal, according to Hamedi, is that it will be ranked among the world's top 10 orchestras within the next decade – is indicative of a wider thirst and enthusiasm. Among the Borusan Cultural Foundation's other projects is the recently opened Music House, an elegant reconstruction of an old Ottoman building on Istiklal Caddesi in the commercial district of Beyoglu (pictured right).
Until not many years ago a location for illegal dog fights, it now pulses with everything from contemporary art exhibitions to tango beats, Egyptian funk and arabesque jazz rock concerts. On a recent evening, New York-based Turkish saxophonist Ilhan Ersahin twisted and turned on the stage regaling the rapt audience with his warm and lingering sounds. Outside the Istiklal heaved with the density of crowds which in most European cities would be normal only on New Year's Eve.
This is without a doubt an interesting time – a city that is keen to prove its cosmopolitan nature as well as preserving its identity. Although, as the director of the Music House, Yagiz Zaimoglu is keen to point out, the two are intertwined: "Istanbul would lose its identity if it became too local. Our strength is in our history and tradition of attracting different types of lives and cultures and this is perhaps our most important baggage for the years to come, particularly when there are growing elements who would like us to be more inward-looking," he says.
This week the 38th annual international Istanbul Music Festival sets off, running throughout June, and fielding world classical musicians such as Radu Lupu, Lang Lang and the Vienna Philharmonic under Riccardo Muti.
During the interval of Ersahin's Istanbul Sessions I slip out to a nearby club, Babylon, for years the first address in Istanbul for jazz and world music. There an audience is waiting for a Balkan folk-singer to come on stage, while around about them diners tuck into a range of meze dishes and knock back the raki. Elsewhere a film festival is in full swing, and stars such as Klaus Maria Brandauer are milling around.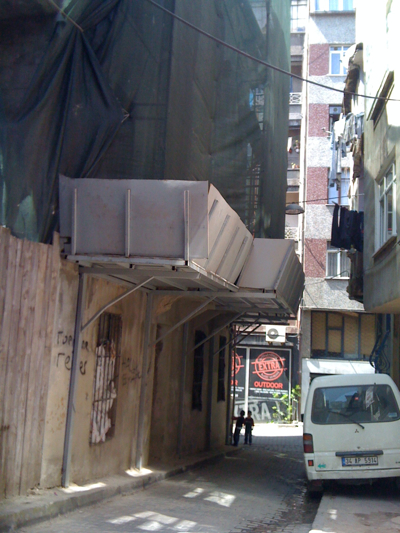 Well into the evening workers are still labouring away on a narrow 19th-century building in the Beyoglu district, the Nobel Prize-winning author Orhan Pamuk's soon-to-be Museum of Innocence (pictured left by Kate Connolly), based on his novel of the same title. The museum, full of objects collected by a character in the novel to honour the girl he loves, is due to open next year.
For a taste of something more different still, I head to the Besiktas district, where fans of the football club get together late at night to write new chants for their team. They are apparently sponsored by the club, and the fruits of their combined efforts along with peels of laughter when bum notes are hit, can be heard seeping from the bars. It's midweek, and close to midnight, but the city appears to be running on full adrenalin.
Yilmaz Kurt, secretary general of European Capital of Culture in Istanbul whose office is housed in the former secret complex of bedrooms Sultan Abdumil II had built for his mistresses in the 1870s, says luring people to Istanbul this year and beyond is about much more than persuading the world of the city's cultural offering. "Many Europeans consider Turkey to be a Middle-Eastern city," he says. "We're trying to persuade them that it's that and much more besides. I like to call the process 'cultural industrialisation'."
Then again if it's real Istanbul you're looking for, the theatre on the streets is perhaps as good as it gets. Stand on the pavement beneath Galati bridge, watching the cats sunning themselves, the little boy selling roast chestnuts from a trolley, and the hundreds of nylon fishing lines reaching into the Bosporus as they twitch and glint in the sun, and listen to the clashing tones of boat horns, pop music and the always slightly-out-of synch proclamations of the muezzins at prayer time.
Share this article