Weilerstein, Czech Philharmonic, Netopil, Bridgewater Hall, Manchester review - drama and feeling |

reviews, news & interviews
Weilerstein, Czech Philharmonic, Netopil, Bridgewater Hall, Manchester review - drama and feeling
Weilerstein, Czech Philharmonic, Netopil, Bridgewater Hall, Manchester review - drama and feeling
Like their homeland's beer: rich, mellow and full of character and body
Tuesday, 13 February 2018
The Czech Philharmonic at home in Prague's Rudolfinum
The Czech Philharmonic on tour are a familiar sight, and they have built a following appreciative of their particular qualities, since they are an orchestra with a sound of their own – the way European orchestras used to be, in some respects. A distinguished colleague used to call them the bouncing Czechs: I like to think they are like the best of their homeland's beer: rich, mellow, and full of character and body.
The present tour has partly varied programmes, but Dvořák's "New World" Symphony and a cello concerto with soloist Alisa Weilerstein are in most of the remaining ones, with tomorrow night's Birmingham programme the same as Manchester's. It began with Mozart's Overture to Don Giovanni, with string numbers slightly reduced but otherwise a modern orchestral sound (including the timps). They played for Tomáš Netopil with firm attack and plenty of power, and dying phrase endings which would have been a delight in any other acoustic but the Bridgewater Hall – there, you have to be careful, as the reverberation tends to conceal them altogether.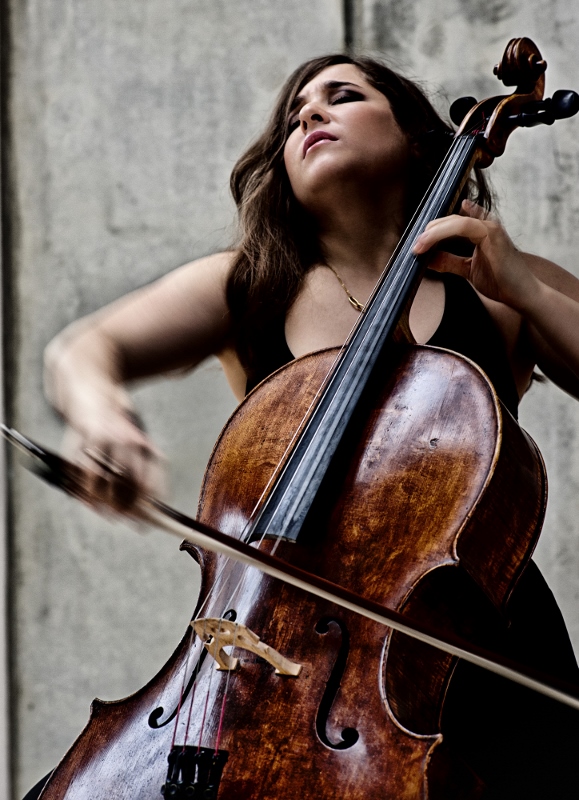 Alisa Weilerstein (pictured right) was back on the platform she graced less than four weeks ago with the Hallé, this time to play Dvořák's Cello Concerto. It goes without saying that she knows exactly what she wants to do with this work, and, as my first real experience of Tomáš Netopil's conducting, proved that he is an extremely good concerto accompanist, which is a valuable accomplishment.
The opening movement was going to be a drama in Weilerstein's hands, and that note was struck from the orchestral start, along with a perfect solo from the principal horn and lovely echoes from the woodwind soloists to follow it. Pressing slightly ahead of the throng in her opening statement, Weilerstein then brought breadth and depth of feeling to the second theme that contrasted eloquently with it and surely presented Dvořák's music in a way his compatriots loved. Netopil handled both the big mid-movement outburst and the spirited conclusion of the orchestra's role with skill.
The slow movement had a delightfully bucolic atmosphere in the open-toned wind playing, and ended with the most delicate of magical high-register sound from the soloist, and the finale struck a near-martial pace (for a moderato) which was undoubtedly the spirit the cello soloist wanted to bring to it, too. At the return to the opening tempo she managed to make the opening theme sound just a little twee and parodistic, which was a rather nice touch, and she ended the concerto in dazzling and declamatory style (with just the occasional anticipation of the beat), matched by the resplendent Czech brass. As with her previous Manchester appearance, Weilerstein gave a Bach sarabande as a restful and soulful solo encore: this time the G major.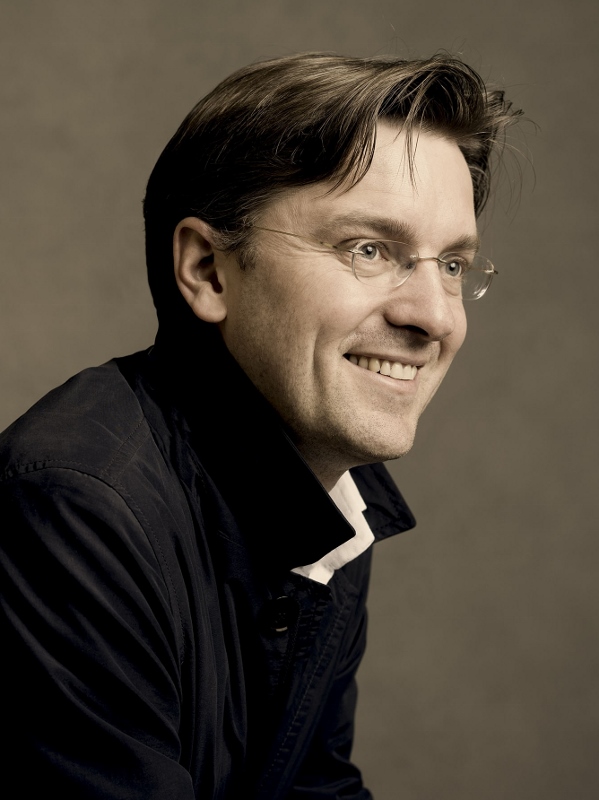 The "New World," Dvořák's Symphony No.9, is a great showpiece for an orchestra determined to make it so – and this one owns it both figuratively and almost literally (they have the autograph score in a glass case in the Rudolfinum concert hall in Prague). They luxuriated in its textures, and their woodwind were piquant and precise in the central interlude of the slow movement as well as lustrous in the solos.
Netopil (pictured left) created dramatic pauses in the opening statement, and the brass responded in stentorian style. He knows how to highlight a good tune when given the chance, and in this case bathed Dvořák's themes in pools of limelight, finally whipping up both tension and tempo at the end of the first movement.
The scherzo was energetic and brisk, with few pauses for breath but adroitly placed rhythmic emphases to bring out its dancing spirit. And in the finale it was up and at 'em from the start, leavened with a few touches of mystery, but in the end driven hard and with crisp articulation the memorable characteristic. It may not have been the most soulful of readings by Czech players of such a signature work, but it punched home its optimistic qualities and went down extremely well. The Manchester audience were rewarded with an encore of Brahms's fifth Hungarian Dance, done in a style that would have pleased André Rieu.
The Czech Philharmonic and Alisa Weilerstein are in Birmingham on 14th February, Nottingham on 15th February, Basingstoke on 16th February, and Dublin on 17th February (with an orchestral programme on the 18th in Dublin also).
The opening movement was going to be a drama in Weilerstein's hands, and that note was struck from the start
rating
Explore topics
Share this article