Theatre at Glastonbury Festival 2023 - so big and wild a hallucination, you're always left wanting more |

reviews, news & interviews
Theatre at Glastonbury Festival 2023 - so big and wild a hallucination, you're always left wanting more
Theatre at Glastonbury Festival 2023 - so big and wild a hallucination, you're always left wanting more
We take a journey through the magical land of Glastonbury's theatre, circus and comedy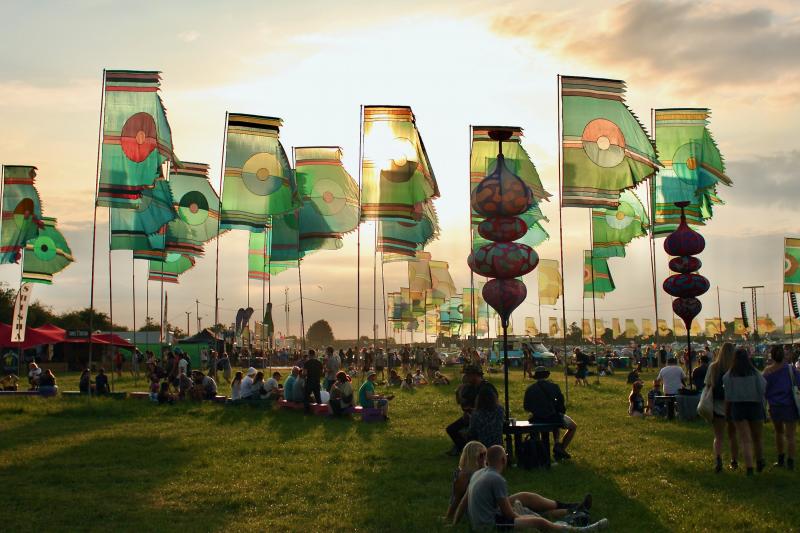 The sun shines bright, ready for 2023's Glastonbury
And that's it again for another year. Oh Glastonbury. A fever dream where the time of reality stops as you hop on a ride to a land of magic.
Yes, it might be celebrated for its musical marvels (Elton John, surely, the set of 2023 that will make the history books) but the real wonder of the world's greatest festival is its ability to transport you somewhere else – somewhere glorious, just for a little while. People all across the country and beyond will have watched the footage broadcast live on the BBC. But it is what they don't see, can't see, that has the festival's heart.
In its very nature, Glastonbury is theatrical. As well as the thousands of theatre, circus and comedy that is programmed – and not filmed for the millions that sit at home, envious and without a ticket – it is loaded with secrets. Rumours circle the summer air of rabbits you can follow down hidden rabbit holes, people in shark costumes roaming the Stone Circle after sunrise, portaloo based escape rooms and sought after moustaches that will grant you entry to packed out bars. You can never see it all, devotees will tell you – everyone's Glastonbury will be unique.
And it really is as big as they tell you. Bigger, perhaps, so you really have to try to get your bearings. On Thursday, I take a stroll through the Theatre and Circus fields. This is my fourth year at the festival, but it still feels like a bewildering, incomprehensible maze. It takes me over 40 minutes of mistakes and mishaps to find it, but as soon as I get there, I'm sucked in.
The legend goes that Circus began at Glastonbury in 1979, spearheaded by Arabella Churchill – who was part of the Churchill family dynasty and died in 2007. The fields are now run by her husband and juggler, Haggis Mcleod and have all the colour, excitement and joy that she first intended. Her legacy is still felt here now with her memorial bridge as a main feature of the area. I speak to a couple in their 50s as I pass over it, this is their favourite section of the whole festival they tell me: "there's a real sense of the unexpected".
Everyone's Glastonbury will be unique
And they're not wrong. I'm greeted by men on stilts, posing with children for photographs. A company called Circus Eruption invites me to join them playing with a parachute; we take turns to run underneath it, its flapping creating a welcome breeze in the 26 degree heat. I compete in and then lose a zorbing race with a stranger. I am convinced by some dynamic ushers to walk down a red carpet, buy a box of popcorn and spend a few minutes in the world's smallest solar panel cinema. Then, I watch a circus performer – Angie Mack hoola hoop, at pace, until it wears her out. There's people tied up wearing Splitting Image-ish masks of 'climate criminals' ranging from Modi, Murdoch and Trump, ready to accept a crowd of boos. The drama of the juggernaut has started swirling.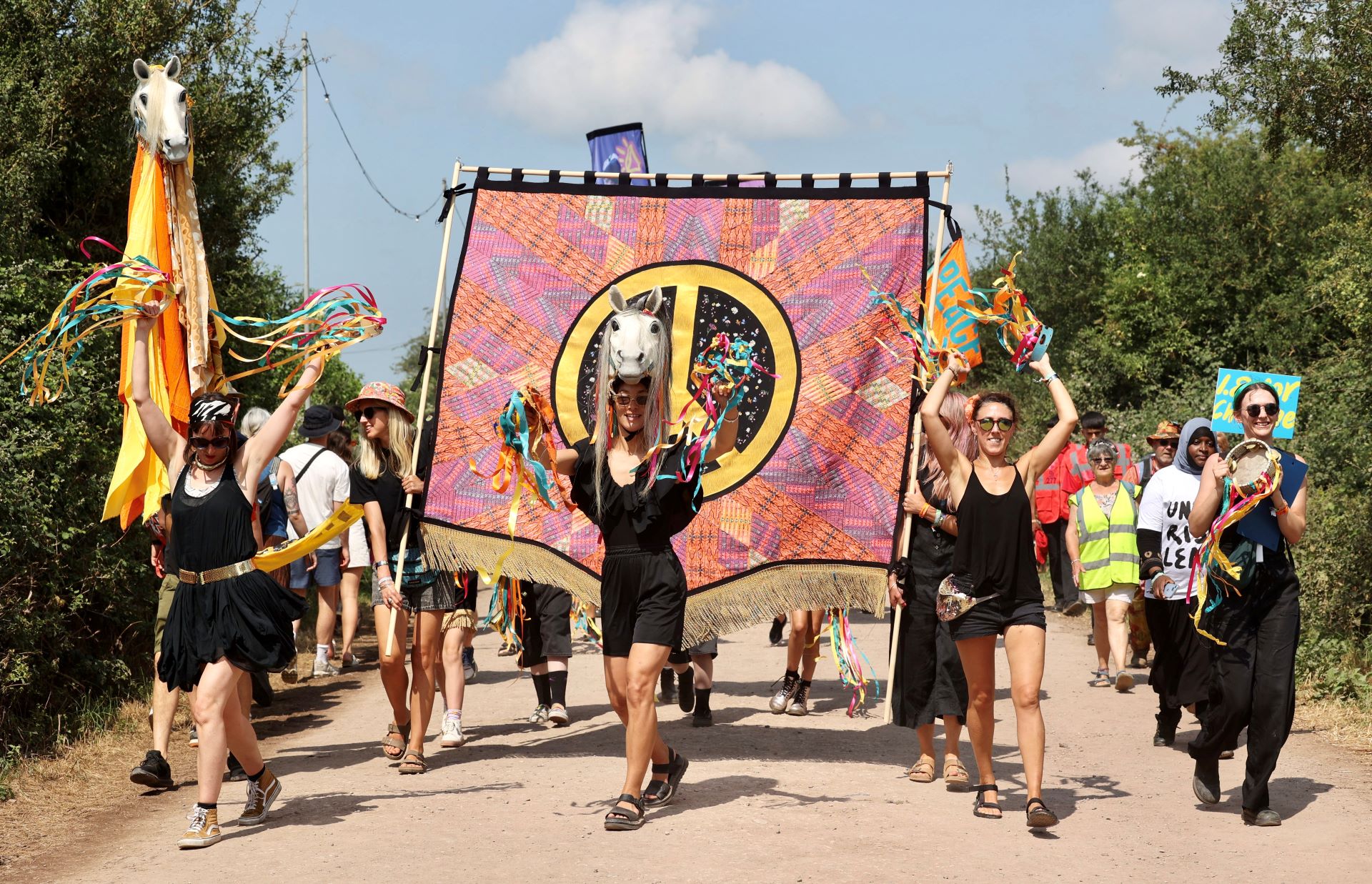 I wonder over to The Glebe to find Logy on Fire, a blue haired juggler. He stands above us, on a plank of wood throwing axes and flaming torches into the air, catching them again, totally unphased. From the audience, you can almost feel their heat as they're sent soaring.
Between the music over the next few days I take trips back to designated area for theatre. There's so much to do, see and experience here that it feels overwhelming. There's always the sense that you could be missing out. But I feel lucky to catch a glimpse of The Giant Seagulls, one of Glastonbury's most famous walkabout acts. Costumed with oversized bird wings, friendly looking faces and bright yellow tights, you can't help but feel for the people hot and hidden underneath. But – somehow, they manage to be full of life, squawking and trying to grab bites of festival goer's snacks. The heat is no worry for these feathered feigns.
One of the truly incredible things about Glastonbury is its sense of community; people fight for a chance to return to Worthy Farm each year, and here strangers will greet you like old friends. There's a reason so many acts want go back time and time again, too - being here, you feel like one of the lucky ones. Gecko is one of them. He's an all singing storyteller that has a real following at the festival. This year he's across, the line-up a mammoth nine times and like in previous years I manage to catch one of his early morning performances. Clutching his guitar, with Ed Sheeran like vocals, he has the crowd in the palm of his hand as he leads us through his gentle narratives.
As night falls one evening I wonder back over Bella's Bridge, expecting somewhat calmness. I should know better because notoriously Glastonbury never sleeps. Underneath it are two, fantastic opera singers, Wayne and Wanda, belting at the top of their lungs on a boat. In any other setting it would be quite the sight – here, just the usual.
And then, I encounter more birds. Not seagulls this time, but big, plumy, lit up things that dazzle in the darkness. The children that are awake at this hour are totally encapsulated by them, leaving their parents to go up and touch the sprightly creatures in amazement. "Are they real?" one young girl asks her father as she finally agrees to leave them, "of course," he replies. It is something, I imagine she'll remember long past the festival draws to a close.
On Saturday the theatre fields are my first point of call. Before the afternoon, where the music really kicks into action, it looks busied with more than the expected families and children. I walk past tea ladies dressed in aprons, steering a cart and offering out tea; just what I need to awaken from a long night and begin again for another sunny morning.
Then, over to the Cabaret tent. Barbara Nice – a joyous, wig wearing middle-aged character comperes the stage for a few hours. With one cracking one-liner after another it is hard to step away. But there's m0re to do and more to see.
Later, I try to take shade in the circus tent. But, with so many people packed together, the covered shelter feels more oven like than I expected. Still, I fan myself and watch a trapeze act called High Society that swing, high and low to the audience's gasps and woos. It is quite miraculous, I think, that Glastonbury is so used to setting up so fast to such varied, dangerous acts with such success.
Next, comes Goldie Fiasco, an apparently "drunk" knife thrower that invites a hapless man called Dave from the audience to be her target. He looks nervous as she asks him to don a sparkly shirt and stand, blindfolded for our entertainment. She chucks spoons, and then very sharp knives at him – both successfully and scarily, unsuccessfully. Some land clumsily, to the floor, but luckily he remains intact for the act's close. It might not be as flawless as some of the other circus acts, but it makes your heart race – not least because you fear that she might fail.
There's young perfromers too. A trio of 15 year old girls have travelled from Cornish circus school, Cirque Hen to perform on the Big Top stage. They aren't quite at a professional standard yet, but they'll be there tomorrow. It takes strength, practice and dedication to perform as rope performers. They take it in turns to hurl themselves up and down, oh so focused, for our entertainment.
But it is the risqué Cirque du Vulgar that really amaze me. Onstage in minimal clothing leather, and with props galore, this steamy act is strictly aimed at adults. Mixing circus with burlesque the performers contort their bodies to audience's shock and delight. It is quite the sight to end the evening's festivities.
On Sunday, I manage to sneak away from my long stint at the Pyramid Stage to catch a couple of theatre acts. Mat Ricardo, a marvellous magician and comedian is a highlight. Performing with knowing side-eyes and a sense of mischief, he performs the standard remove a table cloth magic with a wowing difference. He's met with sharp intakes of breath, each time he does a new trick with expertise.
Finally, I catch a glimpse of Katie Ailes, this year's Poet in Residence at the festival. Before arriving she wrote a poem about this being her first year at Glastonbury. To hear her perform it live – with so many others she's written is genuinely moving. She speaks in rhyme of the festival's scale, nightlife and confusion; her poems managing to capture the essence of our surroundings fiercely. It is a generous last offering from Glastonbury's array of performance delights.
Amidst all the madness there's so much I wish I saw but didn't. I planned to catch the amazing Travis Alabanza and Hot Brown Honey that I loved so much when I saw them in Manchester a few years ago. I wanted to journey through a door that read 'Otherworld' which only opened past 10:30 at night. But, with Glastonbury, that is just the way it goes. There's always something you're one step away from, that you want to come back next year to find. It is a condundrum, a hysteria - it leaves you full but desperate for another taste.