Fierce: the Birmingham festival which reaches out to Europe and beyond |

reviews, news & interviews
Fierce: the Birmingham festival which reaches out to Europe and beyond
Fierce: the Birmingham festival which reaches out to Europe and beyond
The new artistic director of the international showcase of live art and performance says what's coming
Wednesday, 18 October 2017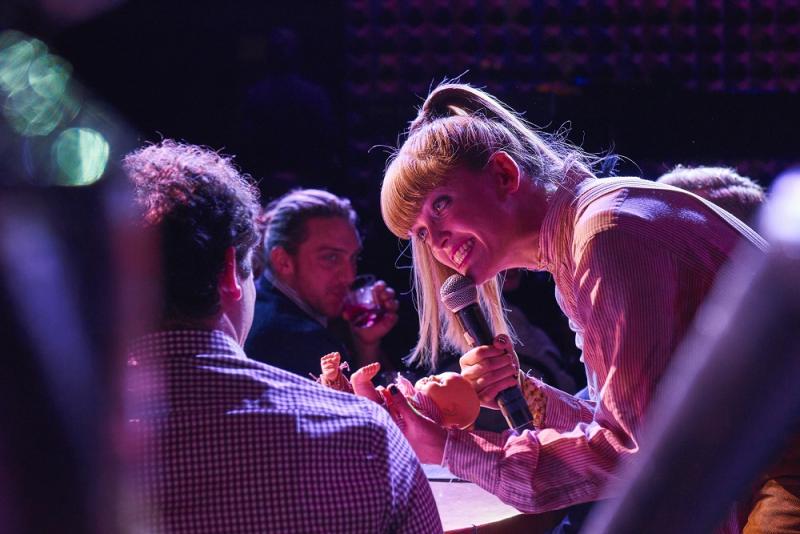 Erin Markey: offbeat mash-up of cabaret, theatre, comedy and music
Since its inception in 1997 Fierce, Birmingham's International Festival of Live Art & Performance, has championed the work of performance makers not often seen in Britain. The pantheon of body artists under Mark Ball's era as director included the likes of Franko B, Ron Athey and Kira O'Reilly.
Under the helm of previous director duo Laura McDermott and Harun Morrison came experimental European choreographers and theatre-makers such as Eva Meyer-Keller, Kate McIntosh and Lundahl & Seitl. Many of these artists have made significant contributions to the art form but for some reason remain under-celebrated in the UK.
Meanwhile, Fierce has always supported an exciting new generation of British experimental makers from Marisa Carnesky and Joshua Sofaer in the mid-Noughties to Tania El and Brian Lobel in more recent years who have all since gone on to much acclaim. Word seems to have spread among the UK's creative community too, with many artists returning year after year to be in Fierce's audience to see work they won't find anywhere else in the country. In short, Fierce has made a significant contribution to UK creativity. Many a bright idea has been spawned while watching a Fierce show.
With a new team in place, this year Fierce once more unleashes a provocative and super-fresh programme of performing arts across the city, from major venues such as Birmingham Repertory and Birmingham Museum & Art Gallery to smaller galleries and venues like Grand Union & STRYX. This time the artistic baton is passed to a new generation of British makers that includes Last Yearz Interesting Negro/Jamila Johnson-Small, The Famous Lauren Barri Holstein, Owen Parry (pictured above) and Marikiscrycrycry who all present world premieres of Fierce commissions.
This year seven international artists make their UK debuts with Fierce. Erin Markey is a major star in the US for her offbeat mash-up of cabaret, theatre, comedy and music. Her fellow New Yorker Preach R Sun makes highly politicised street-based performance-art actions; Quarto, a Swedish/Brazilian duo, bring a performance manipulating a kilometre-long piece of rope into motion. Louis Vanhaverbeke, the latest break-out star from Belgium's Campo production house, presents hit show Multiverse that has toured extensively in mainland Europe.
Michele Rizzo, an Italian artist and graduate of the prestigious Parts school in Amsterdam, has found young audiences for his work that explores club culture and politics; Marie-Caroline Hominal, a Swiss choreographer, plays with pop culture using numerous pseudonyms for works that blur genre boundaries. Jen Rosenblit, who splits her time between the USA and Berlin, presents her collaboration with Simone Aughterlony (pictured above) called Everything Fits in the Room.
If the work is all as exciting as I say it is then why is Fierce one of such a very small handful of organisations in the UK presenting it (see also IBT and SPILL)? Whatever the reason, it seems European collaboration is only set to get harder and that's why I'm delighted to welcome so many European colleagues to Fierce this week. More than ever we're going to need to shout louder to keep our arts ecology fresh, fabulous and Fierce.
Many of these artists have made significant contributions to the art form but remain under-celebrated in the UK
Explore topics
Share this article