theartsdesk Q&A: Composer Gavin Higgins |

reviews, news & interviews
theartsdesk Q&A: Composer Gavin Higgins
theartsdesk Q&A: Composer Gavin Higgins
Rambert Dance Company's inaugural Music Fellow discusses his new ballet score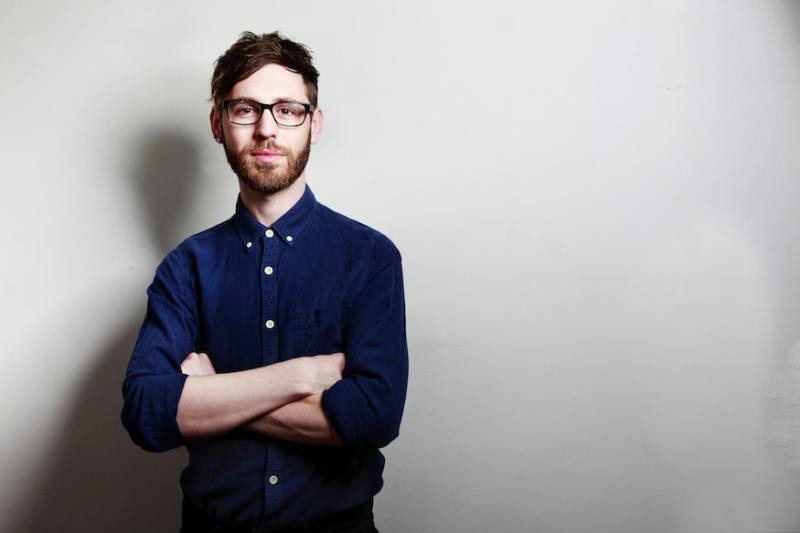 Gavin Higgins: 'This project is about giving these musicians a proper platform'
Composer Gavin Higgins and choreographer Mark Baldwin's Dark Arteries is billed by Rambert as "the world's first brass band dance work" and has its premiere this week at Sadler's Wells. Higgins was born into a family of brass players in the Forest of Dean, later studying at Chetham's School and the Royal Northern College. He spoke to theartsdesk in between rehearsals last week.
GRAHAM RICKSON: How important was music-making when you were growing up?
GAVIN HIGGINS: It was part of my life. Literally everyone in my family was in the local brass band. Of my two grandads, one conducted and the other played tuba. I don't even remember learning to play the cornet. We'd go to band practice, go home and have tea. The music-making was always secondary to the social aspect, and the fact that this was something we all did as a family and as a community.
What support did you receive at school?
Most of my musical education came from the local brass band – my family were my first teachers. At secondary school I was obviously pretty involved in the music department, but I don't know how much I got from it. When I was 15, I got a place at Chetham's. At that point, it was either stay in the Forest of Dean all my life and not do much, or take this opportunity and try and be a proper musician. I was surrounded by amazing musicians from all over the world, and it really spurred me on to better myself. They made me switch from tenor horn to French horn; it was almost as if I had to learn to play music again. The composing started much later, at the Royal Northern College.
Can you describe the research involved before writing the piece? Did you discover anything which surprised you?
It's a project close to my heart, as I come from a family of brass-banders and miners. When I got to Rambert, I suggested to Mark Baldwin that it would be amazing to create a ballet with brass band – it would connect so many worlds. The idea was temporarily shelved, until Margaret Thatcher died, and I realised that, 30 years on, people were still very much affected by the miners' strike. I'd been thinking about the meaning of brass bands, and how they fit into communities. One of the first things Mark and I did was visit Big Pit in Wales [a former colliery turned museum], getting a sense of what it was like to be down there. We went to rehearsals, brass band championships, watched old film footage, read David Peace's GB84, and also looked at Jeremy Deller's recreation of the Battle of Orgreave. But this isn't a narrative piece, like Brassed Off or Wonderland.
Is Dark Arteries an overtly political work? Do you think musicians should address social and political issues?
We've not tried to make a political piece but anything about the miners' strike has a certain amount of baggage. And staging it is timely, because we work in the arts and under the Conservatives there will undoubtedly be a lot more cutting.
There's a certain incongruity about staging Dark Arteries in middle class North London. Are you relishing taking it on tour later in the year?
We are trying to bring together two disparate worlds: this amazing dance company and these essentially amateur brass bands. The Tredegar Band will be doing the premiere. Rambert do make a point of touring in the regions, and they'll be going either to, or very close to some of these ex-mining communities, using local bands. It's an amazing way of connecting with audiences.
Can you describe, simply, the process of composing for dancers? Can you visualise the choreography as you're writing, or do you trust Mark Baldwin to work the details out?
Choreographers and dancers do tend to take to my music, for a lot of it is very rhythmic. Even the slower, more melodic stuff speaks to their sense of movement, and they get it, they feel they can move to it. I already knew Mark, and his style of choreography. He takes direct inspiration from the music. He trusted me to write the right kind of stuff, and we talked constantly. We go away, do our own thing, get together, go away again, and that's how it comes together.
How has the rehearsal process been? Is there a lot of give and take between composer, dancers and director?
Sometimes I'll write stuff, and I'll hear it, and think I need to change it – but that won't come from Mark. He'll do the same with his choreography. Usually we find that we're on the same page.
How have the Tredegar players responded to your music? The extracts I've heard pay homage to the classic brass band sound but are unashamedly modern.
They're really into it! It's quite different to what they'd usually play. Some sections of the score definitely look back, to hymns, and to the things that bands do well. The Tredegar band are so up for it – it may take them a little while to get their heads round it, but once they've got it they do a really good job.
Do you worry about the future of the brass band movement in a post-industrial age?
I feel really passionately about brass bands, and I'm always fighting their corner when people mock them. I also get a little frustrated – they've become very insular over the last few decades. With every step forward, there's about four back. The rest of the artistic community treats bands as if they're a lesser entity, but the quality is amazing, easily on a par with the orchestras and choirs which do get a lot of airtime. Some of our best players started in brass bands. The first note on the Star Wars soundtrack is trumpeter Maurice Murphy, ex-principal cornet of Black Dyke Mills band. Doing this project is partly about giving these musicians a proper platform, where they can be heard by lots of people. I hope that some of the players will realise that they don't just have to keep playing to family and friends in town halls, that they can reach a wider audience.
Dark Arteries is being staged just after a General Election. If you were granted a few minutes with the new Prime Minister, what would you tell him?
Only a couple of minutes? I would say that, contrary to the views of a former Education Secretary, the arts are not pseudo-subjects, but are a vital part of education. People come to this country to see Buckingham Palace and Stonehenge, but they also come for the culture. There is nowhere else in the world like it, and it demands more respect, and more funding. People ask me: why we don't have something like El Sistema in the UK? I reply that we do, and that we've had it for about 200 years. Brass bands do what El Sistema does! They take in kids and old people, anyone who wants to learn a cornet or trombone. They teach them for free, or for a very small fee, and they become our next principal trumpet for the LSO. The Arts Council have given bands a little more, but it's a tiny amount. I wish that the money would trickle down into these grass roots organisations. That's where the players come from.
People ask me: why don't we have something like El Sistema in the UK? We do!
Explore topics
Share this article