Cemetery of Splendour |

reviews, news & interviews
Cemetery of Splendour
Cemetery of Splendour
Apichatpong Weerasethakul's Cannes winner is an unsettling yet restful tale of sleeping Thai soldiers
Death is not the end: Keng (Jarinpattra Rueangram) and Jenjira (Jenjira Pongpas Widner)
Stillness. Contemplation. Surreal spirituality. Apichatpong Weerasethakul's films share qualities hugely distant from Hollywood, closer to his other career as a visual artist, and rooted in his responses to his Thai homeland. It's been six years since his last feature, Uncle Boonmee Who Can Recall His Past Lives, won the Palme d'Or at Cannes, bringing his work as close to mainstream notice as its quiet otherness permits. One shorter film, Mekong Hotel (2012), and much visual art, filled the gap till this contemplative return (which itself won Un Certain Regard at Cannes).
In what isn't a story so much as a dream-like series of puzzling events, soldiers are afflicted by a mysterious sleeping sickness. They fill a ward on the edge of a small town, where Jen (Jenjira Pongpas Widner) has returned to volunteer. She warily befriends a psychic, Keng (Jarinpattra Rueangram), who's kept busy by wives asking about their comatose husbands' mistresses and interior decoration plans, and becomes deeply attached to Itt (Banlop Lomnoi), a handsome, thoughtful soldier who awakes for brief periods. Keng's later claim that the sleeping Itt's spirit is speaking through her, as she leads Jen through the invisible chambers of a palace that once stood in what is now jungle, is barely questioned. The past is living and layered here, and abrupt slippages in reality and manifestations of the spirit world accepted with little surprise.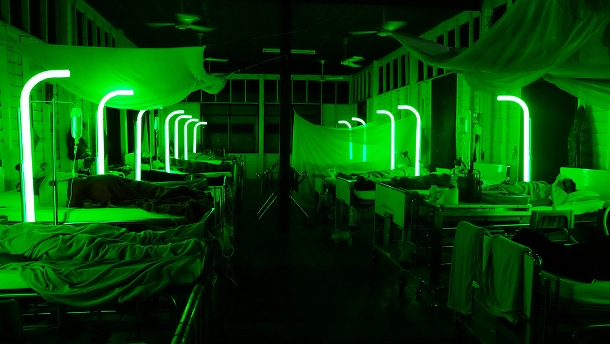 As he did with dying Uncle Boonmee's visits from beloved, already dead relations, Weerasethakul finds understated emotional power in this porous existence. Jen sits in her old schoolroom's wreckage, in the building which is now a hospital ward, and later traces a remembered flood's tidemark on a tree. The sleeping soldiers' spirits are said to be engaged in a celestial struggle, even as Keng/Itt relates a lost civilisation's palace intrigues. This easy belief, though, extends to a TV celebrity selling a miracle skin cure to the town's women, and a trip to the cinema to see the bonkers pulp horror flick The Iron Coffin Killer. The difference between snake oil and revelation doesn't seem worth making. They're all happy distractions to stoic, canny yet credulous Jen.
The metaphors Weerasethakul intends about his unhappy homeland since its latest military coup are buried as deep as the titular cemetery said to lie under the ward. The sleeping soldiers may be taking desperate refuge from reality; maybe it's Thai society that's sleepwalking, kept docile by consumerism and belief in reincarnation. But the troops wielding machine guns who guard a mysterious government excavation, and Jen's unquestioning patriotism, are the only real intimation of all this.
Cemetery of Splendour is mostly an act of contemplation, dislocating the viewer with long, still shots (including a jarringly prosaic scene of a man shitting in the woods, suddenly connecting Weerasethakul to John Waters). The sound and light of rural Thai night and day, like the pulsing neon colours meant to deflect the soldiers' dreams (pictured above), add up to two hours' vaguely disquieting abstraction from regular cares. It's like visiting a kaleidoscopic Buddhist retreat designed by a hip, self-aware 21st-century artist. Like most Weerasethakul films, it's both deeply rooted, and transcendent.
Overleaf: watch the trailer for Cemetery of Splendour