DVD: Slow West |

reviews, news & interviews
DVD: Slow West
DVD: Slow West
A top-notch postmodern Western starring Michael Fassbender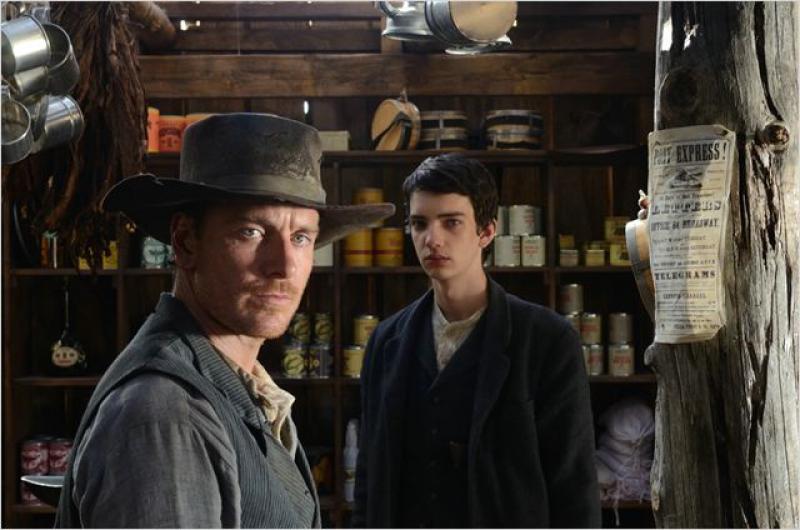 Minding the Western store: Michael Fassbender (l.) and Kodi Smit-McPhee.
The first feature written and directed by John Maclean, the former Beta Band keyboardist, is a Western comprised of late-genre tropes and references – but one that's fresh and sincere. It's knowing and affecting, unlike Django Unchained.
A tremulous aristocratic youth, Jay Cavendish (Kodi Smit-McPhee), is searching for the fellow Scot (Caren Pistorius) he loves in the hell of 1870 Colorado Territory. The terrified survivors of a burned Indian camp flee murderous bluecoats. Their officer is about to shoot Jay when bounty hunter Silas Selleck (Michael Fassbender) intervenes. After Silas hires himself as Jay's guide, he learns that turning in the girl and her pa (Rory McCann) will earn him $2000.
They're also sought by a professional killer (toting the same rifle used by Tom Selleck in Quigley Down Under) and Silas's old outlaw gang, mostly Wagonmaster- or Dead Man-like vermin led by the Mephistopheleian Payne (Ben Mendelsohn wearing Warren Beatty's McCabe and Mrs. Miller fur but channelling James Coburn).
While we're at it, a German anthropologist whom Jay encounters is a time-travelling Werner Herzog and a haunted wood was last seen in The Lord of the Rings, shot like Slow West in mountainous New Zealand. A deleted scene in which a cretinous hunter sexually molests Jay suggests Maclean's familiarity with 1972's Dirty Little Billy. Look out, too, for a nod to Blazing Saddles' Count Basie gag.
The laconic Silas, who narrates the story retrospectively, is obviously derived from Clint Eastwood's Man With No Name, but Maclean has fun debunking the stereotype by divesting him of his clothes, his guns, and his effectiveness. The mood is unsentimental, and because director of photography Robbie Ryan paints a vivid picture of frontier squalor and doom, the atmosphere withstands the jokey postmodernism.
Three Maclean shorts are included: Pitch Black Heist, starring Fassbender; a Western mood piece; and an 8mm collage from Slow West's locations. There's a making of featurette, interviews with the two leads, and a Maclean Q&A.
The Slow West digital download available 19 October. DVD and Blu-ray released 2 November
Director of photography Robbie Ryan paints a vivid picture of frontier squalor and doom
rating
Explore topics
Share this article