Foxcatcher |

reviews, news & interviews
Foxcatcher
Foxcatcher
Haunting, tense wrestling drama with superb performances from Steve Carell and Channing Tatum
Wednesday, 07 January 2015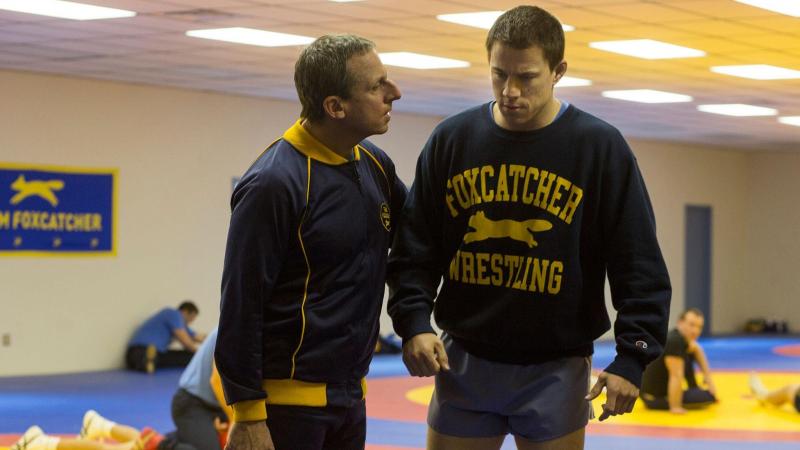 Isolation and paranoia on the edge of the wrestling ring
Steve Carell makes the move from the light comedy of the American workplace to the dark side of that country as delusional blue-blood John Eleuthère du Pont in a transformative and creepy performance that borders on the grotesque.
Foxcatcher is based on a shocking true story set in the wrestling world. Though some of the events occurred in the 1990s and over a longer time period, director Bennett Miller sets his film towards the end of the 1980s. Miller's previous feature, Moneyball, was also set in the sports world but instead of focusing on the players he chose to look at the maths behind the game. In a similar way he subverts the long arduous road-to-glory sports story by exploring the inner lives of Olympic gold medal-winning wrestler, Mark Schultz (Channing Tatum, pictured below right), his brother and coach, Dave (Mark Ruffalo), and the aforementioned mercurial man who supported their training sessions in the grounds of his grand home in preparation for the Seoul 1988 Olympic Games.
Miller's precise, cold and detached composition alongside Greig Fraser's expert cinematography, echo the isolation, paranoia and clinical view of du Pont's ever-watchful eye and deteriorating mind-set. A sinister atmosphere is established from the outset and the dread is palpable.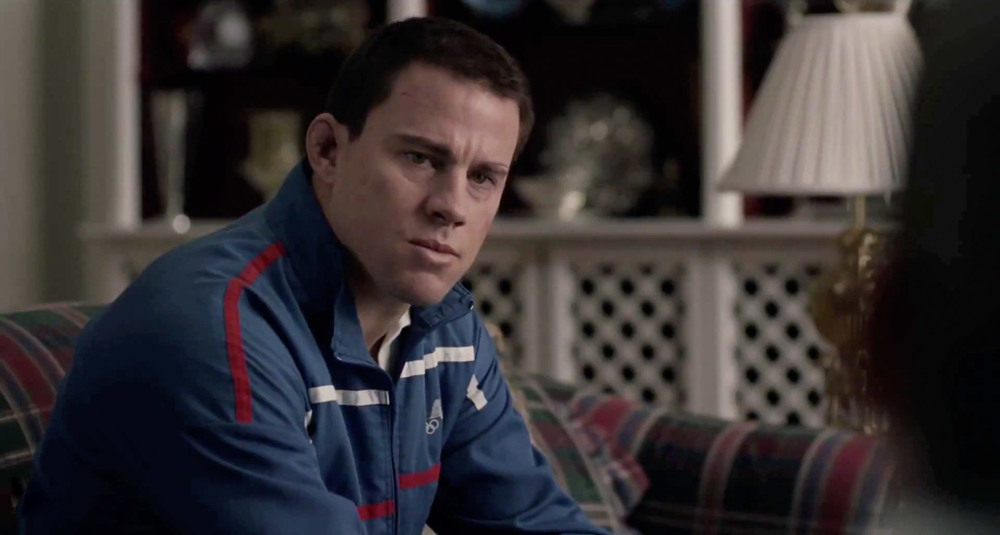 Carell mimics the meticulous pronunciation of a politician delivering a meaningless speech, his pregnant pauses bristling against the nape of your neck like a slithering snake. A particularly memorable scene which sees du Pont offering Schultz cocaine while travelling in his private helicopter is hypnotic. Du Pont gleefully exhales a list of the things he collects, furthering the sense of pride in ownership that has been instilled in him by his mother (the excellent Vanessa Redgrave) and it's terrifying. Miller makes it clear from the start that no good will come from the teaming up of these proud patriots, but here he turns du Pont into something quite monstrous.
If du Pont plays the politician it's Mark Schultz who takes on the role of keen supporter. At first he is put under the spell of great promises, then he engages in amicable relations before finally he begins to notice the cracks in the veneer as the perennial smile fades from the face of his patron. Tatum refuses to play Schultz as a knucklehead. He was, in fact, greatly aided by the real-life wrestler and it shows not only in his stance and mannerisms but the way in which he reaches into the psyche of a professional athlete.
Miller's powerful and surefooted psychological drama possesses an intensity and haunting elegance which demands you bear witness to chilling and bleak sights.

Overleaf: watch the trailer for Foxcatcher
A sinister atmosphere is established from the outset and the dread is palpable
rating
Explore topics
Share this article