The Hitchcock Players: Lila Kedrova, Torn Curtain |

reviews, news & interviews
The Hitchcock Players: Lila Kedrova, Torn Curtain
The Hitchcock Players: Lila Kedrova, Torn Curtain
The Russian-born French actress thawed the plot-driven Cold War thriller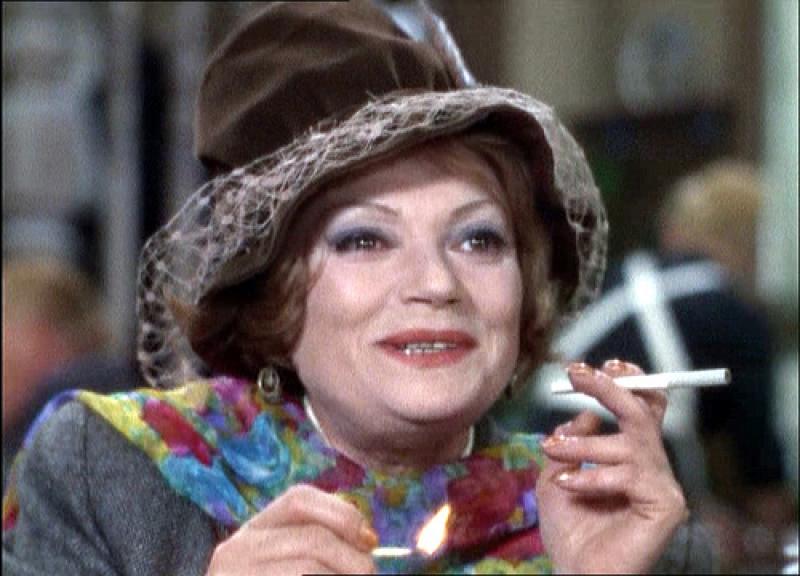 Lila Kedrova as Countess Kuchinska: 'I am not Communistical'
There's an affecting moment in the café scene in Torn Curtain (1966) when the physicist Michael Armstrong (Paul Newman) and his fiancée-assistant Sarah Sherman (Julie Andrews), desperate to flee East Berlin, are awed into compassion for the jittery Polish Countess Kuchinska, who offers to help them if they will sponsor her bid to emigrate to the U.S. It looks a little as if Newman and Andrews themselves were awed by Lila Kedrova's fabulously flowing performance.
Hitchcock must have calculated that Kedrova's exotic bird of prey would radiate some flamboyant humanity in a grey Cold War suspenser in which his stars are especially reticent. He introduces the Countess on the street as Armstrong and Sherman, having narrowly escaped gunfire, seek the Friedrichstrasse post office. The viewer is immediately drawn to her bright eyes, her multicolored scarf and absurd hat, and her readiness to blackmail. How does she know Armstrong is Armstrong? It doesn't matter.
Hitchcock must have calculated that Kedrova's exotic bird of pray would radiate some flamboyant humanity
As the Countess offers the couple her deal, she snappishly orders barely drinkable East Berlin coffee from the café waitress, fumbles with a barely smokeable cigarette, with upside-down reading specs, with sunglasses. Smiles are followed by tears glistening in her right eye and by more smiles; misgivings are followed by hopes that light up her face.
Though not subtle, it's one of the greatest and most endearing turns in all of Hitchcock's work, a fleeting character study that tells you the story of a life. Climaxing with an act of self-sacrifice that takes the form of surprising physical intervention, it ends unsentimentally with the Countess stranded in a country she abhors and likely to be imprisoned after her contribution to the Americans' escape. Kedrova had won the Best Supporting Actress Oscar for her Madame Hortsense in 1964's Zorba the Greek. She should have won it for her brave little Kuchinska.
Torn Curtain screens at the BFI Southbank tomorrow at 6 p.m. and on Monday and Tuesday at 8.30 p.m.
Below: Kedrova collects her Oscar for Zorba the Greek