A Town Called Panic |

reviews, news & interviews
A Town Called Panic
A Town Called Panic
Punky, rough, anarchic - a children's film of exceptional qualities
Wednesday, 06 October 2010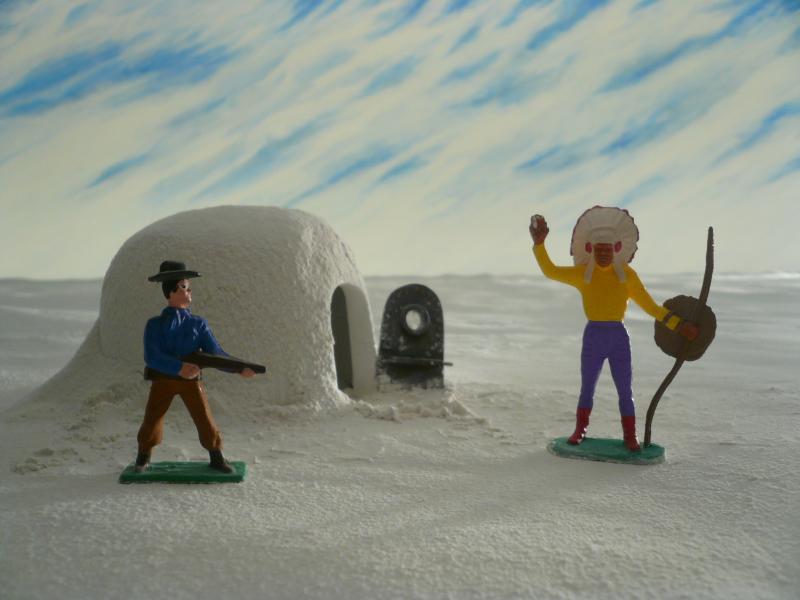 Nothing quite like it: 'A Town Called Panic' retains the freshness of a graduation film
A Town Called Panic is a charming, giddily funny dose of anarchy from a pair of benign Belgian punks, Stéphane Aubier and Vincent Patar. The first stop-motion animation to be selected at Cannes, it stars Horse, Cowboy and Indian, dysfunctional plastic toy housemates in a papier-mâché world. UK viewers will recognise the style from the Cravendale milk TV ads. Those mad cows only hint at the bizarre pleasures here.
It's Horse's birthday, by the end of which Cowboy's accidental ordering of 5 million bricks that he and Indian then hide in the loft has reduced their home to rubble. Rebuilt with Sisyphean effort, the next night their home is stolen by an aquatic race, the Atlantide. Horse and co follow them to the centre of the Earth, and on to a giant snowball-throwing robot penguin with mad scientist pilots, and the thieves' underwater realm.
None of this is stranger than their apoplectic farmer neighbour Steven, who herds cows like he's juggling dynamite, and is in a simmering love triangle with wife Janine and Policeman, which boils over when Steven - a small, angrily moustached plastic toy - gets falling-over drunk on foaming beer steins at Horse's birthday disco. And this, in turn, can't compete with the silliness of Horse going to bed standing up, or reading the morning paper at the breakfast table with a working-man's determined pleasure.
Resemblance to Toy Story's motley cast of children's playthings is coincidental - Aubier and Patar's first Panique au Village was their 1991 graduation film at Belgium's School of Visual Arts. Twenty subsequent shorts in the early 2000s popularised the characters, with fellow spirits, and Wallace and Gromit creators Aardman dubbed an English version. It's hard to imagine this film without the mad Belgian barking of its permanently appalled characters, much funnier than anything they say.
A Town Called Panic, helped by its deliberately crude raw material, also retains the freshness of a graduation film, or the sort of homemade footage kids used to send to TV's Screen Test. Far more than Toy Story, this has the carelessly sustained invention and incongruity of children's actual imaginations, as they play on the floor with their toy-box menagerie.
Watch the trailer for A Town Called Panic:
The last decade has been a golden one for both children's films and cartoons. A Town Called Panic will appeal to adults equally not through the Pixar technique of hip jokes and satire inserted to keep them engaged, but by idiocy of universal appeal. Aubier and Patar have mentioned Jacques Tati and Buster Keaton as influences, and moments of slapstick are enhanced by the inherent absurdity of these plastic toy buffoons. Horse, Cowboy and Indian, characters deepened for their feature debut, are also likeable.
I couldn't help but sympathise as Horse attempts to get to sultry teacher-horse Madame Longree's music lessons, as she rings up with growing sighs of impatience, while he battles back from the Earth's core with his cretinous friends. An added relief is that, as the poster boasts, it's in "breathtaking 2D!" There really isn't very much like it.
Far more than Toy Story, this has the carelessly sustained invention and incongruity of children's actual imaginations
Share this article