Child Of Light |

reviews, news & interviews
Child Of Light
Child Of Light
A deftly balanced role-playing game with beautiful visual design – what's not to like?
'Child Of Light': Looks and plays beautifully, but where's the plot?
There are many admirable things about Child Of Light. It's the game that the core team behind Far Cry 3 – the mega-action, gnarly dude first-person shooter ‑ went on to work on next. Yet, it's difficult to imagine two games further from each other.
In Child Of Light, you play Aurora – a princess who falls into a deathly sleep to wake up in a dreamworld dominated by darkness. To return to her grieving father in the real world, she must defeat a wicked queen there. Able to fly, followed by a glowing, controllable orb of light and floating her way through a beautifully detailed landscape of giant forests, flying pigs and talking crows, it's difficult to see much in common between Child Of Light and Far Cry 3.
There is however a strand that connects the two – both are not just visually stunning (Far Cry 3's lush jungle paradise versus hand-drawn caverns and Aurora's amazing floating red hair), but both also feature wonderfully balanced gameplay.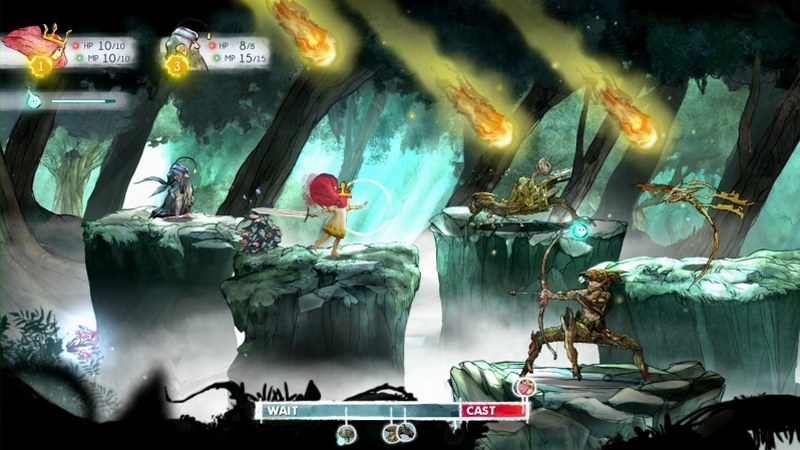 Child Of Light is a homage to Japanese role-playing games (like the Final Fantasy series). In the game, whenever you encounter an enemy, you're dropped into a turn-based strategic battle screen. As each character's turn comes up you choose what action they take from a strategically diverse range of options.
Do you attack or defend? Glug a healing potion or cast a spell? Swap another character in your party into the battle or build up for a bigger attack? This blizzard of options is made more complex because each of your and your enemies' actions plays out on a time bar at the bottom of the screen.
If you interrupt an enemy before their bar switches from the moment they make a decision to the moment their action takes place, you set them back (and vice versa, with your actions also interruptable). Timing suitable actions to the best strategic moment becomes vital.
On top of that, you can move your controllable light orb to hover in front of one enemy (you usually face off against three at a time). Blinding them slows down their action bar – increasing combat choice again. The result is a fantastically balanced and varied palette of moves you spend two thirds of the game learning before difficulty kicks up a notch in the final sections.
Beautiful aesthetics and finely honed strategic combat will only take a game so far though. So much attention has been lavished on the visuals and combat encounters, there was clearly no time left for plotting – leaving Aurora and her twee companions undernourished in terms of having a point or making you care about them. A lamentable decision to have all dialogue in rhyming couplets also doesn't help. The final result is an aesthetic and gameplay success you're likely to find empty in terms of emotional connection.
Child Of Light is out now for PC, PS3, PS4, Wii U, Xbox One, Xbox 360. Developed by Ubisoft Montreal and Published by Ubisoft.