Star Wars Battlefront II review - an opportunity missed |

reviews, news & interviews
Star Wars Battlefront II review - an opportunity missed
Star Wars Battlefront II review - an opportunity missed
The force is less strong with this one
Wednesday, 29 November 2017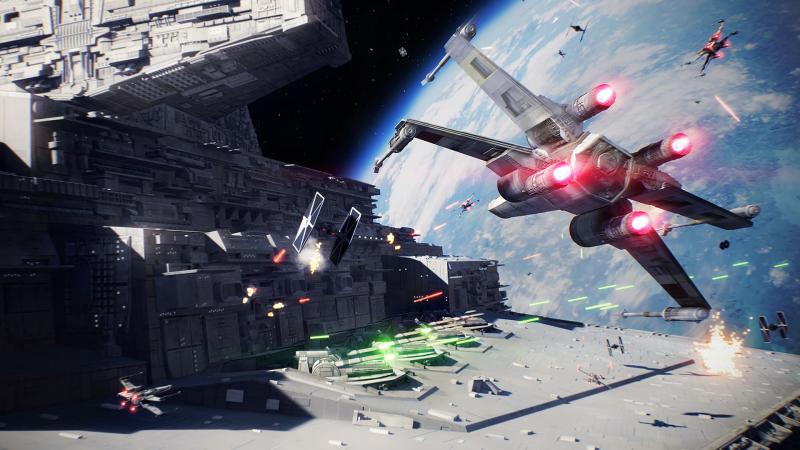 A confusing and at times frustrating experience: Star Wars Battlefront II
This sequel to the reasonably well-received 2015 game has attempted to address the initial criticisms of the first title lacking offline gameplay by incorporating a new single player campaign, with mixed results.
Let's cut straight to the chase, the new solo campaign is a damp squib. It's very much blast-by-numbers stuff, with the combat objectives offering the same type of missions we have seen dozens of times before. You shoot, slash or occasionally dogfight your way through a dozen stages of mindless Rebel soldiers on a conveyor belt of generic action. Rinse, reload and repeat. Yawn.
There was much anticipation about the new Empire-focussed narrative and the lead protagonist, a sort of Special Forces Storm Trooper, is a well-drawn character. But the plot decides to not fulfil the narrative brief and takes a far too predictable U-turn half way through the story. It then trundles on, reaching an unfulfilling climax, that leans heavily towards drip-fed downloadable content made available at a later date, no doubt at a cost.
So, let's park the stuttering jalopy of a single-payer campaign and turn our attention to the main Galactic Assault online mode. Here, we are on familiar ground, as 20 players on each side assume the roles of either rebel infantry or empire troopers and do battle across sprawling maps adorned by iconic Star Wars backdrops.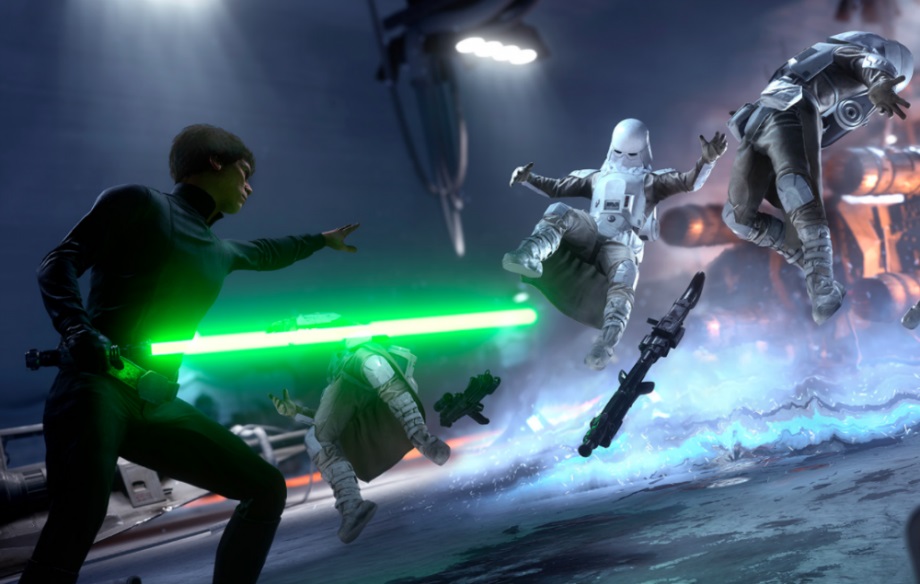 As before, it's thrilling stuff as you and your army race towards an objective such as an AT-AT that needs to be hijacked, while enemy defence positions bear down on a torrent of laser fire. It's the epic battles that Battlefront still pulls off with aplomb – and gameplay tweaks have been made to further enhance the experience.
In addition to regular soldiers you can also select from the Hero class including all the household names Star Wars fans know and love, including Luke Skywalker, Han Solo, Yoda, the Emperor, Darth Vader and Kylo Ren. Each hero has a selection of character-specific special moves, such as the permanently fun Force Choke or Bobba Fett's jet pack, which literally adds a new dimension to the gameplay.
As each match progresses you'll earn Battle Points that you can cash in during the fight for instant rewards such as taking control of a hero or piloting a vehicle. There's also Loot Crates and Star Cards to collect and use in various different ways to upgrade and customise your character, allowing you to add stat bonuses to equipped weapons or give you the option of selecting new items.
Character progression is never fully explained in-game, making it a confusing and at times frustrating experience. There has been much controversy surrounding the use of micro transactions, where players pay real-world cash for in-game benefits, such as additional weapons and powers. The balancing issue, between regular players and players who were prepared to "pay to win", was so contentious that EA disabled all micro-transactions at launch.
It's this type of development oversight that really underlines where we are with Star Wars Battlefront II – a game that needs to be crafted more carefully to fully live up to the heavyweight licence it's touting. There are better shooting games and there are better Star Wars games. This feels like an opportunity missed.