10 Questions for Vocalist-Lyricist Georgia Mancio |

reviews, news & interviews
10 Questions for Vocalist-Lyricist Georgia Mancio
10 Questions for Vocalist-Lyricist Georgia Mancio
Portraying beauty, dignity and hope - and love, joy and sadness - in song
Georgia Mancio with songwriting partner Alan Broadbent
This week marks a major step in the songwriting collaboration between British/Italian singer-songwriter Georgia Mancio and Alan Broadbent, the Grammy-winning jazz pianist who has played with Woody Herman and Charlie Haden's Quartet West.
Having first started working together eight years ago, they are launching not just their second album of jointly written songs,
Quiet Is the Star
, but also,
The Songs of Alan Broadbent & Georgia Mancio
an illustrated book containing 32 songs.
Their first album together, Songbook, for quartet, was launched in 2017 at Ronnie Scott's in London (where Mancio once upon a time worked as a waitress) and at the 70th birthday party of Alan Broadbent at Dizzy's club in the Lincoln Center in New York. "One of the most formidable songwriting partnerships of the 21st century," wrote one reviewer of that first album.
Mancio has a particular kind of openness, directness, honesty and empathy as her lyrics reveal joys and the pain of loss. As she says, "I follow Nina Simone's creed that as artists it is our duty to reflect the times we are in."
The intimate feel of the new album and its measured pace have been well described by John Fordham of the Guardian: "the slow-burn is deceptive… it's a dynamic session even in its sombre moments – the result of the participants' remarkable empathy, and their shared talent for conveying intensity without turning up the volume or the tempo."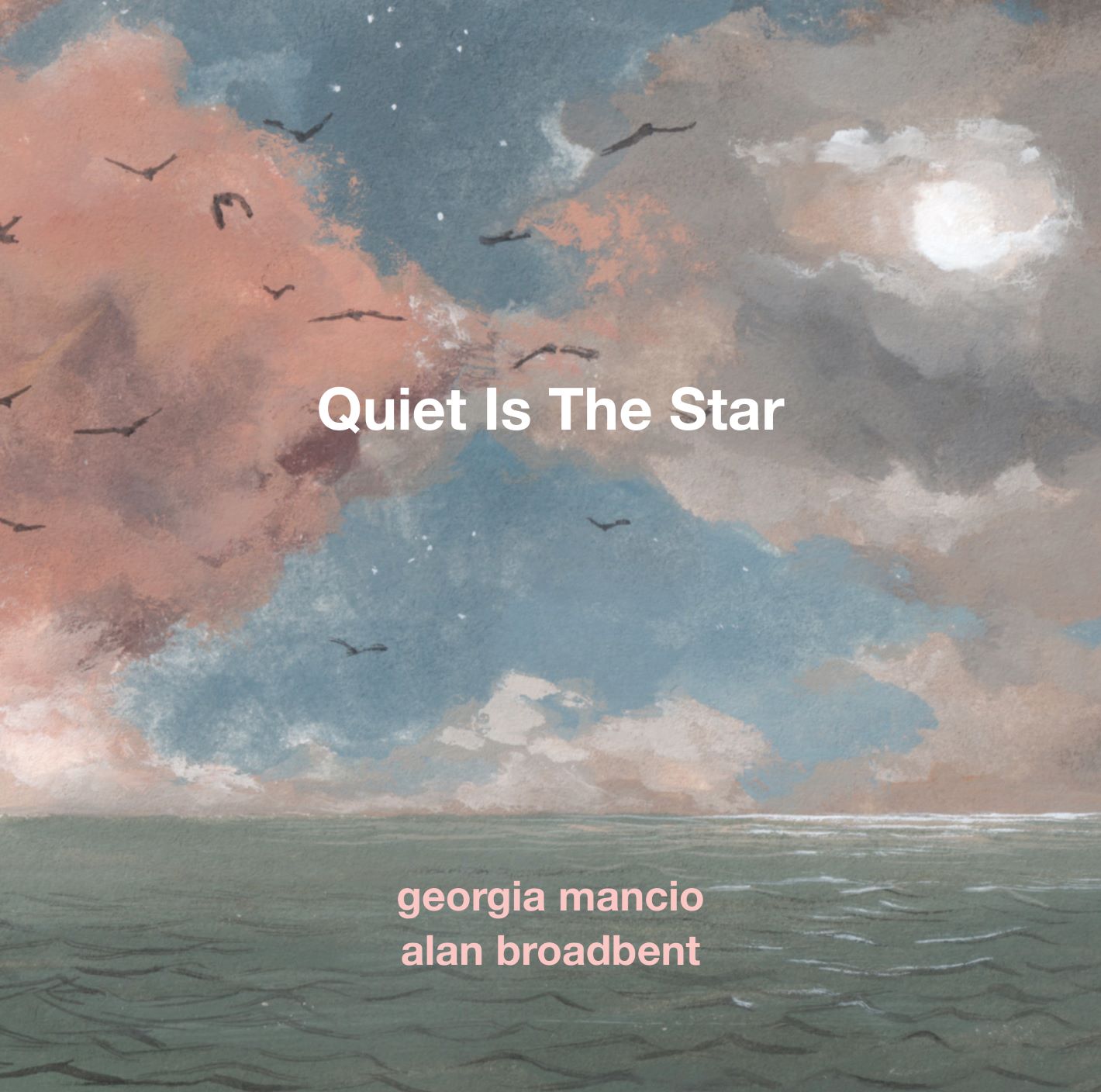 SEBASTIAN SCOTNEY: You started off as a singer with the jazz standards repertoire. What were the steps that led you to become a lyric-writer?
GEORGIA MANCIO: The very first step was a beautiful song called "Peaceful Place" composed by British pianist Tim Lapthorn whilst we were working in Dubai back in 2001. It was explained to us that jazz meant anything without a techno beat so I think they were a little unprepared for a real improvising trio, but it was a fantastic training ground for us all (three months, seven gigs a week) at the start of our careers.
The lyric took me a long time, especially getting the balance right between craft and intuition. We went on to write a collection which formed the foundation of my 2010 album, Silhouette. At the same time I started putting words to favourite instrumentals (by Horace Silver, Chick Corea, Joe Zawinul) and translating existing Spanish/Italian lyrics (Osvaldo Farres, Chet Baker). It continued to be instinctive rather than conscious and was always secondary to performing until I started writing with Alan (Broadbent) and producing a tangible body of work.
You have worked in other creative partnerships with Kate Williams, Tom Cawley… Each one is different, right?
Yes, very. I think in any partnership, you have to meet and match each other halfway. With Kate, it started by my asking her if I could write lyrics to specific songs of hers that I really loved, but when she invited me to join her Four Plus Three for our Finding Home project, we consciously elected to push ourselves to work in new ways to find "our" sound. So sometimes we'd start from her melodies (or a sketch/riff/chord sequence), sometimes from my words and sometimes a mix of the two, even going back and forth.
With Tom Cawley, so far, we have written only from lyrics first – at his suggestion. It has proved to be perhaps the biggest reveal of all: in forcing my autonomy I discovered I was concurrently a very different writer to the one I already knew. This method developed a fascination for character-driven songs and I have no doubt there will be more to come from the partnership.
With Alan Broadbent, it has always been from the music first, apart from one of our 33 songs. Alan says he writes about one really good song a year (though it's often definitely more!) so they arrive very fully formed and scrutinised. I feel the stories are also clearly embedded and the thrill is in peeling back the layers to reveal it.
The book tells the story behind each of the songs. What gave you the idea to do that?
We completed the book in the second half of 2020, so basically in and out of lockdowns.
Perhaps realising that live work was not going to return in the same way soon – and certainly not easily for a transatlantic team – I was subconsciously imagining how we would present the songs on a gig. I think those back stories are an important part of building a bond with an audience, especially if you are playing originals.
I also wanted a way to include Simon Manfield's evocative artwork in context because he created it from listening directly to the songs. I like that the book works on different levels: a song book, a story book and an art book.
You have taken a song by Pat Metheny… and had your version "approved". What's the story there?
I was exhilarated by Pat Metheny's "Question and Answer" from his eponymous album with Dave Holland and Roy Haynes. The force of that vamp intro alone! The intriguing title led me to a cynical tale of politics and religion and though I wrote it in 2008, it still feels as fitting today, maybe more so.
I can picture myself, at the end of a train journey, when I finally found the key to the middle section, after a few months of trying! The approval for use was much less painful and such a wonderful surprise because other than a request to alter the title – I chose 'Question the Answer' – I was granted permission. I learnt that other composers were not so forthcoming so that song will always be an important marker for me.
One of the songs on the new album is about Sandra Bland who died in police custody in Texas . And yet the song is reflective rather than angry…
I follow Nina Simone's creed that as artists it is our duty to reflect the times we are in and this has felt both inevitable and organic as my lyric writing has developed alongside my life experiences. I remember watching the police video of Ms Bland's assault and arrest, with rage and shock and the stultifying knowledge that this injustice would never be righted. Eventually my response in regards to writing something in tribute was to counter this brutality with all the beauty, dignity and hope that she, and so many other extinguished Black lives, deserve.
The song "All My Life" feels personal, almost confessional...
About three weeks before we were due to record, Alan sent me this stunning piece, with its own very distinctive identity. A recurring theme runs between its three sections and there are no solos: it's just a pure and complete statement. My first reaction was intensely emotional: I literally burst into tears when I heard it and literally every time I listened, and when I write lyrics I listen a lot before writing, so it got quite messy!
The title made me think of my sister so I've told our story, from childhood to present day: "The winds that blew us, the trials that threw us./The doors we opened, the ties unbroken."
And there is another which was originally an instrumental tune Alan Broadbent wrote more than half a century ago?
Yes, the very haunting (and insanely mature), "When You're Gone from Me", written when he was just 16 or 17. This became another very personal lyric for me, about a close family member who had been diagnosed with early onset dementia. In moments of shock and trauma there's a disorientating realisation that although time has momentarily stopped for you, the world gallops ahead regardless. I was caught between that stasis and the overwhelming need to regain control, so in the bridge of the song there is a moment of optimism before the inevitable closes in again:
"But I will try to bring you summer, I will find the sweetest rose.
And I will capture all the birdsong, the day long, the sun strong.
Counting all the time that's calling and all the years that went so slowly now just fly.
No one will blink an eye, when you're gone from me."
One of the joys of the new album is how natural the flow and the pacing of the songs feels... surely that can't just "happen"?
Well, actually, it really did for a few reasons. Firstly we had barely played most of the songs together as they were written in periods between gigs. The only "rehearsals" were the couple of dates we had in Germany and the UK right before recording.
We had the studio for just one day – me with the beginning of a cough from a very intense period of work leading up to it, and Alan still with jet lag. The piano went out of tune, then developed a squeaky pedal which our stellar producer, Andrew Cleyndert, calmly handled as Alan and I tried to maintain all our focus for this series of emotionally charged songs!
I think the writing process meant that the intent had already been processed, the stories deeply internalised so the flow was able to be unforced, despite distractions.
When Tierney Sutton and Janis Siegel take on your songs, do you find that you learn new things about the songs?
Mainly it's a validation that performers of such calibre, who are highly experienced and adept at choosing their material are recognising that these songs are worthy and speak their own truth. I'm excited to see how this develops with singers across other genres too because as Alan perfectly describes them, they are primarily art songs not just jazz vehicles.
It is clear from the lyrics you write that you have astonishing empathy – and yet you have also taken on a responsibility for running festivals such as Revoice! where you gave Gregory Porter his first UK booking. What's the secret – or is it just that you have a strong work ethic?
I definitely learnt a strong work ethic from both my parents but I think there is also a mixture of stubbornness and a sometimes naive trust in my instincts. I will probably deliberate more about what to have for lunch than whether running an international voice festival or emailing a Grammy-winning artist (Alan) to see if he might perhaps want to do a gig sometime, is a great or crazy idea!
But experience has taught me to really value those instincts, to follow my own path and to embrace a multi-disciplinary approach. To find creative expression in art direction, event production, PR, copywriting and all the other things artists are often expected to cross-over into, is liberating and empowering.
The album Quiet is the Star and the book The Songs of Alan Broadbent and Georgia Mancio are both released on 27 March. The album launch is a livestream tonight from the Watermill Club in Dorking.

Tierney Sutton and Janis Siegel have started to sing Georgia Mancio and Alan Broadbent's songs
Explore topics
Share this article