Album: Coldplay - Music Of The Spheres |

reviews, news & interviews
Album: Coldplay - Music Of The Spheres
Album: Coldplay - Music Of The Spheres
Universalist faith inspires earthbound sounds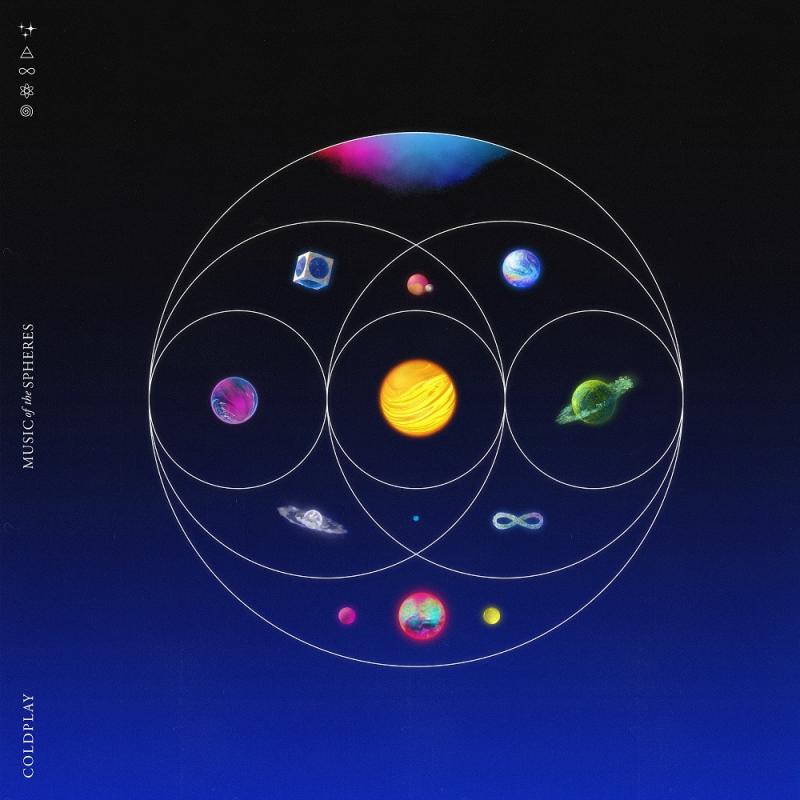 Chris Martin has talked, not for the first time, of this finally being the Coldplay era of "no rules or fear".
Swedish
pop
producer Max Martin (
The Weeknd
, Taylor Swift) gives
Music of the Spheres
a contemporary,
EDM
-pumped veneer, with further demographic-heat-seeking pacts with Selena Gomez and K-pop stars BTS.
But this ninth album merely deepens the band's failure to find hard edges to their soft rock, or root their healing generalities in any recognisably bleeding, sweating, human individual. Instead, here are more hollow anthems for everyone. And if this is Martin laying it on the line, his inability to access recognisable emotion begins to look worryingly repressed. Much like one of his predecessors in the everyman anthem stakes, James Taylor, who turned being a smack-addicted, emotionally turbulent Beatles pal into eerily smooth music, something must simmer beneath Coldplay's bland surface.
Martin's upbringing by evangelical Christian parents has, he's said, caused recent grappling with what sounds like the buried trauma of a rejected faith. He now calls himself an "alltheist", rivalling "conscious uncoupling" as a thudding neologism. But in an interview with Howard Stern, he described this philosophy in moving terms more open-hearted Christians, and those of other faiths, would recognise: "God is everywhere and everyone, and it's also the unknowable, the vast majesty behind everything...where you can't think any further, that's where I think God is."
Music of the Spheres' lead single "Higher Power" overflows with this ethos as fully as a Mavis Staples record does with Civil Rights Christian fervour, with Martin "down on his knees" then raising "my hands up shaking", as he accesses the titular, connecting consciousness. "Humankind" is similarly anthemic – "Before I was dying/...now I'm flying" – over padded, four to the floor beats and thunderous acoustic guitar strums (the latter sound recalls a key Coldplay influence, U2, who parlayed their Christianity into vaguer rock evangelism).
Coldplay have further distanced Music of the Spheres from bruising flesh and blood by claiming it's set in "a distant galaxy...that we made up". And yet they also finally finish a 2008 demo as "People of the Pride" which, over a T. Rex stomp, depicts "a sewing up of rags into revolution flags/Got to stand up to be counted/Be an anthem for your times/It's just work..." A revolution chaired by Citizen Martin seems thankfully unlikely to involved guillotines on overtime, or indeed the rounding up of rock star one-percenters. "There's a man who swears he's God, unbelievers will be shot," though, suggests exploiters of religion – the Bible-illiterate Trump and Islamic State leap to mind - may be up in the vicinity of a wall. And the music, with jazz-like brass sweep as well as glam ghosts, for once has the requisite urgency.
"Biutyful" is autotune-overload, and the irritating jazz vocoder one-man band Jacob Collier is relatively restrained alongside R&B duo We Are KING on the sepulchral gospel of "♡". The 10-minute finale "Coloratura" remarkably doesn't outstay its welcome, from its "A Day In The Life" orchestral tune-up and "Imagine" piano to its gentle coda, while comet-trails of strings and swooning harps adorn Martin's conjuring of a heaven's "end of death and doubt".
Still, this is a record where the restrained electric piano ballad "Let Somebody Go" could be about a dead loved one, or a historic mope about Gwyneth Paltrow. It's impossible to say, because Coldplay still suffer from a singer who fails to artistically reach real feeling, and music that can't meet his cosmic ambitions.