Album: First Aid Kit - Palomino |

reviews, news & interviews
Album: First Aid Kit - Palomino
Album: First Aid Kit - Palomino
A soundtrack for growing up, moving on and riding off into the sunset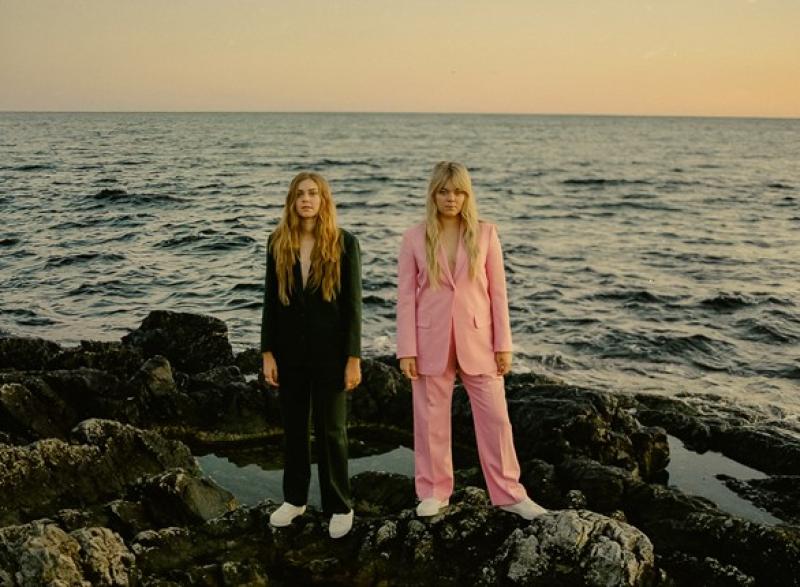 Swedish sisters, Klara and Johanna Soderberg of First Aid Kit
First Aid Kit have grown up and moved on. So says the cheerful conglomeration of lockdown-emergent pop sounds that makes up their fifth studio album.
The record has the movement of a road trip around the USA with kitschy Americana, echoes of Fleetwood Mac and Tom Petty, folk and acoustic country. It makes you feel as though you're driving down open highways under warm starry skies with the roof down. But Palomino is actually the first album Swedish sisters Klara and Johanna Söderberg have recorded in Sweden since their debut, The Big Black & The Blue 12 years ago.
Written during the pandemic it stays true to the duo's mellifluous balance of vocal strength and soft phrasing, rich harmony and rolling melodies. But where Ruins was a strong heartbreak soundtrack, Palomino is defiant in its joy. It's an album of wanderlust, of wanting to be somewhere or someone you're not, and then working out how to get there.
"Angel", with its need for "love, compassion, self-forgiveness and passion" is Brene Brown messaging in musical form for the younger generation; "Ready To Run" houses the posivibes of Abba with more power and inflection; "Fallen Snow" has a Beatles-y upbeat twang.
The album's highlight is the acoustic "Wild Horses II", a folk song with dreamy lines like: "Such a strange notion, to see you clearly, when love's shadow stood up and left the room". It details the intimate moments that paint a specific picture in time – snippets of songs on the radio, flirting with waitresses in diners and the bible in a motel drawer tell the story of a couple realising the things that divide them ("you prefer the Rolling Stones and I like Gram's") are bigger than they once seemed.
"Nobody Knows" is a whistling prairie song that gallops along with cowboy and western orchestral strings for accompaniment, and "A Feeling That Never Came" has an authentic Nashville sound, adorned with rhythmic claps. "29 Palms Highway" is another strong track about desert sand and starry skies, open hearts and whispering to the wind.
The whole album is an exercise in letting go, as expressed in "Palomino" which declares: "I want to ride off on a Palomino, feel the breeze in my hair as I go" – expressing the desire to move forward from lockdown, from the shadow of feelings that no longer serve a purpose. It is writing songs about wild horses, imagining galloping off on one, then realising that actually, you can.
It's an album of wanderlust, of wanting to be somewhere or someone you're not, and then working out how to get there
rating
Share this article