Album: Rufus Wainwright - Unfollow the Rules |

reviews, news & interviews
Album: Rufus Wainwright - Unfollow the Rules
Album: Rufus Wainwright - Unfollow the Rules
A self-described second act by an artist who's already been through several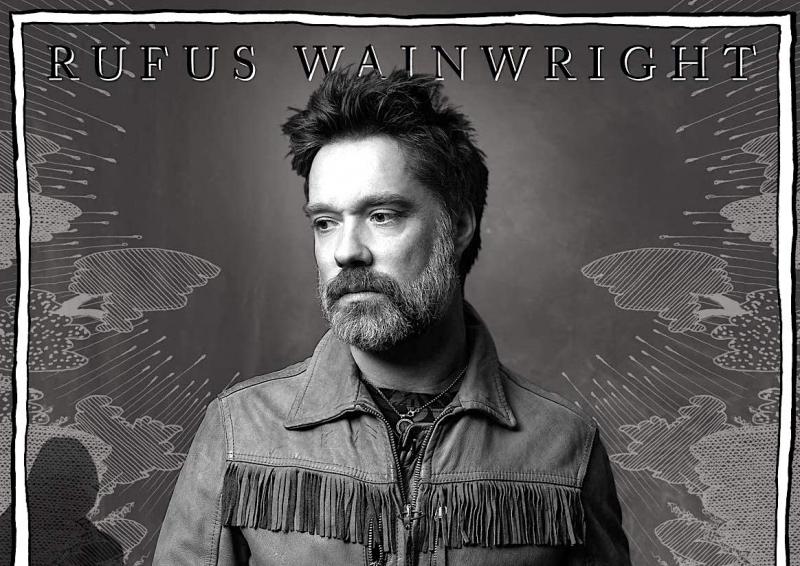 Seasoned artist: Rufus aims to emulate the greats of yore
After Unfollow the Rules: The Paramour Session and the #Quarantunes "robe recitals" comes the album: Unfollow the Rules, no longer stripped back (though everything's relative) but in all its pomp and glory.
It's Rufus Wainwright's ninth collection of originals but his first
pop
outing since
Out of the Game
(2012), which was promoted by a music video starring Helena Bonham Carter. This time Wainwright starred in his own video for the Randy Newman-esque opening track "Trouble in Paradise", which declares itself insistently with drums over which his distinctive voice enters.
Wainwright wants Unfollow to symbolize "a coming together of all the aspects of my life which have made me a seasoned artist" and his aim is to "emulate the greats of yore whose second acts produced their finest work", notably Leonard Cohen, Frank Sinatra and Paul Simon. The album was begun around two years ago but was gestating a couple of years earlier than that, "songs that bubbled up during my years doing operas". It was recorded in Los Angeles, with Mitchell Froom producing.
"Damsel in Distress", the second track, is about Joni Mitchell, an artist Wainwright admits he's paid scant attention to – forbidden to listen to her by his mother, Kate McGarrigle, who thought Mitchell insufficiently respectful of the folk tradition and too rich and successful. His husband Jörn Weisbrodt is however a great fan, and when the couple moved to LA's Laurel Canyon with their daughter Wainwright decided to follow the trails, which include not only Mitchell but Linda Ronstadt for whom "Heart Like a Wheel" – by McGarrigle – was a staple. Mitchell is conjured up in the song's acoustic guitar style and rhythms, and in its allusive lyric.
Like Wainwright himself, 'Unfollow the Rules' contains multitudes
Big, baroque, occasionally operatic with lots of multilayered Wainwright vocals, Unfollow is a postmodern album replete with stylistic allusion, from the country rock of "You Ain't Big", a comment on the music business, to the Orbisonian Sturm und Drang of the title track and "Peaceful Afternoon", a song celebrating 13 years with Weisbrodt, whom he addresses directly. Lush strings and percussion heighten the drama and melodrama.

"My Little You" is another celebration of family, his nine-year-old daughter, who provided the album's title. It's appropriately short and sweet, set to piano accompaniment, and it gives way to the histrionics of "Early Morning Madness", about a life on pills and booze, the thick, soupy orchestration suggesting the all-enveloping haze. It climaxes with a Sgt Pepper-ish moment of dissonance before returning to the opening trope.

"Hatred" speaks to the horror and terror of Trump's America. The opening piano motif suggests a police siren, the jabbing strings street violence. "Alone Time", the latest single which closes an album that's arranged like a song cycle, is dedicated to those who have suffered during the pandemic. Wainwright begins solo, over repeated piano chords, and then is extravagantly multitracked. "Don't worry I will be back baby /To get you, to get you", he sings, as the harmony resolves and the song fades.

To coin a phrase, Unfollow the Rules, like Wainwright himself, contains multitudes.
Big, baroque, occasionally operatic with lots of multilayered Wainwright vocals, Unfollow is a postmodern album
rating
Share this article