Clubbing with the Stones: Live at El Mocambo |

reviews, news & interviews
Clubbing with the Stones: Live at El Mocambo
Clubbing with the Stones: Live at El Mocambo
Prior to their European tour, one of the band's finest ever gigs sees the light of day
In a little over two week's time, the three remaining ones will kick-start their 60th year as The Rolling Stones by taking to the stage at a stadium on the edge of Madrid on June 1, around the same time that Elizabeth Windsor marks her own @70 jubilee across the UK.
The Stones will stop by in Munich's old Olympic Stadium, which dates, like quite a chunk of their set list, from the early Seventies, before SIXTY's opening UK date in Liverpool, the band's first gig there since 1971. That was the year they bade farewell to Britain before decamping to the south of France to make Exile on Main Street.
Then they're back in the UK towards the end of June for the first of two London shows at Hyde Park – the scene of their triumphal 50th anniversary return after a long performance lay-off following 2007's A Bigger Bang tour.
Something does happen to this band when they feel they have something to prove
They were greeted like returning heroes in 2013, especially amid uncertainty that they'd even get back together at all. Now, after the long, dislocated years of pandemic and lockdown, they are likely to be greeted with a heroes' welcome again, as the shadows lengthen over the rock'n'roll years, hoary figures lurching into the light from an age of myth, survivors from times long gone but still long in the memory.
In the past year, the Stones have had to come to terms with death, who briefly joined their line-up to lead away beloved drummer Charlie Watts shortly before their pandemic-delayed No Filter US tour was about to start last summer. Long-time band associate and former Xpensive Wino Steve Jordan has stepped up to Charlie Watts' drum seat and the Stones tour of a Covid-ravaged US last year – while other bands and solo acts were falling to the wayside – was a remarkable revitalisation of the surviving band and its spirit, with the three principles – Jagger, Richards, Wood – more than stepping up to the mark in terms of power and focus as they honoured their bandmate and performed with more intensity and heft than they had in a long time. When they have something to prove, proof is given.
This time around, with the big six-oh rising up to meet them face to face, what do the Stones have to fight to prove this time round? That they're bigger than Sixty? That time waits for no one, but does linger for them? That they still like it? According to some English tabloids, concert sell-outs are not as instantaneous as they were for the band a decade ago. Hyde Park 2013 sold out in a day. A dystopian decade later, and amid a terrifying new European war, a cost of living crisis and the lingering impacts of the pandemic, there are still tickets up for those that want them for Hyde Park SIXTY. I suspect they'll all go, and the band will come out to that London stage to prove that even with Charlie gone, they are still the Stones. And they will need to prove it.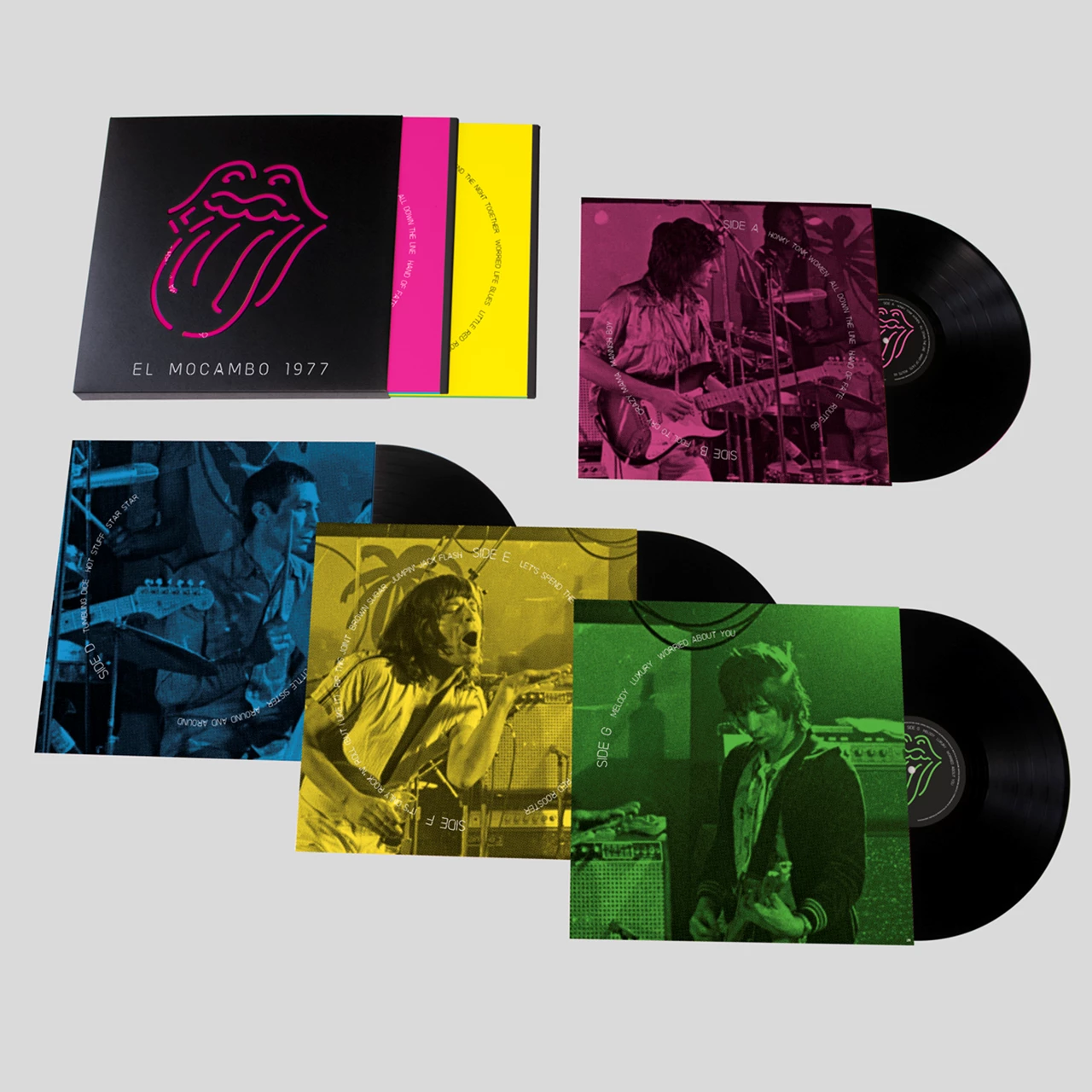 Because something does happen to this band when they feel they have something to prove. Whether that's steering out of the psychedelic cul-de-sac of Their Satanic Majesties into the perfectly formed Beggars Banquet of 1968, or their remarkable studio resurgence with Some Girls a decade later.
But if there's one gig in the Stones canon that shows just how powerful, scuzzy and brilliant their rock'n'roll can be when they're up against the wall, then that's their legendary club shows at El Mocambo in Toronto in 1977, at a time when Keith Richards was facing serious incarceration time on drugs charges – possession, importation, trafficking – that seriously threatened the band's future and Richards' existence in it.
Just four tracks from the two club nights they played there would appear on side three of that year's Love You Live. I was a callow teen when that album came out, and while most critics think it's sloppy shit, they're wrong. It's sloppy as hell, but it's the shit.
Love You Live was the first Stones album, and the first versions of Stones songs, I ever heard. Get it on vinyl, drop a needle on side one, track one, fade up to Ollie Brown's percussion, the Fanfare, that French voice, the rising roar of the crowd at Les Abbatoirs, the announcer's voice "Le Rolleeng Stones!!!", that sort of a shuffle on the drums from Charlie, and then those chords to "Honky Tonk Women", pulling as strong as oxes, the cattle of the sun.... I'd never heard anything like it, ever, the power of that moment was phenomenal, and remains so, almost five decades later. It just blew the doors right out. Those chords always will… I was 14. I felt like smashing up the furniture. I was like that guy whose head explodes in Scanners.
'Live at El Mocambo' may well be the best ever live album the Stones will ever release
Now, 45 years after the club opened its doors to a bus load of fans who thought they were seeing a gig by April Wine (who played a support slot), a double CD and vinyl set is finally coming out this Friday, and it may well be the best ever live album the Stones will ever release. It's one of those discs that shows you exactly why they are the greatest rock'n'roll band the world ever will hear or see.
There are 24 songs here, mostly from the second night (as a result of tape problems), and it's the kind of deep-dive set list fans haven't heard at a Stones gig for a long time. Bookended by a slow, molasses-thick "Honky Tonk Women" at the start, and the premiere of a then-new song, "Worried About You", at the close, and with just a handful of what are now known as warhorses gracing the set ("It's Only Rock n Roll", "Jumpin' Jack Flash", "Brown Sugar", "Tumbling Dice") the rest mixes up choice cuts from Exile (itself marking 50 years of louche life as the ultimate Stones double set), R&B gems from their old club sets – the likes of "Worried Life Blues", "Around and Around", "Cracking Up", "Mannish Boy", a superb "Little Red Rooster" – and what is the highlight for me, superb contemporaneous accounts of songs from the overly maligned Black and Blue, the 1976 album that saw Ronnie Wood jostling with fellow guitar-slingers to take the job and run with it all the way through to SIXTY. "Hand of Fate", "Melody", "Hot Stuff", "Fool to Cry", "Crazy Mama" – songs you almost never hear on a Stones stage these days.
Add in a fantastically rare "Luxury" from 1974's It's Only Rock n Roll, and you have Billy Preston providing a dangerously bouncy synth backing track around which Keith Richards slices and weaves a set of lean and expressive riffs, just as he does on the equally propulsive "Dance Little Sister" – another rare deep cut to grace the set. Jimmy Page once said that you could forgive Keith Richards everything for that one track. But what's to forgive, Jimmy?
On Love You Live, Jagger often slurs and shouts his words like a man in a hurry, his lyrics playing second fiddle to some new arena-show moves. However, here in front of El Mocambo's crowd of 300 he's just marvellously in your face as a singer and frontman, all the way from soup to nuts. Ken Regan's photos from those two nights underline that. It comes over as outrageous, hilarious, unbridled rock'n'roll as release-catch on every inhibition you ever had. Let it loose, as he once sang. And the band around him is so slippery-evil-sloppy-unrepentant, springing and prowling like a beast at twilight.
Special mention must go to Billy Preston's keys and vocals, and Ollie E Brown, the very tall percussionist who stood behind Charlie; they both bring a lot to the party, and while Preston has passed, Brown is a successful realtor on the West Coast, who still calls the Rolling Stones "my boys". And then there's Ian "Stu" Stewart, the original boogie-woogie founding member, whose piano work features prominently, and poignantly, here.
Though these days the side-men way outnumber the core players, there's still a whiff of unpredictability in the air when the Stones come on, despite the rigidity of the set lists. It comes to what Keith will do when he hits the stage, and how Jagger and Wood and the rest of the band respond and how collectively they then let their songs off the leash once again, so there's just enough wriggle room for the unexpected. It might be a train wreck. It might be a moment of levitation.
Though they are now approaching the kind of long, hypnotising fade-out they used to specialise in as a recording band, there's still that space inside them to touch those old powers once again, to unleash the spirit, and pass it on to their audiences. That's why we still come. See you there.
Listen to "Tumbling Dice" from Live at El Mocambo
If there's one gig that shows just how powerful, scuzzy and brilliant their rock'n'roll can be, El Mocambo is it
rating
Share this article