First Person: Sam Lee on singing with endangered nightingales |

reviews, news & interviews
First Person: Sam Lee on singing with endangered nightingales
First Person: Sam Lee on singing with endangered nightingales
The folk singer on streaming for Extinction Rebellion and the Absolute Bird series
Sam Lee at the Extinction Rebellion in Berkeley Square on Monday evening
Every spring for the last five years, we have gathered around a camp fire in hidden locations in a wood in Sussex, to join the nightingales and to "re-wild" ancient folk ballads. We walk in silence through the forest at night, with no torches, reawakening our aural senses. These meditative pilgrimages give people permission to be in a state of communion with nature, to be silent to hear the birds.
Singing with the birds is powerfully life-affirming: every year, someone writes to me afterwards to say how they are going to change their life, get divorced, or move jobs…
Nightingales show many human-like qualities in their social interactions, their calls and responses. They have 200 phrases which they are constantly improvising, repeating and adapting. Hearing us singing folk ballads, they acknowledge our presence just 10 metres away and change their rhythm, pitch, and frequency. Embedded in what we do in these events is the "broadcasting" of sonic heirloom seeds in an attempt to restore and reinvigorate that ancient and intuitive coexistence with which our known (and long since forgotten) folk songs and the patterns of nature have evolved. The reason is simple. We are nature. And we need nature as much as it needs us. These songs of and about the land are declarations of our dependency on this earth.
The context in which we have grown accustomed to hearing music nowadays denies us so much sensation that for millennia has been the forge in which our music, our language and our stories have evolved. By taking song back to its source an indescribable act of restoration occurs both inward and outward. These songs reclaim meaning and help heal and enhance our often-complicated relationship with the land. The payoff is an enhanced sense of duty to care harder and deeper. Folk song, like nature, is in the participation - we do it through our feet, our voices and our hearts.
Birdsong has been one of the biggest influences on British song, poetry and literature. It has contributed to an extraordinary aural history which composers have been mining for 800 years – whether Vaughan Williams with his famous The Lark Ascending or Messiaen, Vivaldi, Respighi or more recently Hollis Taylor.
From tonight through to 24 May, the City of London Sinfonia's Absolute Bird series is celebrating spring in concerts with 800 years of music at the Southbank and Southwark Cathedral. RSPB's President Miranda Krestovnikoff, who is also a talented flautist, joins CLS in Southwark Cathedral for an interactive experience. And on the last night, I'll be there at the Southbank, as we set up a microphone in the forest to live-stream the nightingales directly into the concert hall and tune into their pulse.
Last September, the RSPB approached me about releasing a single of pure birdsong. They had heard about The Nest Collective's Singing with Nightingales – and wanted to see whether we could create a track to break into the charts. Assembling the calls of 25 bird varieties into a single track, the RSPB wants to draw attention to the loss of 40 million wild birds from our isles over the last half a century. The loss of 90% of nightingales from our skies over the last 50 years means there are now only 5,000 of the endangered species left. We might lose them completely in the next 30 years. It's a similar situation for turtle doves, skylarks, swifts, curlews, and many more.
Our track - Let Nature Sing - was released last Friday in time for International Dawn Chorus Day on Sunday. Though it is an act of celebration of our native birds, the single is also a lament and wake-up call to natures' crisis. It has already broken in the charts – hovering at 11 in the middle of this week. Can we hope it reaches No.1?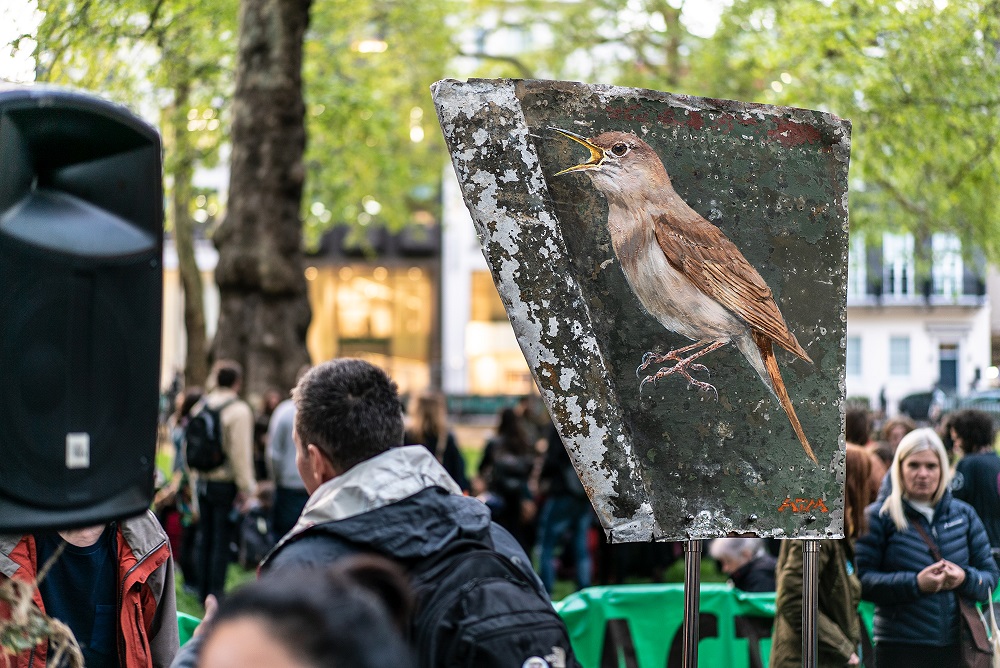 A couple of centuries ago, we mapped our seasons through birdsong. The loss of birdcalls should concern all of us, because it is a signal that all is not well in the world. We should see birdsong as a barometer for the health of the planet and of ourselves. On Monday evening as a culmination of the last fortnight's Extinction Rebellion across London, The Nest Collective brought the nightingale's sonic wonderment into Berkeley Square, with the song it is most famous for (the gathering pictured above). Through synchronised streaming of the nightingale's mesmeric, yet seldom heard, courtship song via mobile phones and mobile speakers, our pop-up action filled the garden and surrounding streets with the song of a creature nearing extinction on this island.
In the midst of the heightened attention to climate change and environmental catastrophe we want to bring people together in celebration of the musical beauty of the natural world. This central London "re-wilding" action aims to bring poetic focus to the shocking demise of our own native species and to give Londoners the opportunity to hear a once ubiquitous songbird, now nearly extinct in the UK, in its mythic notional home.
The loss of birdcalls should concern all of us, because it is a signal that all is not well in the world
Explore topics
Share this article