New Music CDs Round-Up 7 |

reviews, news & interviews
New Music CDs Round-Up 7
New Music CDs Round-Up 7
Brad Mehldau, Goldfrapp, Ry Cooder and the Chieftains, Mulatu Astatke, Jonsi, Laura Marling
Brad Mehldau's Highway Rider: 'an addictive mix that you're going to have to revisit again and again'
The best or at least most interesting new music CDs our reviewers have heard this month includes the latest from electro-pop pioneers Goldfrapp, Ry Cooder collaborating with the Chieftains, Ethiopian jazz from Mulatu Astatke as well as new albums from Envy, Son of Dave, Laura Marling, Gonjasufi, Asere, Balkan Beat Box, Chumbawumba, Jónsi and Michael McGoldrick. There's a re-issue of lounge favourite Henri Mancini. Album of the month is an astonishing tour-de-force by Brad Mehldau. Reviewers are Russ Coffey, Peter Culshaw, Thomas H Green, Howard Male, Joe Muggs, Peter Quinn, Graham Rickson, Robert Sandall, Sue Steward and Graeme Thomson.
CD of the Month
Brad Mehldau Highway Rider (Nonesuch)
By Robert Sandall
At its best jazz is a team game, and at no point in his illustrious career so far has the pianistic virtuoso Brad Mehldau understood that better than on this superbly nuanced and musically adventurous double CD. The conversations between Joshua Redman's horns, Matt Chamberlain's percussion and Mehldau's protean keys here possess an easy unforced charm, and the more ambitious orchestral arrangements that dominate the latter proceedings only enhance the sense that this project really is, in the hackneyed phrase, a "musical journey". Reunited with his polymathic producer and arranger Jon Brion for the first time since Largo in 2002, Mehldau enters with a clutch of gloriously catchy rising keyboard melodies to which he and the gang gradually add layers of string-driven complexity, shrewd atonality and filmic drama. By the end, you're not quite sure what it is you've witnessed - a compelling jostle of contemporary classical, chamber jazz, and ingenious post-rock pianissimo - but you know that it's an addictive mix that you're going to have to revisit again and again. Find Highway Rider on Amazon
Other CDs
Goldfrapp Head First (Mute)
By Joe Muggs
It's easy to forget how musically extraordinary Goldfrapp really are. The loony costumes, the innuendo-slathered lyrics, the drastic stylistic shifts between albums, and the confrontational persona of Alison Goldfrapp herself – amidst all this hoopla, the actual writing and production skill of Alison and musical partner Will Gregory can simply slip through the cracks. Which is a shame, as on form they are among the absolute best pop artists of the last decade.
After the pagan, folky interlude of 2008's Seventh Tree, this is a return to the tingling glam-pop of their hit albums Black Cherry and Supernature. But where those grooved on a kind of Eurythmics-play-T-Rex cybernetic bubblegum theme, Head First goes, well, head first into the most vainglorious synths of 1980s pop, finding a direct connection from the gleaming disco-pop of Giorgio Moroder to the unselfconsciously ludicrous soft rock of Van Halen, Europe and even Invisible Touch-era Genesis.
All of which silliness adds yet more superficial hoopla, once again providing ammunition for those who would knock the duo as facile pastiche merchants. And indeed in lesser hands, such 80s retro affectations can and do ruin records. However this is Goldfrapp, and they have 1) impeccably written and paced melodies with choruses that hit you like a coronary, 2) sterling understanding of the synthesiser sounds they work with, such that any more than cursory listen shows the incredible elegance of the songs' construction, and 3) Alison Goldfrapp.
Alison's voice is so inhumanly pure and controlled that it is practically a synthesiser in itself; something made explicit in the layering and processing of it in album closer "Voicething". The lyrics this time seem to focus mainly on the sensation of the onset of erotic love, rather than its mechanics and perversions as previously, and the merging of Alison's vocal tones with the tingling synth-lines is entirely channelled into an audio representation of the overwhelming rush of infatuation – most perfectly in the sudden textural shifts into the choruses of the electro-Abba title track and the galloping "Believer". Of the nine tracks here, seven are hook-laden pop gems, and what the other two lack in singalongability they make up for in immersively narcotic atmosphere. Frankly if after a couple of listens you don't like this album quite a lot, I think you should question whether pop music is actually for you. Find Head First on Amazon
Son of Dave Shake a Bone (Kartel)
By Howard Male
It's interesting to compare the approach to technology of the one-off talent that is Benjamin Darvill (AKA Son of Dave) to that of Balkan Beat Box (which I review below). Ben has what might be described as a hands-on and feet-on approach to music, with almost every sound he produces being made by either his vocalised beats, his sung vocals, his harmonica, and the way he loops and treats each of these elements with foot pedals. Because of this, it is pretty much inevitable that the sound he ends up producing is as about as organic as you can get via electronic technology. It's also, as far as I am concerned, the nearest any white boy has gotten to finding their own way of playing the blues without resorting to stylised affectation or all out mimicry.
Having said that, Shake a Bone isn't nearly as immediate as 2008's album 03, which just seemed to be bursting with hit singles for a better and wiser alternative universe. But this doesn't in fact make it any less compelling to listen to. There's always something about SoD's snarling belly-to-the-ground grooves, simply because they're so unigue, pumped-up, and almost literally breathless; singing and playing harmonica almost simultaneiously aint easy!
Then there's the man's lyrics, which seem to balance a deceptively throwaway charm, a sly circumvention of cliché, and a dry wit that will remind anyone who's seen him live of his between-song banter. They are half spoken, sometimes almost spat, occasionally squealed, but always attention-holding. For example, there's these simple and direct lines from the sublimely slow and pensive, "Guilty." "Guilty. You can see it in my eyes. I can't lift my gaze. I can't speak for fear of lying. Guilty. When I'm walking down the street, all the people that I meet, see through me." Which then concludes with the heartfelt but possibly disingenuous protestation, "But I ain't done nothing wrong."
So, OK, not so many would-be hits then, but – on a fourth listen – Shake a Bone has other equally valuable qualities. It has a more spontaneous less-is-more vibe, and it's also possibly the nearest we've had to a capturing of the viscera and heft of the man's live performances. Solid, stripped down, and one-hundred percent the real deal. Find Shake a Bone on Amazon
Watch mini-documentary about Son of Dave, below:
Laura Marling I Speak Because I Can (EMI)
By Russ Coffey
So far Laura Marling has given critics plenty to talk about. Her youth, her shyness, her relationships with the key players of so-called nu folk (one of which begat the extraordinary break-up album The First Days of Spring by Noah and the Whale). But really there's just one story. How good she is. Where other writers seem to need influences to find what they want to say, melody and words seem to flow like milk from Marling. She is touched, like the late Nick Drake. And listening to her music you worry that hers is an equally lonely head to inhabit. For I Speak Because I Can is largely about the unspoken moments between people. A fear of communication; the letters we refuse to send, and the things we are too scared to say.
The album may not be Marling's masterpiece but it definitely confirms her as British folk-rock's great new talent. It's a more direct record than before. The allusions are easier to follow, and although references to religion and madness persist, her vignettes mainly capture specific moments of sudden and intense reflection. We can speculate in vain as to whom particular songs refer to, because really they are written about whoever is listening. Musically there is fragile beauty aplenty, such as the otherworldly single, "Goodbye England". But she is not stuck on a note; her palette is now broader and the canvas seems to evoke images from Bob Dylan and Joni Mitchell, particularly in the songs ""Devil's Spoke" and "Nature of Dust". Maybe that is as much guitar technique and vocal quality respectively but there is no doubt that she is now less centred on an English landscape. And yet when she does evoke gentle and quaint emotion her voice invites comparisons as much to the late Sandy Denny as Mitchell. "Made by Maid" and "What He Wrote" are simply too beautiful.
The overall effect of her varied moods has been described as more complete than the first album. Possibly, but it's a stretch to say that it's an out and out improvement – certainly if you discount the weaker parts of the debut. But that's certainly no criticism. Both are steps towards the seminal "Joni Mitchell Blue Album" she surely has in her if she follows her instincts. Marling borrows a backing band from boyfriend Marcus's band, Mumford and Sons. Where you can hear echoes of Mumford (such as "Hope in the Air") it's almost as if she is taking refuge in borrowed clothes. They don't suit her. She's naturally set apart. Let her never try and fit in. Find I Speak Because I Can on Amazon
Gonjasufi A Sufi and a Killer (Warp)
By Thomas H Green
The word "Gonjasufi" conjures up images of mystical dub or, perhaps, a psychedelic trance act, replete with forehead bindi. Photographs of Gonjasufi add to this idea, representing a heavily bearded, dreadlocked figure, a scruffy visual cross between Charles Manson and Lee "Scratch" Perry. His debut album, however, while lyrically and vocally maintaining a heavy whiff of unhinged outsiderdom, is many miles west of predictable. Since it's produced by two of California's most vanguard electronic sorts, Flying Lotus and Gaslamp Killer, and on electronic connoisseurs' label Warp, this should not, perhaps, come as a surprise.

Gonjasufi's music is a crackly gumbo of samples and studio tweaking, but the emphasis is on actual songs rather than stoner sounds. His voice, often arriving cushioned in transistor fuzz, breaks between high-pitched keening and growls. The nearest songwriting comparison would be Donovan circa "Season Of The Witch" - but catapulted to a malfunctioning sci-fi future. Gonjasufi has much of the Sixties about him, "DedNd" even sounds like garage bands such as The Seeds or 13th Floor Elevators while "Sheep" has cheesy backing vocals purloined straight from Mike Sammes-style easy listening.
Despite the retro tinge, nothing is delivered straight, every sonic crevice is dusted with hissing vinyl loops and crunchy effects, instigating an overall tone of electro-weirdo entertainment. The dynamic "Klowds" rides a frantic bouzouki, "Duet" is double bass jazz filtered through early Massive Attack, and a couple of songs plumb for heavy guitar action, breaking up any last iota of simple genre categorization. With Flying Lotus's highly anticipated new album arriving shortly it's possible Gonjasufi's debut may be overlooked. This would be a shame as he looks and sounds a maverick talent worth following for a good while to come. Find A Sufi and a Killer on Amazon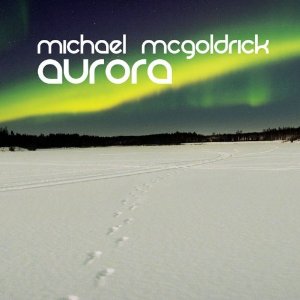 Michael McGoldrick Aurora (Vertical Records)
By Peter Quinn
The third "big band" album from Mike McGoldrick, following Fused (2000) and Wired (2005), offers another painstakingly arranged and beautifully executed collection. Performing on wooden flute, uilleann pipes, mandolin, dobro, guitar and – for the first time on disc (as far as I'm aware) – vocals, Aurora sees the multi-instrumentalist basking in the familiar company of stalwarts such as Dezi Donnelly (fiddle), Donald Shaw (keys), John Joe Kelly (bodhrán) and Ed Boyd (guitar), with additional guest musicians including saxist Tommy Smith and box player Dermot Byrne adding their singular talents to an already beguiling confection. Highlights of the predominantly self-penned tunes include the delightful slip jig "Heart-Shaped Wood", in which McGoldrick's airy flute melody is coaxed along by the talismanic presence of bouzouki player Dónal Lunny; the jig "Christy's Carrots" where the unlikely timbre of marimba adds a pleasingly woody counterpoint to McGoldrick's uilleann pipes; and "The Cotton Tree", a reel written in honour of a trad music pub in his home town of Manchester.
The secret of McGoldrick's success is that, no matter how luxuriant the textures are, and irrespective of whether the tune is a jig or a G-Funk groove (you can imagine Gill Scott Heron freestyling over the top of "Tunin Dre"), at the root of it all is incredibly powerful traditional playing. Forceful reels such as 'Old Mickey McKiernan's and "The Old Schoolmaster", both learnt from the Séamus McGuire/John Lee recording The Missing Reel, give a welcome nod to venerable older tunes. The surprisingly assured lead vocal debut, a take on "Waterbound", an old-timey number by US singer-songwriter Dirk Powell, features the sweet-toned backing vocals of Heidi Talbot. Find Aurora on Amazon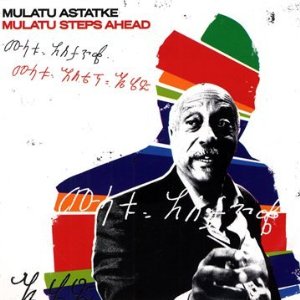 Mulatu Astatke Mulatu Steps Ahead (Strut)
By Peter Culshaw
Ethiopian Jazz composer Mulatu Astatke's star has been on the ascent ever since Jim Jarmusch used his haunting music for the film Broken Flowers in 2005, and he was the key player in the surprise best-seller Very Best Of the Ethiopiques in 2007. His signature instrument is the vibraphone played in a distinctive Ethiopian five-note scale – the result is jazz, but jazz from a parallel universe. In Mulatu Steps Ahead his new-found fame has enabled him to work with more musicians and flesh out the sound with the likes of the Either/Orchestra, a multi-national orchestra that gives his music more depth, colour and interesting harmonies.
As it turns out, Astatke, now 66, came to Wales as 15 year old before studying music in London and then Berklee in Boston, spending some years in New York, hanging out at jazz and Latin clubs like the legendary Palladium. He then returned to Ethiopia in the early sixties and set up his own band that mainly played standards in hotels, but also experimented with his own style he called Ethio-jazz.
All this history, a back-story unlike any other musician, is reflected in Mulatu Steps Ahead. There's a track called "Boogaloo", after the Latin style of the 60s, "Ethio Blues" is 12 bar with a considerable twist, and there's big band jazz, lounge music and widescreen B-movie seductiveness all overlaying the Ethiopian flavours. This album is more developed and richer than his previous offerings. He has access to more and probably better musicians these days. But it's a touch less strange and beguiling than his earlier music for Broken Flowers, for example, and that's a shame, if perhaps inevitable. Find Mulatu Steps Ahead on Amazon

Asere Junio Groove (Astar Records)
By Sue Steward

A clutch of neo-retro son bands - including Asere – thrived during the Buena Vista phenomenon, and rose from Havana's tourist bars and street parties to globe-trotting tours of Europe. But with the waning of BV, a reinvention away from the aged classics was vital; Asere kept hold of the early 20th-century son style (preserved in Oriente's correctly trumpet-led version), avoided the spread of electronic Reggaeton, and dug themselves into the countryside of Andalucia, dripping flamenco into their songs in an easy, historically logical liason. "Harissa" (the North African hot sauce equivalent to salsa) goes furthest into that fusion with the lead singer David Echevarria's tone sharper-than-son sweetness but mild compared to flamenco's uncontrolled passion; the guitar's note-bending is unmistakeably oud-like.

Voices are focal here and led by Echevarria and Vicente P Arencibia. Of the nine songs, "El Cantante" (the Singer) causes me problems. Written by salsa singer and poet-songwriter Ruben Blades, and immortalised by the late Puerto Rican salsa icon Hector Lavoe, it is a reminder that intellectual property rights should surround certain songs. There is only one Cantante. Lavoe's rough, untrained, intuitively sublime countryman's singing carries the history of the island's music on every note, while David Echevarria represents the trained and too clean perfection of many young Cuban voices. However – elsewhere - the two men turn in some glorious performances. For the rumba, "Yo naci en un Solar" (I was born in a tenement), Echevarria's chant-singing and the accompanying male choruses channel us deep into the earthy soulfulness of Afro-Cuban music, accompanied by a low-key bluesy-flamenco electric guitar and surprisingly reserved drumming.

The diversity of this collection reflects the new openness possible today in Cuba. Influence from once-taboo salsa is strong: Ruben Blades's distinctively nasal, yearning singing style permeates several songs including "Sonamos flamenco", where it effectively merges into a backdrop of gypsy flamenco. "Psycologia" shows obvious influence, in the tremulous moments, from Miami superstar, Willie Chirino – a fact, until recently, unimaginable. These explorations are yielding unpredictable results, and here, work beautifully. Alas, the sleeve offers no information about the songs or musicians, just 11 pages of photographs and two of thanks from the band! Find Junio Groove on Amazon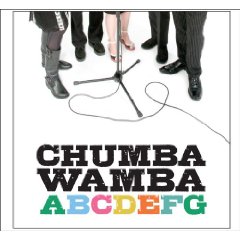 Chumbawamba ABCDEFG(No Masters Cooperative)
ByGraham Rickson
Chumbawamba's new CD, their 17th, is described as "an album full of ideas specifically about music. Music both good and bad, music celebrated and music ridiculed". The band's sound is now chamber-sized and mainly acoustic, and the close-knit vocal harmonies are exquisite - reminding you that this is a group with years of performing experience. Stylistically, ABCDEFG follows on from Chumbawamba's previous few releases, particularly the marvellous 2008 The Boy Bands Have Won. The album's introduction begins with Brecht's motto, "In the dark times, will we be singing?", and this sets the slightly more subdued tone.
What makes this collection of songs such a delight are the superbly crafted lyrics- it's hard to think of any recent album which covers such a range of subject matter. Stalin's persecution of Shostakovich, the wearing of iPod headphones, censorship and Wagner's anti-Semitism are among the topics referred to, all with a deceptively light touch. The songs are alternately hilarious and poignant- my favourite being Torturing James Hetfield, which mocks the US military's penchant for torture using loud rock music- here the lead singer of Metallica is subjected to Chumbawamba's greatest hits. How George Melly defeated muggers by chanting dadaist poetry is related in "Ratatay", and there's a well-timed dig at Nick Griffin's moronic championing of "traditional" indigenous folk music in "Dance, Idiot, Dance". It's all assembled with palpable love and affection, and it moves, angers and amuses in equal measure. Find ABCDEFG on Amazon
Alcoholic Faith Mission Let This Be the Last Night We Care (Pony Records)

If you're going to have the reverb laid on so thickly that it sounds like you were playing in a cathedral, then you'd better produce music of some substance otherwise you're going to come seriously undone. Fortunately the Brooklynband's songs are as grand and exalted as the air that's pushed aside by them. This sombre yet simultaneously oddly life-affirming follow-up to 2009's 421 Wythe Avenue is in the secular hymns-meets-rock tradition that includes bands as different from each other as Joy Division, Califone, Mum, and Arcade Fire.
More drawn to the idea of grief traversed than grief itself, there's even a would-be hit single here in the shape of the inexplicably titled "Got Love? Got Shellfish!" with its sumptuous Bowie-esque chorus, "Oh, oh - I get love from everyone but you,/ Oh oh – I get love from everyone but you..." This band are as interested in the accidental creaks that sliding fingers make between forming guitar chords as the chords themselves, and presumably delighting in the moment when the signal from a mercilessly punished musical instrument goes way over into the red.
Their sound is a fully immersive universe of nuclear snare drum crashes, subtly phased little-girl vocals, emotively out-of-tune piano chords, and frayed, majestic melodies. Founding members, Seierø Jensen and Sune Sølund know that making a great record is all about battling against digital sterility rather than submitting to its deadening realm in which the Real becomes unreal and music becomes product.There are very few rock acts that float my boat these days, having become worn down by how static and self-referential the genre has become over the past few decades, so Alcoholic Faith Mission must be doing something right. Whatever that something is it's as indefinable as it is intriguing, so long may they rise and rise.Find Let This Be the Last Night We Care on Amazon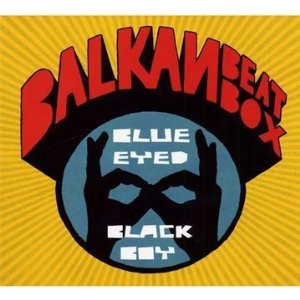 Balkan Beat Box Blue Eyed Black Boy (Crammed Discs)
By Howard Male
Juxtaposing programmed beats to exotic sounds and languages is hardly something new, but it's certainly something that's hard to get right. So often the beats are relentless, sterile, and rigid, the samples awkwardly placed, and you can actually hear the modular nature of the music as each oud or sitar sample comes around over and over again with increasing diminishing returns. It becomes like Chinese water torture to this critic's ears.
But if making such music is a hard-won skill or craft then this New York trio have, on their third album, finally got their Masters Degree. Although there is no real substitute for the sweat and chemistry a genuine band brings to their music, Tamir Muskat, Ori Kaplan, and Tomer Yosef have come pretty damn close with Blue Eyed Black Boy in the way they have opened out their sound and improved on their song craft.
But I should point out that although BBB are essentially a studio-orientated band there seems to be more real, played music going on here than I've been aware of on previous releases: As well as bursts of mercurial trumpet and other soloing instruments, there's plenty of shuffling, pattering percussion that feels like it's been played in response to the music rather than mouse-clicked into place at the laptop.
The title track is a slow, low-slung groove based around tremolo-warped guitar chords and short bursts of Berber-style woodwind, over which Tomer's vocal bemoans a world in which colour is still the first criterion by which he's judged by some people. The track is a long way from anything they've done previously, in the way it marks out a unique sonic territory rather than plough farrows already ploughed. It's also a fully rounded song rather than just a groove with a song spot-welded onto it. And this pretty much goes for the album as a whole. Balkan Beat Box were very promising newcomers back in 2005, then the seemed to treading water a little on 2007's Nu Med. But now they are very much riding the surf with a more confident, mature and rounded sound. Find Blue Eyed Black Boy on Amazon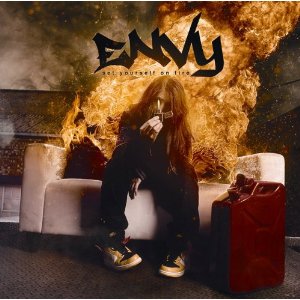 Envy Set Yourself On Fire (Stopstart)
By Thomas H Green
Mancunian MC Nikki Varley earned her stripes in the macho world of microphone battlejams, a feral urban take on theatrical improv. She did this from her mid-teens, ad-libbing lyrics competitively in front of a harsh, laddish audience, and, as a girl was rarely made welcome but persisted anyway. She undoubtedly had to become twice as sharp as her male peers to make the grade. This all shows in her music, for technically Envy, now 22, is startlingly accomplished. On tunes such as "Normal", "Sometimes I Think Deep" and "Tongue Twister" she spits her lyrics so fast they clatter from the speakers in a staccato flow that's both astounding and mesmeric.
Happily, though, she doesn't make the common mistake of assuming a dense word assault impresses alone or, worse, accompanied by abrasive bog-standard grime beats. Instead the album is constructed in collaboration with Medasyn, the producer who discovered Lady Sovereign. Thus Envy's rapping rides crunchy dancefloor electro flecked with melody and peppered with catchy choruses.
The subject matter is mostly parochial, Envy colloquially chewing over the raw sensitivity of teen relationships, both friendships and love, the hurt of every slight heightened, exaggerated and aggressively responded to. What raises her game is the spirited tone and sheer skill of her delivery, balanced by occasional hints of vulnerability. On tunes such as "Let's Play Pretend" and the love song "On The Horizon" there's even a spiky sweetness that very faintly recalls Lily Allen and bodes well for Envy's commercial potential. Set Yourself On Fire is not a crossover album, but it's a debut that explodes brightly with its makers capabilities, an early showcase that will make those who hear it sit up and pay attention. Find Set Yourself On Fire on Amazon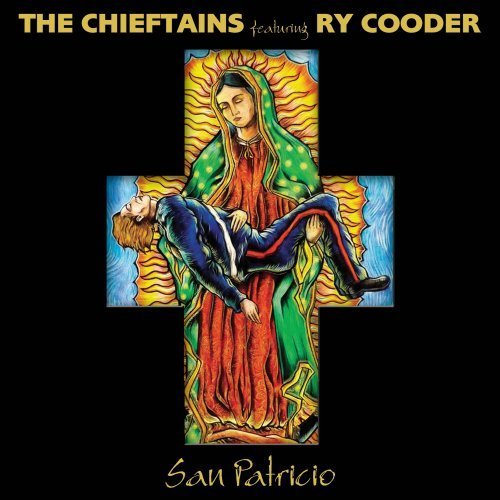 The Chieftains and Ry Cooder San Patricio (Claddagh)
By Russ Coffey
Arriba arriba! Escucha este disco. Es bueno craic. The Chieftains – Irish folk's accidental evangelists and seasoned collaborators have teamed up with Ry Cooder to create a curious gumbo. Part mariachi and part Celtic airs, they have thrown traditional Mexican and Irish music at each other. And it's all in the name of telling the story of the Irish San Patricio (St Patrick) renegades who were conscripted by the Mexicans to fight against the Americans in 1840.
And just as the Irish sensibility mated curiously well with the Mexican then, so it does here. Although it first seems incongruous hearing fiddles and flutes emerging from rasgueado-ed guitars by the final track you think that you have been listening to this genre forever. Or genres. The record comprises a series of collaborations with Chieftains chief, Paddy Molony as ringleader. Most prominent of the collaborators is Ry Cooder to whom Molony introduced the musicians thenceforth known as the "Buena Vista Social Club". On paper some choices seem strange. But Linda Ronstadt sings "A La Orilla de un Palmar" as if she has been drinking in cantinas all her life. And Moya Brennan from Clannad wrestles the musical idiom back to a mournful Ireland for her "Lullaby for the Dead". Sometimes it sounds "Buena Vista lite", but that is probably the wrong way to look at it. This is not a record popularising Latin music. It's what it is. An anomaly. A curio. A bizarre form of musical history lesson.
The majority of the songs are traditional, but some contemporary contributions help carry the story. Clumsily Liam Neeson narrates "March to Battle", and more convincingly Cooder croons on "Sands of Mexico" like a drunken old potato famine refugee. The highlight of the album is 90-year-old Chavela Vargas singing "Luz de Luna" like the end of the world. And what is so heartening about the whole project is that it is not an effort to win a Grammy by bothering traditional artists from other countries – although it probably will – this is simply what the Chieftains have been doing for decades. Find San Patricio on Amazon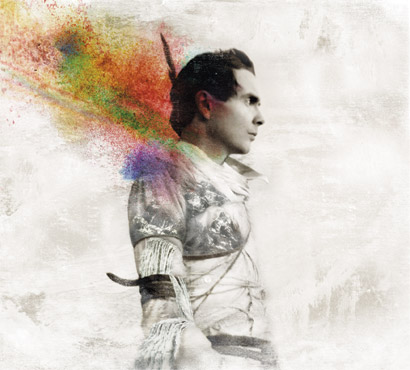 Jónsi Go (Parlophone)
By Graeme Thomson
We last heard from Sigur Rós singer Jónsi in 2009 on Riceboy Sleeps, his collaboration with his boyfriend Alex Somers. That album took the epic, elemental qualities of
Sigur Rós and stretched them into something vaguely primordial. Long, slow and glacial, it made late-period Talk Talk sound like the Vengaboys; every tantalising chord change became seismic, every shushing sound was transformed into a vast block of ice drifting on the sea. A defiant two-fingers to the demands of the shuffle function, if you haven't yet heard it, you should.
Go, Jónsi's first solo album, is a more skittish, less elegantly composed affair. Starting life as an acoustic project intended to gather up songs he had written over the years but never recorded with his band, it has instead turned into a slightly schizophrenic electronic chamber-pop record, at times so over-excited it shakes and shudders like a kettle rattling on the hob. The arrangements are by contemporary classical composer Nico Muhly, who has recently worked with Grizzly Bear and Antony Hegarty, and to say he's a tad busy in his work is like saying Place de la Concorde gets a little bustling at rush hour.
He's positively hyper on the potentially wonderful "Animal Arithmetic", which appears to feature the Swedish cook from The Muppet Show on percussion, and similarly cack-handed on "Boy Lilikoi", both of which prove conclusively that Jónsi is a jogger rather than a sprinter. Thankfully halfway in things settle to a more agreeable pace. Finding some elbow room among Muhly's feverish flourishes, the calibre of the songs starts to hit home. "Kolnidur" and "Growing Tall" are spare and hymnal, while on "Sinking Friendship" Jónsi's sweet falsetto soaring over the melancholic, melodic electronica evokes the A-ha of "Hunting High and Low". Compliments don't get much better than that.
Although most tracks are sung in English rather than Icelandic, such are the idiosyncrasies of Jónsi's voice and phrasing that only a little mystery-shredding light shines in. Most often, all we catch are glimpses of "butterflies" and things "destroyed from the inside". With Sigur Rós on indefinite hiatus, once you get over some of the arrangements and allow it the luxury of several listens, Go is a commendable and rather beautiful attempt at filling the gap. Find Go on Amazon
Reissue of the Month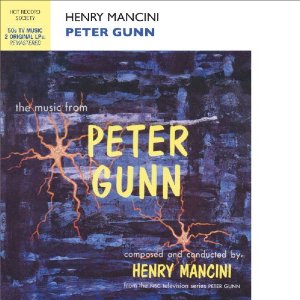 Henry Mancini Peter Gunn (Hot Record Society)
By Thomas H Green
Rising scriptwriter Blake Edwards cut his teeth on private eye serials for radio but with his first TV show in 1958 he wanted to tweak the increasingly tired Philip Marlowe shtick. Given broader directorial control he came up with Peter Gunn, a gumshoe who was also a hipster, dropping cool-daddio beatnik slang and hanging out in a jazz bar where his girlfriend sang. Crucial to the series' success - it ran for three years - was the music of Henry Mancini, the composer-conductor who had just come off a run of film soundtracks, including Orson Welles's Touch Of Evil.
For Peter Gunn, Mancini came up with a multitude of tasty jazz orchestral pieces that bridged trad jazz, pop and more modernist concerns. The famous title theme, riding a relentless, cocky rockabilly bassline, has been endlessly purloined for half a century and remains an instrumental pop classic, covered by everyone from The Cramps to The Art of Noise. The fun, however, doesn't stop there. Both LPs gathered on this disc, The Music From Peter Gunn and More Music From Peter Gunn, were US Billboard successes on their release and it's easy to hear why. Varied and ear-pleasing, Mancini's music runs the gamut from slouching sinister grooves redolent of Elmer Bernstein's groundbreaking 1955 soundtrack to The Man with the Golden Arm, all the way to sub-Glenn Miller swing (Mancini did his musical apprenticeship in Miller's orchestra, although after its famous leader had gone missing). While everything falls loosely under the easy listening umbrella, its sass and engaging cheeriness make it hard to dismiss as mere ephemeral fluff.
Mancini would go on to many more successes with Edwards as the latter's Hollywood career took off. These include writing "Moon River" for Breakfast At Tiffany's and his deathless "Pink Panther Theme", but there's something in the joyful, sparkling kitsch of the Peter Gunn material that remains outstandingly charming. Find Peter Gunn on Amazon
Explore topics
Share this article