Reissue CDs Weekly: Joe Strummer & the Mescaleros, The Gary Burton Quartet, Heavy Metal Kids, Boyce & Hart |

reviews, news & interviews
Reissue CDs Weekly: Joe Strummer & the Mescaleros, The Gary Burton Quartet, Heavy Metal Kids, Boyce & Hart
Reissue CDs Weekly: Joe Strummer & the Mescaleros, The Gary Burton Quartet, Heavy Metal Kids, Boyce & Hart
The final musical offerings from the former Clash man, essential Sixties jazz, Lady Gaga's glam-rock faves and US songwriting duo
Sunday, 16 September 2012
Joe Strummer fronting the Mescaleros, who made the world music of multicultural Britain
As well as marking the 10th anniversary of Joe Strummer's death, 2012 would also have been the year the legendary Clash frontman turned 60. The reissue of these two albums, recorded with his last band the Mescaleros, is therefore doubly timely.
The band's three albums built on the very best of the globe-trotting, more experimental themes that had begun to sneak into The Clash's work before they disbanded in 1985, but did so in a way that kept them vital and accessible to those of us raised on three-chord punk who like our music without the trimmings. The Mescaleros made the world music of multicultural Britain, as relevant and real as a bus through the suburbs of any major UK city. Take "Bhindi Bhagee", from 2000's Global A Go-Go, which raises a litany of North London takeaways to the status of high art.
Listening to the reissues only compounds the loss of an incredible musician. Streetcore in particular, collated after Strummer's sudden death in December 2002, ranks among his finest works. It's hard not to listen to songs as lively as "All in a Day" or the slow burning "Midnight Jam", which so effortlessly soundtracked much of Julian Temple's The Future is Unwritten documentary, without wondering what would have followed.
Since the majority of the bonus tracks are live recordings (covers of the Ramones, The Clash themselves and "A Message to You, Rudy" rank among the highlights) which have previously seen the light of day as B-sides, you'll find no answers here. A live version of "Bhindi Bhagee", taken from the band's final performance at a benefit for striking firemen the month before Strummer's death, is the only material without a previous commercial release, appearing as the solitary bonus track on Global A Go-Go. I suspect a fair few completists, myself among them, will see the omission of more of this show - at which Mick Jones famously reunited with his former bandmate - as a wasted opportunity. See the end of the reviews section for a sample of this missing-in-action show.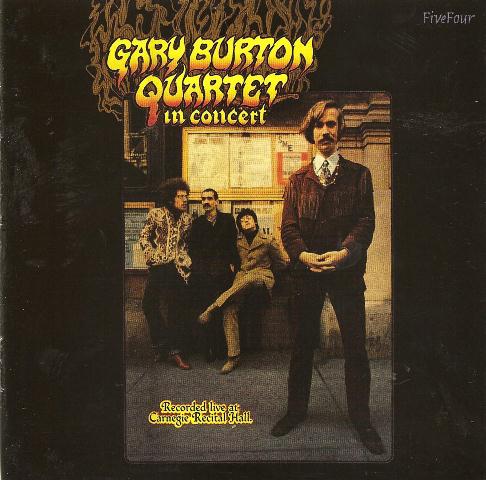 The Gary Burton Quartet: In Concert
Kieron Tyler
Although pointed to in the liner notes as one of the originators of fusion, this live album recorded in February 1968 at New York's Carnegie Hall finds Burton and his crew only part-way down the road ending in the full-blown marriage of jazz and rock that the Seventies brought. Here, the main element that takes things farther out than before is the guitar of new band member Larry Coryell. The concert begins by stealth. "Blue Comedy" and Burton's own "The Sunset Bell" are tight, mainly centred on Burton's sharp vibes. Yet by the closing piece, "One, Two, 1-2-3-4", Coryell's atonal skronk and feedback would have seemed at home some 20 years later with Sonic Youth. This unfettered playing weaves between Burton's vibes, some extraordinary drums from Larry Moses and Steve Swallow's elastic, bubbling bass. The version of Dylan's "I Want You" is less a cover, more a full-scale deconstruction. An essential reissue of a previously hard-to-find album.
Kieron Tyler
Talking to theartsdesk's Graeme Thomson in 2009 about her favourite records Lady Gaga homed in on Heavy Metal Kids' (no definitive article) Small Faces-meets-Queen "Hey Little Girl" "[New York DJ and artist] Lady Starlight introduced me to them", she said. "They're a glam-metal group who did this great song". That song was the B-side of the 1976 single "She's No Angel" and included as an extra on this reissue of the band's 1977 album Kitsch (which included the A-side). The HM Kids were a strange band: too glam and rock for the mainstream, but with a scuzziness and edge - with a musical overhaul - that could have slotted into punk. Their frontman Gary Holton was cheeky and charismatic, and sadly died in 1985 (he got wider recognition from TV's Auf Wiedersehen, Pet). Kitsch didn't sell well but is great (yes) glam-infused street rock with a dramatic edge. But by 1977 there was no place for a bovver boy answer to Cockney Rebel.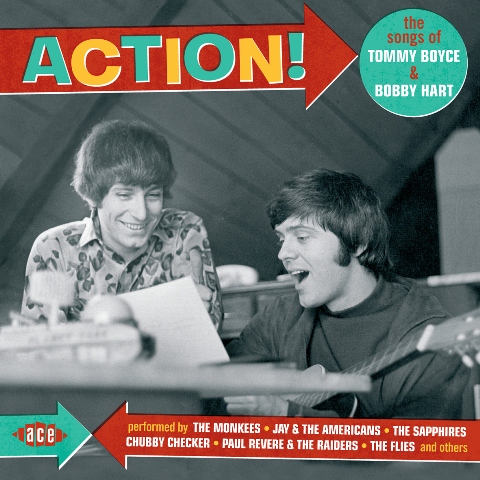 Various Artists: Action! The Songs of Tommy Boyce & Bobby Hart
Kieron Tyler
Boyce & Hart hit pay dirt in 1966 when their "Last Train to Clarksville" became the debut single for a new band, The Monkees, who were to be featured in a TV series. Their debut album featured a raft of the pair's songs, who even got to produce America's answer to The Beatles. Boyce & Hart had performed live and had issued a string of records (together and apart) from the late Fifties. By 1966 they were old hands. This comp selects 26 of the songs they wrote – some familiar Monkees' tunes are heard in the hands of others (The Standells tackle "...Clarksville, while The Monkees themselves are heard with "Valleri", "(Theme From)..." and "P.O. Box 9847"). The duo's upbeat, peppy pop hit home with both feet and the speakers of transistor radios. Gems such as The Ikettes "(He's Gonna Be) Fine, Fine, Fine" and The Royalettes swooning, Northern-ish "Never Again" are irresistible. Little Anthony & the Imperials' "Hurt so Bad "is all the evidence needed to show that Boyce & Hart would have gone down as greats even without The Monkees.
Watch Joe Strummer & the Mescaleros with Mick Jones at Acton Town Hall in 2002
Joe Strummer & the Mescaleros' 'Bhindi Bhagee' raises a litany of North London takeaways to the status of high art
Share this article