Singer-songwriter Mary Chapin Carpenter: 'I wanted to do something I wanted to be useful in some way' |

reviews, news & interviews
Singer-songwriter Mary Chapin Carpenter: 'I wanted to do something. I wanted to be useful in some way'
Singer-songwriter Mary Chapin Carpenter: 'I wanted to do something. I wanted to be useful in some way'
On creating her 'Songs from Home' in a time of crisis, depression and musical empathy
Tuesday, 08 September 2020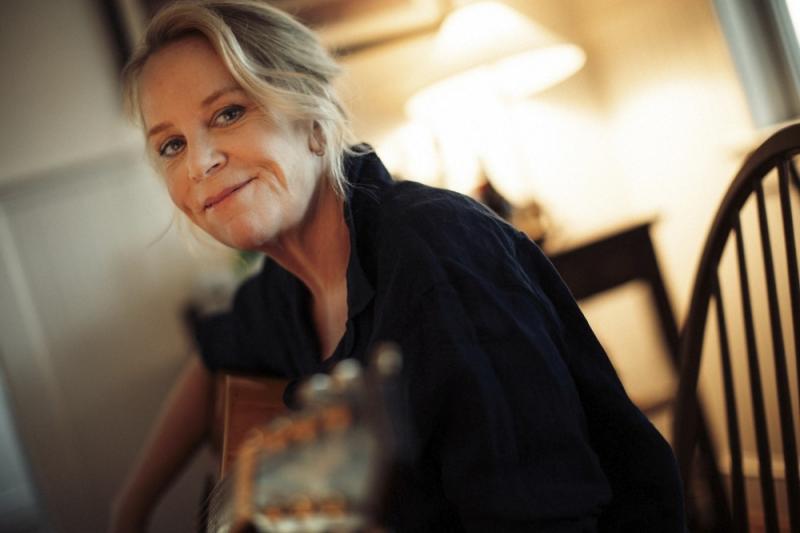 'When we recognise ourselves in someone else's work it's comforting'
Music has never been more important than in these dark, dislocating and death-stalked days, fear and grief visiting us in ways once unimaginable. The lack of live music – the lack even of the possibility of live music in the near future – is an absence keenly felt. However much we love to listen in the isolation of our own headphones, nothing can ever replace the communal concert event.
Many musicians have brought their art direct into our homes, but I suspect Mary Chapin Carpenter has touched more hearts than most with her series of Songs from Home which began on 18 March with "Edinburgh" and which introduced us to Carpenter's co-star and "producer" Angus, an elegant young Golden Retriever. Three days later, she sang "Soul Companion", she and Angus joined by White Kitty – a blind and deaf 17-year-old Rag Doll rescue who offers only the occasional guest spot. Carpenter's 35th Song from Home, "Lafayette", was a new song by playwright Benjamin Scheuer about recent events in Washington DC, and this weekend's, the 37th, was her own "Twilight".
The series was "completely unplanned" Carpenter tells me from her kitchen table in the beautiful old Virginia farmhouse now so familiar from the videos. She'd not long returned from Britain, where she'd recorded her latest album, The Dirt and The Stars, the unfolding nightmare just a couple of weeks old. "I remember I was walking in circles in my house. I just wanted to do something… It sounds like conceit and I don't mean it this way... I wanted to be useful in some way. I wanted to do something that would stop me walking in circles, because that was all I was doing. The idea of putting up the phone, and playing into the phone, which is all I have, and posting it, sort of on a wing on a prayer... The response has been so heartening, and people just saying that gives me a few minutes' respite from all the awful stuff." Recording the songs has given her life "a sort of structure" – and no, she volunteers, her kitchen isn't always that clean and tidy. "But I do have my pride and my standards and I don't want people seeing my dirty dishes! So I make a little bit of an effort to spruce it up."
The Dirt and the Stars has been out for a couple of weeks and is enjoying deservedly good reviews, not that Carpenter checks them out. Read the good ones and you have also to read the bad ones she explains, and it's easy to understand that someone who's talked openly of depression and "imposter syndrome" might not want to do that. There are some things against which even five Grammys can't armour you.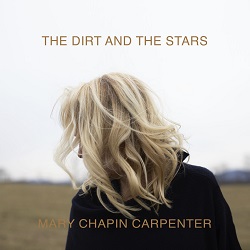 Talking to her feels like chatting to an old friend, though not because she exudes false bonhomie. She is simply herself, which is why Songs from Home has been both consolation and success. She is totally in the moment, making a real connection across the miles – whether with the thousands who tune in every few days, accepting an invitation to step in to her home and her life, however briefly, or with me now, as we laugh at the things we both share: an "old school" adherence to Filofax and with "the old white-out", so necessary as our lives are remade. "We pencil in, we cancel out", as she sang all those years ago in "Stones in the Road", except all those concert dates were inked in a long time ago. "I was going to clear everything off the calendar. Then I thought – anticipated – that I'd be curious as the months went on where I would have been. So I kept a few anchor dates and Wolf Trap I didn't white out." The performing arts centre that's a key summer date for Carpenter and so many of her fellow troubadours is down route 267 from her home.
She assumes music will be "the very, very last thing to come back" and that's difficult for "musicians of whatever altitude". She worries that "a lot of people are going to be lost to it, their careers and their potential. And if I think about it too much it's completely overwhelming... Some days the bad news doesn't stop me in my tracks and other days it's so heavy, so bad... This is where we are. I can't figure it out."
Carpenter talks easily yet precisely, speaking in that rich, liquid caramel and perfectly modulated voice that makes her singing so beguiling. She's the perfect singer-songwriter for this time, and any time, the "grain" of her deep voice, with its subtle vibrato, drawing you irrevocably in and the intelligence of her lyrics ensuring that repeated listenings rarely fail to reveal new layers of meaning. There's no shortage in her back catalogue of up-beat numbers ("Down at the Twist and Shout", "Shut Up and Kiss Me", "Why Walk Can You Can Fly") but the songs at which she excels (and which she says she most enjoys singing) are the slow, meditative ones, many of them ("John Doe No 24", "The Rhythm of the Blues", "The Things That We Are Made Of") dealing with profound subject matter. There's an exquisite melancholy to such songs which deal in the currency of real emotions to which we can all relate. "I know what that feels like too," she agrees, as we touch briefly on Leonard Cohen, who spoke eloquently about "the confusion of seriousness with depression".
Carpenter continues: "When we recognise ourselves in someone else's work it's comforting, it normalises you, it makes you feel less of a freak... When I go through rough times, I think I wish I didn't go through this. Not to put something in a box and put a tidy ribbon on it, but I really do think sometimes that if I wasn't who I am, and if I didn't tick the way I tick, I wouldn't be the same person and therefore I wouldn't have written that song over there. I'm just trying to be a realist... There's a way to be accepting of who you are… in a way that it doesn't have to be a disaster. It can be something you can value about yourself... I don't know a single person who hasn't had some brush with feeling low, or depression, or whatever you want to call it... It's really just part of being alive, you know."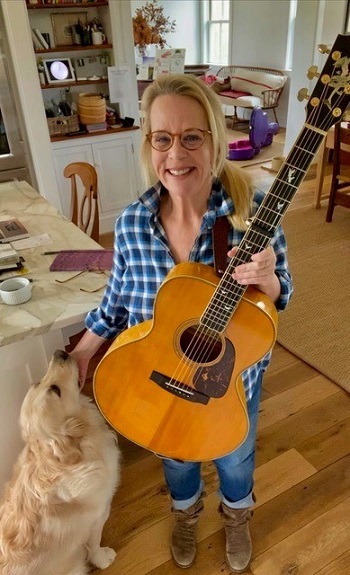 And it's all part of being "a student of art and music and life", of "becoming", as Carpenter has said, introducing an album recorded live in Peter Gabriel's west country studios in the weeks just prior to lockdown. It's the second time she's recorded at Real World, and she loves coming to Britain, her Pilgrim Father forebears calling her home I suggest. "I think so, and I've been coming there to play for over 30 years, and to me it's always been this happy place for me… I felt like I was treating myself when we decided to do it this way."
The songs – including the less-than-meditative "American Stooge", inspired (if that is the word) by Lindsey Graham, in which she "shakes a fist at the universe" – were all written at home. "I live in an old farmhouse that I fixed up. It's beautiful in every season and I have never felt as fortunate as to be spending this time here. It's actually a former dairy farm and my neighbours have all been here for many years. There are no cows here now – the only thing it produces is hay and my neighbour lets me help him bush hog." Much of her songwriting is done as she wanders the "cool verdant spaces" of the surrounding land, miles a day, with Angus. "I'm just riffing as I walk, figuring out lyrics, figuring out where to go with a song. I think of it as song walking."
Though she occasionally works at the piano (once her mother's) which is a feature of the sun-drenched living room, Carpenter creates most of her songs with a guitar and almost all of them are in unique tunings – so many different ones that they are logged on an Excel spreadsheet. The videos afford fascinating close-ups of her fingerings. "They're variations on each other and they're bizarre and strange and I just have little notes to help me remember where I need to go, but mostly it's muscle memory." Writing is all about "the voicing. I hear something and I know exactly where to go. There's just no way I could accomplish those voices in a standard tuning. To me they evoke a much wider world." Sometimes they require "contortions" – on "Between the Dirt and the Stars" using her thumb on the sixth string left her with pain in her hand and thumb which may require "a little procedure... Needless to say I've got plenty of time to recuperate!"
That may mean an interregnum in Songs from Home, though Carpenter's intention – "my ambition, if you will" – is to continue with them "for as long as there's a need". She hasn't discounted the idea of fashioning them all into some kind of entity, a record or a book perhaps. "It might be a nice project to work on. That said, one of the hardest parts of what we're all contending with is we have no idea when this will end."
Right now, she's trying not to think about writing and, like many of us, she finds herself too distracted to read anything much beyond newspapers. "I love to read and have a pile this high on my nightstand... I read a few pages and then I lose my focus... I don't know what's happened but I'm just saying it's OK, it's all right, and I'm spending what brain time I have binge-watching Ozark and not being apologetic about it."
Of course, overlaying the global Covid crisis is liberal America's own agonising season in hell. Is she optimistic about November? Carpenter pauses. "You're the first person who's put it to me quite like that. I'm superstitious enough... But on the other hand, I don't think I'm going out on a limb. Yes, I'm optimistic about the fall, and I know that if we were talking tomorrow, a different day, I might have a different answer based on what's going on. But I've been really inspired and moved in the last few days, very heartened by the choice of Kamala Harris for Vice-President. I've always thought very highly of Joe Biden and I just think people are coming together and I am optimistic that there will be a different president elected."
She's the perfect singer-songwriter for this time, and any time
Share this article