theartsdesk at Salzburg Jazz & the City Festival - perfection in free venues |

reviews, news & interviews
theartsdesk at Salzburg Jazz & the City Festival - perfection in free venues
theartsdesk at Salzburg Jazz & the City Festival - perfection in free venues
The ideal setting for cleverly programmed European jazz
Pianist Clara Haberkamp playing to over 1000 people in the Kollegienkirche
As a cultural destination, Salzburg really is hard to beat. Each year, a million and a half tourists descend on this compact city with its baroque architectural delights, and a population of just 150,000. The city of Mozart and of the Salzburger Festspiele was also once home to Paracelsus, Heinrich Biber, Stefan Zweig, Georg Trakl, and more recently – of course – The Sound of Music and Red Bull.
The city's setting and its skyline are breathtaking. One can marvel at the way buildings more than three centuries old were hewn into the sides of the rocky outcrops. There are churches everywhere; I was thrilled to hear them together to glorious effect, when all their bells rang out in spontaneous jubilation on Sunday at midday.
With such a rich and full cultural offering, above all in classical music, the city's October jazz festival has had to find its different identity. Ever since it was started in 2000, Jazz & the City has been rising to the challenge very well, by doing things differently. "We transform the city's alleys and squares into a living stage," says Anastasia Wolkenstein, who has just become its new, third, artistic director, and whose first-time programming was very smart indeed.
The city echoes to the music being made on the outdoor stages, such as the one on the Residenzplatz (pictured above at sunset by Henry Schulz). There are also some wonderful buildings and concert venues which the festival uses. One of the loveliest of these is the 350-seater Marionettentheater, which has a superb acoustic, and hosted, among others, the ECM duo of cellist Anja Lechner and the pianist Francois Couturier on the opening night. All the pianos I heard were Bösendorfers, and Couturier in particular seemed to have made complete peace with its warmer and gentler side.
Another defining feature of Jazz & the City is that there are no admission charges for any of the concerts. So the gentleness and serenity from the stage, particularly with Couturier and Lechner, was in contrast to what had been going on in the foyer, as the audience jostled to get access to the Marionettentheater. Some people were turned away. And the presenter introducing the concert said he needed to give one very important safety announcement, that no audience member should try to bag seats for the next house by leaving a scarf, a coat or a bag on them. Everything would be removed, he said. These remarks are made for a reason: when venues are full, Austrian seat-bagging becomes both a highly developed art and a viciously competitive sport.
Another keynote of the programme is that it is designed to contain a lot of surprises. There are several events which are simply listed in the programme as "Blind Date" or "Impro", where musicians who have met just 10 or 15 minutes before the concert to discuss what they will play, and somehow find a common language to give a performance.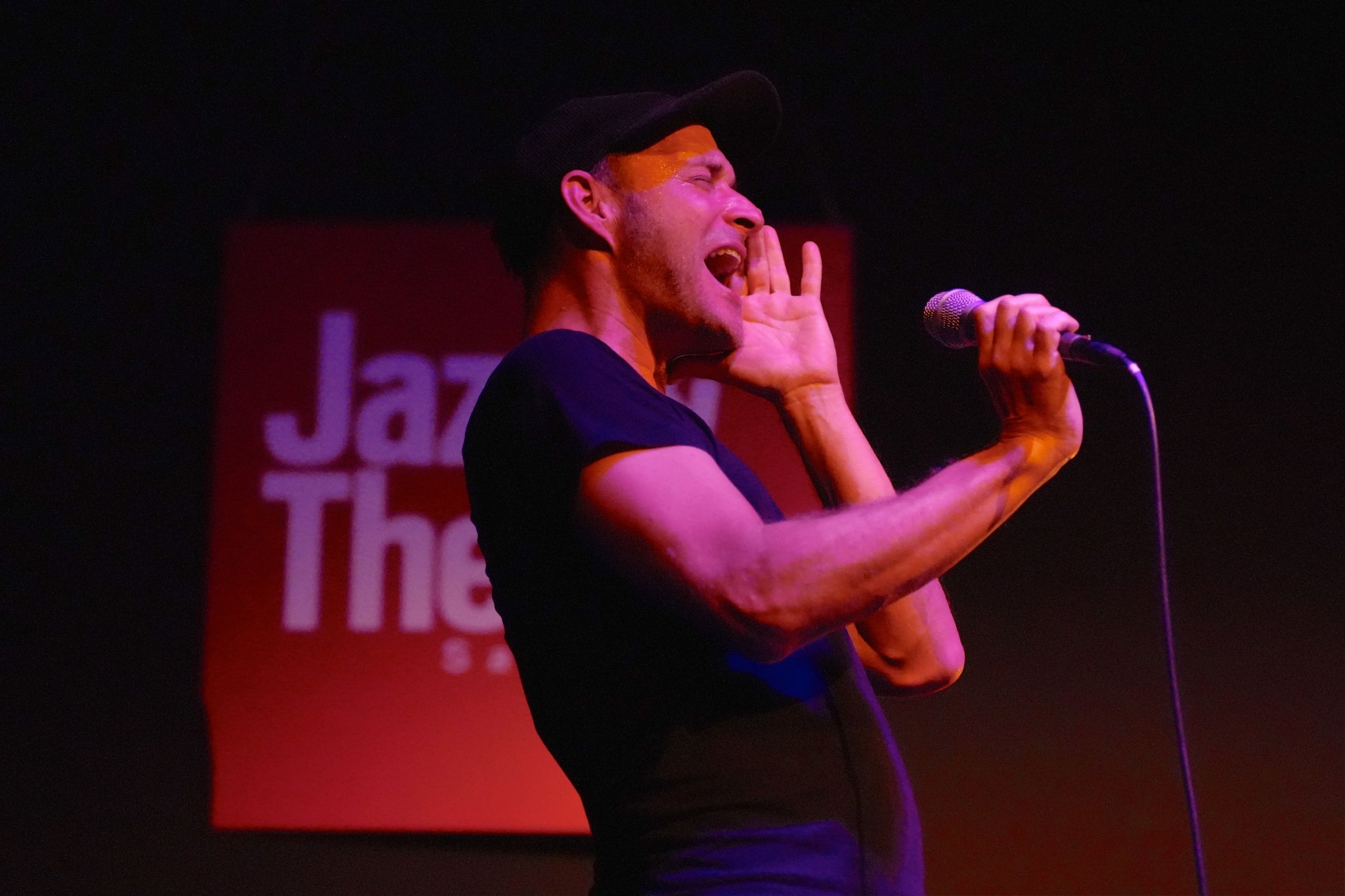 A stand-out encounter of that kind came on the last night, with two singers, both based in Switzerland, meeting for the first time in the tiny basement of the Arthotel Blaue Gans. Yumi Ito and Andreas Schaerer (pictured above by Ralf Dombrowski) found their common ground in humour, vocal and beatboxing pyrotechnics and mime, giving massive energy to the encounter. I also heard part of a more cautious encounter in an art gallery with Austrian saxophonist Werner Zangerle and Polish guitarist Szymon Mika, and a short set by sweet-toned Parisian clarinettist Benjamin Fryde, a former pupil of top French player Florent Pujuila and a current member of the Jazz Academy of the Elbphilharmonie, playing jazz standards, and finding joy and humour in cat-and-mouse pursuit in a duo with pianist Clara Haberkamp, in the function room of the Radisson hotel.
One venue which was a real delight to get to know was Fischer von Erlach's vast and cavernous 18th century Kollegienkirche. It has a reverb lasting about seven seconds, but in three concerts I went to, the musicians worked with it superbly. Kit Downes was up in the organ loft, and saxophonist Hayden Chisholm and the five Serbian and Bosnian singers from PJEV performed the sequence of music from their Medna Roso album. There was a wonderful flow and dramaturgy to the whole sequence, starting with a quest, and exploration of strange sounds and timbres, and gradually building to a marvellous sense of affirmation. The album on Red Hook Records has been very well received, but this music is hauntingly unforgettable when heard live
An afternoon solo piano set on Saturday from rapidly rising German star pianist Clara Haberkamp was attended by well over 1000 people. She has a daunting musical brain, capable of playing multi-dimensional games of counterpoint and voice-leading… but then, by stealth, Mehldau-ishly perhaps, she can melt the heart with a ballad like her own tune "Mein Herz ist unterwegs", played with limpid clarity and unmistakable emotional depth.
I couldn't resist going back to the Kollegienkirche once more, at midnight on the closing night, to hear the solo bass concert by Robert Landfermann. This was a reminder of quite how versatile and complete a player he is. There was everything in this recital, from plaintive quoting of Gershwin's "I Loves You Porgy" to John Edwards-style work-outs and the eerie effects of flautando harmonics wafting round the church. Will I ever witness a vociferous standing ovation quite like this again, for a solo bass recital ending at a quarter to one in the morning? I doubt it – but Landfermann certainly deserved the one he received.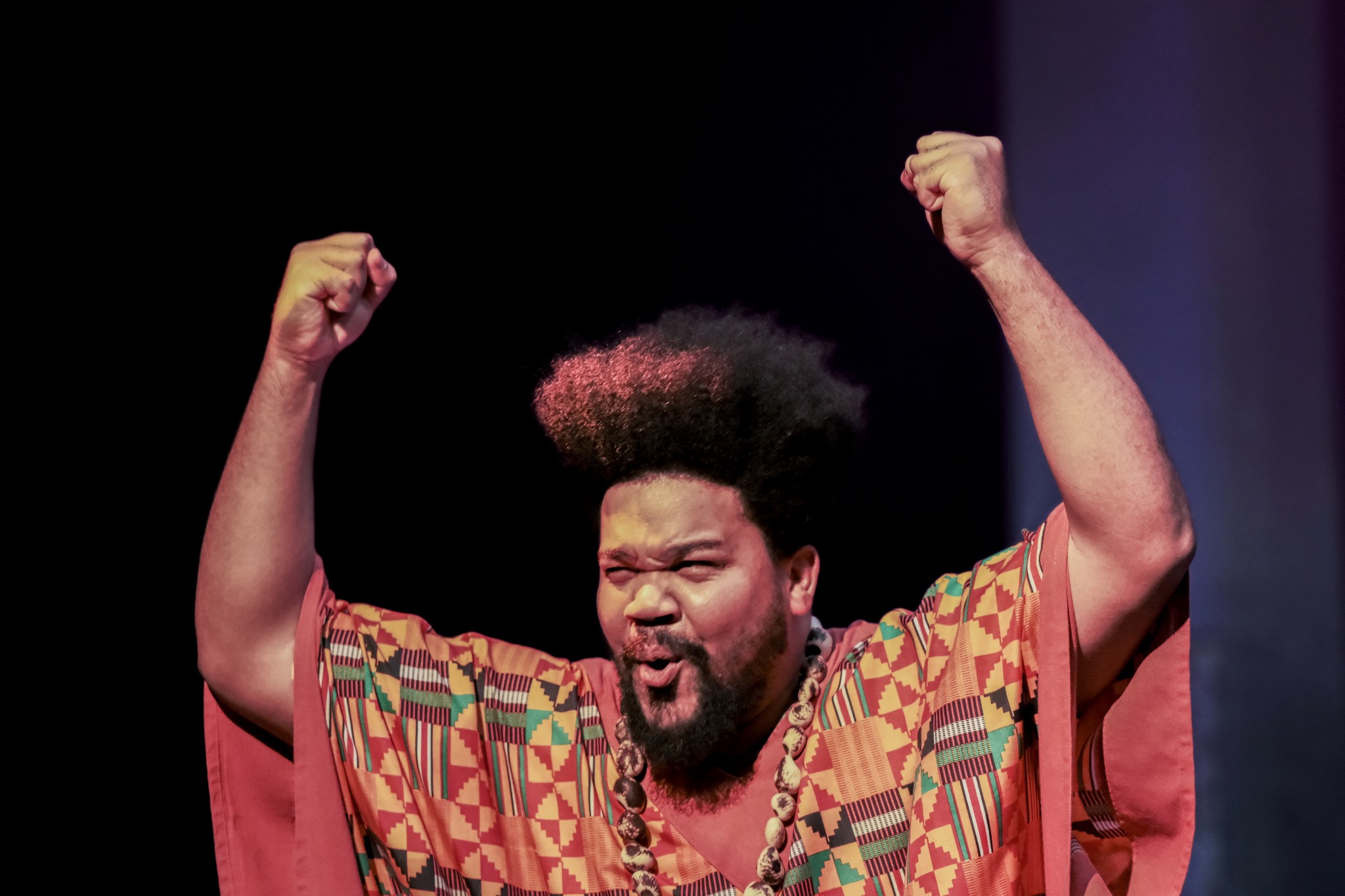 There were others: young Brazilian pianist Amaro Freitas (pictured above by Elmar Petzold) has been drawing superlatives from his playing at jazz festivals all over Europe this year and won over the Salzburg audience with ease. David Helbock's new "Austrian Syndicate" project is a joy, and a lovely homage to both his compatriot Joe Zawinul and his mentor Peter Madsen. Berlin-based Finnish guitarist Kalle Kalima was cropping up in many contexts and showed his musical breadth from explosive confrontation with forceful drummer Oliver Steidle to the gentlest of melodic playing.
There is such a beguiling range of lively music derived from jazz being made in Europe which we hardly hear at all in the UK. Salzburg's Jazz & the City was the ideal setting to be joyfully immersed in it.