The Three Musketeers (3D) |

reviews, news & interviews
The Three Musketeers (3D)
The Three Musketeers (3D)
En garde! Risible remake plays unmerry hell with Dumas
Wednesday, 12 October 2011
Swords, gentlemen? Limited blade-work in 'The Three Musketeers'
There is nothing good about The Three Musketeers. Nothing. To list all the ways in which Paul WS Anderson's superfluous remake is crap would require a tome only slightly thinner than Dumas's original novel, and it is impossible, frankly, to imagine how someone could so badly have fisted the simple criteria for a historical action-romp, least of all with a ready-written, solid-gold storyline and a budget of $100 million; but bear with me while I run through just a couple of highlights, and I'll ask you, please, for your own sake, to believe me when I say that I'm low-balling it.
The plot is a chaos of unintriguing intrigue, Entrapment-style jewel-heists, and zeppelins
It is clear that the director had no idea what manner of film he wanted this to be – action? comedy? drama? (were there other options?!) – and so plumped, fatally, for trying to be all things to all men. The opening sequence alone managed to incorporate nods to Guy Ritchie, Terry Pratchett, Mills & Boon, Indiana Jones, Warhammer, Mission Impossible, spaghetti westerns and the more ridiculous elements of Around the World in 80 Days. And it didn't get better from there.
The plot – or what passes for the plot – is a chaos of unintriguing intrigue, Entrapment-style jewel heists, and zeppelins. Yes, zeppelins. In an attempt to provoke a war with France (no particular reason given), that ludicrous popinjay the Duke of Buckingham (Orlando Bloom: for once – and by some margin – not the worst thing in the film) was launching zeppelins. From the Tower of London. Using Napoleonic invasion plans. Drawn up, apparently, by Leonardo Da Vinci. [NB This film is rated 12A. If you are 12, then you can write to Mr Anderson, care of Constantin Film Produktion, for your apology.]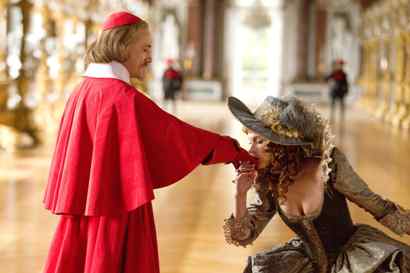 The screenwriting did nothing to smoothe over these wrinkles. "What is it, Richelieu?" asks the witless King (because Richelieu should know, having never seen a zeppelin before either), and Richelieu, pulling that camp face ministers always pull that makes it look like they've just let one go in their robes of state: "An... air?... ship? Majesty?" (Pictured right: Christoph Waltz as Richelieu with Milla Jovovich as Milady.)
Standing between Buckingham and the Cardinal and France is D'Artagnan, played by a whey-faced nonentity (Logan Lerman) who manages to make previous incumbents of this role (Michael York, anyone? Chris O'Donnell?) look like actors of serious calibre. It isn't D'Artagnan's fault, I suppose, that he has been raised by Dexter Fletcher (which explains his rancid American accent); or that he finds himself teaming up with a Porthos (Ray Stevenson) whose Musketeers Top Trumps skill is wrassling masonry, an Athos (Matthew Macfadyen) whose misanthropic-yet-heartrending soliloquies could as well be delivered by a call-out plumber, or an Aramis (Luke Evans) who looks confusingly like the Duke of Buckingham and who gives D'Artagnan a parking ticket – for his horse. But for knowing the storyline in advance, one feels, you wouldn't fancy the young Gascon's chances.
The rest of the cast are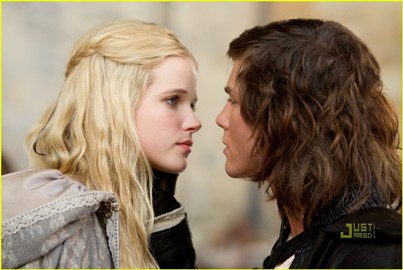 no better. As D'Artagnan's love interest, Constance – a turd of a role, in all fairness – Gabriella Wilde (pictured left, with Lerman) wouldn't have landed the part in a junior school show. The King (Freddie Fox) looks like Gwynnie in Shakespeare in Love, only less manly, his sole preoccupation being with his enemies' hosiery. James Corden [and isn't he annoying already?] plays the servant Planchet like a fat, shit Michael Caine. As Richelieu, Christoph Waltz – a German playing a Frenchman in English in an American film – is about as sinister as, well, as that cake-eating Nazi from Inglourious Basterds.
That the story appears to be set in the international free-zone of Far Far Away is typified by the fact that there is not a word of French in the entire movie, not even by way of un gague. D'Artagnan rhymes his own name with "Grand Canyon", and "skedules" all his "dools" for "Toosday". Prat. (At one point in this Disneyfied Francophooey someone actually said "Pen-chanT" [sic] and I nearly shat myself with rage.)
Also, and I swear I'm not making this up, there is not more than about five minutes of sword fighting. Cannon, yes. Pistols, certainly. Also flamethrowers and gatling guns. Anything, in fact, that you could stick on a zeppelin. But swords? Hardly at all. (So the Cardinal's dastardly plans are not so much foiled as... etc.)
The official posters say 'The Three Musketeers in 3D. Also in 2D.' Go figure
Unwatchable enough in two dimensions, then, the third, somehow, only made matters worse (the official posters say "The Three Musketeers in 3D. Also in 2D." Go figure). Apart from a couple of cannon falling from the roof of Notre Dame (don't ask), the only time the z-axis was meaningfully deployed was when I found my face buried in Rochefort's waterlogged crotch (if this was supposed to be a selling point – to me or the 12-year-olds – the effort would have been better expended on Milady's décolletage). The net result, though, of the colossal technical outlay was simply to leave the flesh-and-blood actors forever hovering in the foreground like so many cardboard cut-outs – a metaphor too dispiriting to labour.
The Three Musketeers 3D is on general release
Watch the trailer for The Three Musketeers
The opening sequence alone nods to Guy Ritchie, Terry Pratchett, Mills & Boon, Indiana Jones, Mission Impossible, spaghetti westerns and the more ridiculous elements of Around the World in 80 Days
rating
Share this article