Bon Iver, Hammersmith Apollo |

reviews, news & interviews
Bon Iver, Hammersmith Apollo
Bon Iver, Hammersmith Apollo
The Wisconsin folkie is one of the great musical and performing talents currently active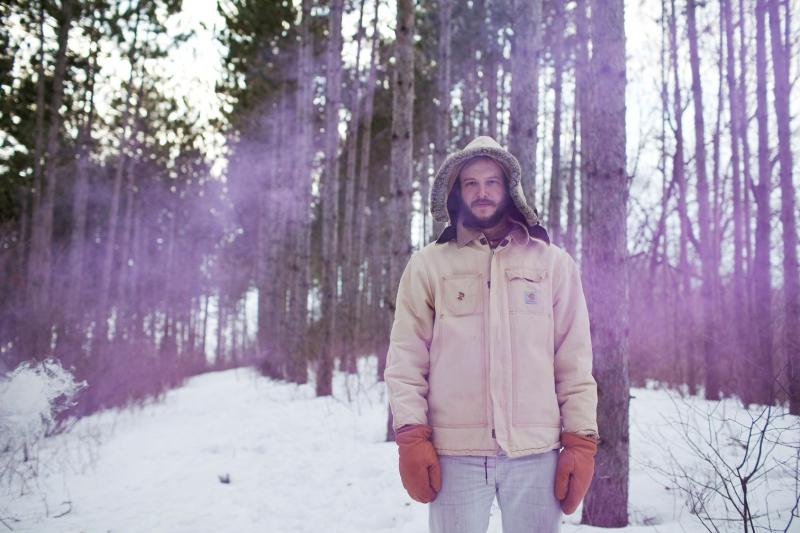 Justin Vernon: the woodsman cometh
Not only could Bon Iver's Justin Vernon not have planned the success of his first album; if he'd known he probably wouldn't have wanted it. The fragile bucolic sound he produced in his Wisconsin cabin became so iconic it must have been impossible to know where to go. After the next record came out some complained that it sounded just like the first album only played on a Casio keyboard.
So when support act Kathleen Edwards announced last night that Bon Iver was "going to blow your panties off", I was, frankly, sceptical. Boy, was I wrong.
I doubt there's ever been an album that's evolved so much from record to tour. No longer were the songs treading the same misty, sad trail. For an hour and three-quarters we were taken out of the woods and into outer space. This otherworldly sound was so massive and complex it was the sort of thing you'd imagine coming from Peter Gabriel, not a man whose career had begun three years ago with a second-hand guitar on a winter's night.
This was more like messages from the universe emerging from a backdrop of cosmic staticUp on stage there were two drum kits and nine musicians, including Vernon, whose lanky, slightly nerdy figure was given more sense of theatre by the platform he was standing on. The band were mainly multi-instrumentalists. There was the world's largest saxophone, trombones, trumpets, a human beatbox, and a kind of section in the middle where musicians moved from guitars to violins to bass to brass.
Musically, the evening pretty much defied characterisation, as did the audience. There were elements of rock, folk, prog, emo and pop symphony. And it all began with a song called "Perth", which the crowd received as if Elvis had stepped out onto the stage. The voice was high and eerie, the backing moved between avant-garde and space rock and the twin drums beat out complex rhythms. Vernon's ethereal falsetto has become his trademark, but last night's concert found him taking it in all kinds of directions. That it went deep over the reggae stylings of "Minnesota" was no great surprise, but the way he sung "Creature Fear" was a revelation: not so much the register, but the fullness and warmth. His mumbled vocal delivery, especially on "Hinnon TX" and "Wash" added to the sense of awe.
Occasionally Vernon addressed his crowd in a voice that somehow seemed at odds with his sociology-lecturer looks. It was a voice full of street savvy that puzzled me, and then halfway through the exquisite falsetto of "RE: Stacks", a penny dropped. What I had never realised about Vernon's music is that at moments it becomes surprisingly black. The way he delivered some of the songs would oscillate between a soulful Prince-like delivery and then back to moments so white they could have been lifted off a Sufjan Stevens album.
The low points? Those were the songs he left the most alone. "Calgary" left me slightly cold and "Beth/Rest" still sounded like an out-take from Eighties Brat Pack flick St Elmo's Fire. But even these numbers built so that by the end the rhythm section was literally making the seats in the circle shake. And I felt it was a mistake to play "Wolves I and II" after "Skinny Love". After all that wall of sound, Vernon's big hit came over so intimate and beautiful that it felt that everything had been said, and all business concluded.
After Vernon's guest spot last year on Kanye West's My Beautiful Dark Twisted Fantasy, it was surprising that, whatever you thought about it, Bon Iver was not a more radical album. But it was only a transitional piece. The finished product is what he's taken on stage. And it confirms Vernon as one of the great musical and performing talents currently active. If you are able to catch him later on this tour, do. You're unlikely to have seen anything as good all year.
Overleaf: watch Bon Iver perform "Towers" on Later... with Jools Holland
When support act Kathleen Edwards announced that Bon Iver was 'going to blow your panties off', I was sceptical. Boy was I wrong
rating
Explore topics
Share this article