Latitude Festival, Suffolk |

reviews, news & interviews
Latitude Festival, Suffolk
Latitude Festival, Suffolk
Latitude is lovely, but is it growing too big?
So little time, so much stuff to see: that, in essence, is the story of Latitude. Now in its fifth year, this Suffolk festival offers a bewildering cultural cornucopia: music, theatre, dance, cabaret, comedy, circus, literature, poetry, as well as unexpected oddities such as performers dressed as unicorns wandering the woods at night and teams of ghoulish "medics" defibrillating random victims (I was one of them) during theatre group Duckie's Saturday night masked ball. It's a blast (albeit one that is almost entirely white and middle class - a state of affairs that has led to it being dubbed "Lattetude"). And it was made especially lovely this year by the weather gods, who delivered a couple of brief bursts of rain but otherwise blessed the event with clear warm dry days.
But before we move on to the actual stuff to see, some suggestions for the organisers. First, it's bigger than ever: this year the capacity was increased to 35,000 – up by 10,000 on last year's attendance. Please, no more: it's big enough. One of Latitude's chief pleasures is that it offers a relatively intimate, easygoing experience, in contrast to the sprawling megalopolis that Glastonbury has become. Any further rises in numbers will seriously jeopardise the event's unique atmosphere.
And please try to deliver a proper water supply to the campsites, where the meagre flow to the already small number of taps often dwindled to a frustrating trickle. Also, there were not enough toilets; with acts performing short sharp sets with swift turnarounds, time is too precious to waste in queuing for the loo. And the petty restrictions on what can and cannot be taken into the arena are irksome. "Only sealed plastic bottles of water 500ml or under and sealed cartons of juice will be permitted into the arena" is simply stupid and mean-spirited. A ban on glass is completely understandable, but anything else is surely just a means of maximising revenue for drinks vendors. These are not trivial complaints: these things matter.

Overall, though, this was a friendly, well-run event in the beautiful wooded setting of Henham Park. A great deal of thought and effort and work and imagination had clearly gone into choosing the acts, and also into making the site itself such a special place, especially after sunset when there seemed to be a surprise around every corner – another stage here, another band there, music and the sound of cheering crowds drifting across the night.


So anyway: my highlights. My big discovery came in the afternoon on day one in the Sunrise Arena: I Blame Coco, the band fronted by Eliot Sumner (pictured right), the 19-year-old daughter of Sting, who played gorgeous rich warm poppy-rocky songs with delicious sparkling synth hooks. Coco herself is luminously beautiful, charismatic, a natural performer, and has a voice that's rich, dark and sweet. Top tunes, too. A real find.

Later that day, in The Word tent, Richard Hawley delivered an intense burst of passion. The Sheffield singer and songwriter is normally a droll and garrulous chap, but here he was abnormally quiet. The reason: "I've got bronchitis and I feel like shit." Actually this seemed to make his set all the more affecting, a non-stop succession of songs about love and closeness whose power was cumulative and eventually almost overwhelming. Rapture.

Intensity, too, was the keynote of the headlining set in the same tent on Friday night from The National: the East Coast band were blisteringly powerful, a head-spinning mesh of guitars and voices and keyboards and violin that almost blew the roof off. I'd never seen them live, and I was rendered dizzy by the force of their music. Singer Matt Berninger was coiled, brooding and seething, his woody baritone at times breaking out into a howl of anguish. Sensational.

A cerebral chillout was provided later by Jon Ronson in the Literature Tent. The journalist and author of The Men who Stare at Goats was talking about, and reading from, his forthcoming book about psychiatry, psychopathy, sociopathy and the tricky business of deciding who is mad, who is bad, and who – as well as what – is "normal". He was funny, fascinating, and gave a compelling glimpse not just into the mind of a man who has spent 14 years in Broadmoor having committed GBH and feigned madness in order to avoid prison (ordinarily he'd have been out after five years), but also into Ronson's own mind, a place that seems to fizz with ideas and anxieties. Afterwards the evening's compere, Robin Ince, took the opportunity to reel off a couple of his mercilessly savage two-minute synopses of really bad films – The Wild Geese, Who Dares Wins. Breathless and brilliant.

At the comedy tent, pickings were thin when I popped in on Friday: two successive comedians, neither of whose names I caught, died quietly before an indifferent crowd. On Saturday, though, I had better luck with Ardal O'Hanlon, unexpectedly dark and delightfully fluent in his delivery. And Josie Long gave her impersonation of a slightly dim girl from Croydon who is recounting her experiences as an astronaut, "up space". Taking questions from the crowd, she was asked what is the biggest thing that can be seen from space. Answer in a flash: "Bluewater."
Later on Saturday I witnessed one of the most bonkers stage performances I've seen since Iggy Pop dived into a crowd wearing a pair of transparent plastic trousers and nothing else. Crystal Castles, the experimental shouty electro act from Toronto (pictured left), had barely begun their set when singer Alice Glass (actually she mostly howls and screeches and shouts, her voice heavily treated), having glugged from a bottle of Jim Beam, plunged into a crowd made up largely of teenage boys, whose faces, as shown on the big screens, betrayed a mixture of delight and terror. Some seemed to try to take advantage of their proximity to the screaming, writhing, crowd-surfing singer, and were rewarded with several well-aimed punches from Ms Glass. At times, to the obvious despair of her security minders, she was swallowed up entirely by the surging, swilling crowd in scenes reminiscent of a zombie movie, before re-emerging with her limbs miraculously intact, only to dive in again, grinning with malevolent glee. All the while, a remorseless thudding soundtrack was provided by her two bandmates on stage. Fantastic.

A rather more controlled performance came from The xx, headlining in The Word arena on Saturday: the London three-piece, tapping heavily into the current 1980s vibe, were big and echoey and chilly and clangy, playing music from their Mercury-nominated debut album xx that was as much about the spaces between the notes as it was about the notes themselves. I can't say that I came away humming any of their songs, but I was left with a flavour, an atmosphere, like a taste in the mouth from a disturbing dream.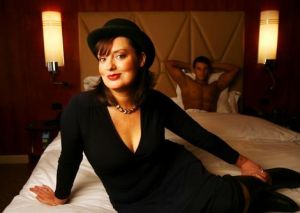 On Sunday, the lure in the cabaret tent of a show called "How to Get Almost Anyone to Want to Sleep With You" was irresistible, and my instincts proved sound as comedian and writer Deborah Frances-White (pictured right) presented a show that gave me few new illuminations into matters of sex and seduction but which delivered a lot of laughs. She's a funny, warm and engaging performer and I'm sure we'll be seeing more of her. The vague sense of furtive guilt that I got from watching the show was enhanced afterwards when, having emerged from a show in which Frances-White had staged a bra-removing competition in which two men picked from the crowd had ended up wrestling each other, I passed the literature tent where an earnest discussion on feminism and literature was taking place. I quickened my pace. For me, Latitude puts me in a sort of bubble, a place where I'd rather not tackle cold hard dark issues head-on. And if I do, I prefer them mediated through comedy or music or performance.

And finally, Sunday's big main-stage attractions. One: Temper Trap, an Australian band (it's remarkable that a country that was once a byword for musical death has come to signify a world of possibilities) were just fantastic, a captivating blend of lush harmonies, the exquisitely pure voice of singer Dougy Mandagi and funk rhythms that rattled along like an express train across the Australian desert. Two: Rodrigo y Gabriela, the Mexican guitar magicians who conjured up extraordinary flurries of notes from their instruments. And three: Vampire Weekend, who brought the weekend to a perfect close with their rousing, bouncy, ska- and West African-flavoured tunes. They are not exactly a bunch of musical heavyweights, but they do what they do with irresistible energy and spirit; the crowd sang and jumped in a delirious frenzy. Pure fun. Afterwards, I chanced upon another example of Latitude's multitude of pleasures: on the way back to the campsite, I stopped for a while to watch a group of Japanese drummers on the stage by the lake. It was nearly midnight, and the very air was alive with the thud of their drums and the buzz of thronging happy people.
A special mention, too, for Tom Jones. Like thousands of others, I was unable to see his late-night set on Thursday on one of the smaller stages because of lack of space, so he decided to play it again on the main stage at midday on Sunday. Showcasing material from his new album, Praise and Blame (out next Monday) and playing nothing from his back catalogue, he was a triumph. The album is produced by Ethan Johns, who seems to have done for Jones what Rick Rubin did for Johnny Cash - take the man back to his roots, strip him down, get him singing the songs his voice was made for: blues, gospel, rock and roll, country. What a voice, sliding gorgeously, and a great band, too, with Johns himself on guitar. This was no knicker-throwing karaoke singalong but a genuinely moving experience.
Next morning, blearily packing up to head home, I got back to the car park and found that a note had been slipped onto the windscreens of all vehicles. It was from Suffolk police, and was seeking information and assistance in relation to the rape of a festival-goer on the first night of the festival. Suddenly the world seemed very real again.

Photograph of Eliot Sumner by Tom Griffiths.
Explore topics
Share this article