Classical CDs Round-Up 10 |

reviews, news & interviews
Classical CDs Round-Up 10
Classical CDs Round-Up 10
Anniversary Mahler sets, Schumann, Schubert, Messiaen and Dove, among others
CD OF THE MONTH
Mahler: The Complete Works Various artists (EMI)
It's the 150th anniversary of Gustav Mahler's birth, and next year it'll be 100 years since his death, so prepare yourself for an onslaught of recordings old and new. DG have also compiled a complete Mahler box, as well as reissuing Bernstein's 1980s traversal of the symphonies. EMI's 16cd set is a cheaper option, though both labels have extensive archives to raid. It makes sense in many ways; it's a tall order to expect one interpreter to have the measure of each one of the symphonies, and in most cases EMI's choices are good ones. Some are familiar mainstays of the catalogue, but several were new to me. Giulini's 1971 Chicago account of the First Symphony is very decent – lyrical, youthful, and with stunning brass playing. Klemperer's vintage Resurrection dates from 1961 but it still packs a punch – the highlight being the singing of the Philharmonia Chorus.
I like Rattle's detailed Third Symphony; he also provides an excellent live Seventh, teeming with wit, mystery and wonder. Horenstein's Fourth has been unfairly neglected, recorded for a budget label in 1970 and never having received much attention, despite Margaret Price popping up in the last movement. EMI stalwart Klaus Tennstedt gives us a weighty, intense Fifth, taped live in the RFH. Good though it is, it fails pack the same punch as the LPO label's recent live Tennstedt Resurrection.
Tennstedt's Eighth, with an impressive vocal cast with the an augmented LPO and chorus, sounds appropriately massive, though I find this work more palatable when it's kept moving. Which is not the case with Barbirolli's lumbering, gritty but compelling assault on the tragic Sixth. My favourite ever Mahler performance, it shocks and surprises in equal measure. There are a few moments where the New Philharmonia sound as if they're about to collapse, but the tension never drops.
Barbirolli's impetuous 1964 Berlin Philharmonic Ninth is another favourite, but the orchestral playing is alarmingly imprecise in places. Rattle's Berlin traversal of Derek Cooke's realisation of the Tenth is pretty good, though I've always preferred his earlier Bournemouth recording.
But this is the complete works, so what else do we get? There's Klemperer's marvellous Das Lied von der Erde – no tenor has ever sounded sung this work as beautifully as Fritz Wunderlich, and Christa Ludwig's Der Abschied possesses a glacial beauty.  Simon Rattle's slightly rough-edged Das klagende Lied shows us how many of Mahler's stylistic tics were present early in his composing career.
There's Dietrich Fischer-Dieskau's 1952 recording of the Lieder eines fahrenden Gesellen, with the Philharmonia and Furtwängler. Fischer-Dieskau is teamed with Elizabeth Schwarzkopf and George Szell in a famous account of Das Knaben Wunderhorn, bubbling with wit and detail. Blumine, an offcut from the First Symphony, is here, along with the early piano quartet movement. And the bonus disc coupling the Rückert Lieder with seven more interpretations of Ich bin der Welt abhanden gekommen is fascinating, with singers including Janet Baker, Brigitte Fassbaender and Thomas Allen.
If you don't know Mahler, why is he worth bothering with? It's that few other composers projected their personalities with such force and panache. It's all here – angst, melancholy, sarcasm and above all joy, and articulated with such astonishing virtuosity. Listen to Kathleen Ferrier and Bruno Walter's 1949 recording of the Kindertotenlieder and be grateful that such pleasures are so readily available in these troubled times. Find Mahler Complete Works set on Amazon
OTHER RELEASES
Beethoven: Piano Concertos 1-5 Paul Lewis, BBC Symphony Orchestra, Jiří Bělohlávek (Harmonia Mundi)
Paul Lewis is playing these works during this year's Proms season, with a different orchestra and conductor for each. These concerti never shock and surprise me in the same way that Beethoven's mature symphonies can. They were written for the composer himself to play, and in most cases they're fairly conventional in terms of form, following a well-established classical template. None of this is meant to disparage the music at all; over these three discs are spread enough profundity, charm and good humour to maintain anyone's sanity for months.
In a world awash with duplicate recordings, why should Paul Lewis's readings command attention? There are several reasons – chiefly the complete lack of ego in these performances, and the alert, sympathetic accompaniments from an orchestral team making a rare foray into this repertoire.  Maybe Bělohlávek's large-scale approach works best in the later concerti; the first two, both youthful, sunny works, can sound more unbuttoned with a reduced body of strings. Here they're still pretty great - scales played with insouciant wit, second subjects dispatched with fluency and grace. The Third concerto, the only one in a minor key, treats its material with more gravitas. It's darker, but there's always this composer's generosity of spirit shining through – listen to Lewis in the closing Rondo, each touch of rubato applied with smiling grace.
The larger-scale Fourth and Fifth concerti are just as successful; the opening minutes of the Fourth are as startling as they should be, and I liked the way that Bělohlávek and Lewis lead into the Fifth concerto's rollicking last movement with such ease, the slow movement's uncertainties dissipated as the clouds lift. Fantastic woodwind playing throughout, and, as is usual from Harmonia Mundi, production values and packaging are excellent. Find Paul Lewis's Beethoven set on Amazon
Watch Paul Lewis recording the concertos (youtube):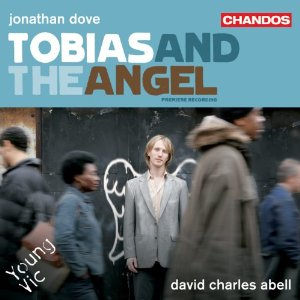 Jonathan Dove: Tobias and the Angel Soloists, chorus and ensemble/David Charles Abell (Chandos)
Writing an opera for a family audience is a near-impossible task. You churn out something accessible and you're accused of being patronising; produce something astringent and you're accused of musical elitism. I've enjoyed Jonathan Dove's two recent operas for children, Pinocchio (due to be revived at Opera North later this year) and Swanhunter, but Tobias and the Angel was new to me. First performed in 1999, this recording was made after a recent successful revival at the Young Vic. The music is immediately attractive, with bold, bright colours from Dove's tiny ensemble, and melodic lines which are always singable but never simplistic.
Set in Ninevah, David Lan's libretto tells a story from the book of Tobit from the Apocrypha. Tobit, a righteous Israelite, is blinded when sparrows shit in his eyes, his torment mirrored by that of his cousin Raguel's daughter Sara – possessed by a demon who kills each of her husbands on her wedding night. Tobit's son Tobias sets out to reclaim gold lent to Raguel, helped on the way by the Angel Raphael. Tobias encounters talking trees and mountains, is attacked by a giant fish, but with Raphael's help the demon is vanquished, he marries Sara and restores his father's eyesight. All of which sounds incredibly downbeat and dramatic, but it's to Dove and Lan's credit that the results are so, well, gorgeous, the musical journey from darkness to light full of humour and warmth, all within a tight 75-minute running time.
Dove excels at characterisation; able to imply so much with a tiny musical gesture, whether it's the shrill cheekiness of sparrows or the sublime, slow chord progressions sung by a chorus of trees. The casting is near-perfect; Rodney Clarke's demon suitably sinister, balanced by counter-tenor James Lang's ethereal Raphael. Omar Ebrahim and Darren Abrahams really inhabit the roles of Tobit and Tobias, and the various other elements - children's choruses, accordion, organ and tuned percussion all fuse seamlessly. Find Tobias and the Angel on Amazon
Dvořák: Rusalka Ana Maria Martinez, Brandon Jovanovich, LPO, Glyndebourne Chorus, Bělohlávek (Glyndebourne)
Dvořák's late opera is now almost a repertory piece, thanks largely to the popularity of a soprano aria heard within the first 20 minutes. It's a delicious, haunting moment, but there's so much more to Rusalka, a Czech variant on Andersen's The Little Mermaid. In love with a prince who swims in her lake, Rusalka the water nymph offers her voice to the witch Ježibaba in return for the chance to become human.
It's a dark narrative, rendered compelling by Dvořák's astonishing score, in which glorious folk-like tunes nestle alongside passages of Wagnerian chromaticism and occasional hints of Janáček. There's black humour too; the mixing of the potion in the transformation scene is delicious, as is Rusalka's painful deciding to take a leap into the unknown. There's now a bit of a problem in that we have a soprano heroine who can't sing, but Jaroslav Kvapil's libretto neatly sidesteps this – Rusalka will only be mute to humans, and will still be able to communicate with her fellow water nymphs and her father, the water sprite.
This set of three CDs released on Glyndebourne's own label was recorded during live performances in August 2009 and it's the best recording I've heard, largely due to the wonderfully shaped and detailed orchestral playing of the LPO under Jiří Bělohlávek. Dvořák's heavier tuttis have a thrilling weight, matched by some wonderful solo wind playing. Ana Maria Martínez is excellent as Rusalka, matched in subtlety by Brandon Jovanovich's Prince. Larissa Diadkova's Ježibaba both scares and delights, never becoming a pantomime villainess. This is a masterpiece, in an excellent performance, beautifully packaged and annotated. Find Glyndebourne's Rusalka on Amazon.
Watch Glyndebourne's Rusalka promo film:
Mahler: Symphony no 3 Deutsches Symphonie-Orchester Berlin/Kent Nagano, with Dagmar Pecková, mezzo (Warner Apex)
A budget-price reissue of a 1999 live recording that slipped past me when it first appeared. Kent Nagano led Manchester's Hallé Orchestra before Sir Mark Elder, and deserves some credit for restoring that orchestra's flagging morale during the 1990s. Mahler's Third is a massive piece, the first movement alone lasting as long as a classical symphony. It is a six-movement, 100-minute hymn to nature, opening with a graphic depiction of the arrival of spring as powerful as Stravinsky's Rite. Mahler's genius was to show us the season literally marching in – the composer's penchant for march rhythms was never displayed so well. There are shadows – that huge, troubling trombone solo is wonderfully played - but you know that things will end happily, and the way that Nagano's players articulate the coda of the first movement is delightful, with plenty of spring in each step.
Mahler's two scherzo movements sound well here; the Tempo di menuetto bathes in a warm glow, and the Comodo third movement benefits from a well-placed offstage posthorn. The violent coda comes as a thrilling shock – my favourite passage in any Mahler symphony. Dagmar Pecková emerges from low strings in a rapt account of the fourth movement's Nietzsche setting, and the boys of the Knabenchor Hannover bim and bam merrily. This is a deeply lovable piece, and it's quite difficult to make a real mess of it. Nagano is sensitive and affectionate, and the slow finale is never bombastic. My one niggle is the complete lack of any documentation – even a few paragraphs setting out the work's context and an internet link to Mahler's texts would be better than nothing.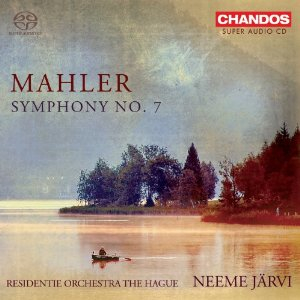 Mahler: Symphony no 7 Residentie Orchestra The Hague/Neeme Järvi (Chandos)
Mahler's quirkiest symphony, the Seventh, was completed in 1905, after the tragic Sixth but before the massive, positive Eighth. Emotionally it's a confusing piece. Tragedy and wit coexist uneasily before the closing movement's affirmation. When played with real love and belief, it can sound absolutely tremendous – it's an orchestral tour de force, and the journey from uncertain gloom to bright sunlight sounds inevitable. Listen to either of Bernstein's recordings and you marvel in the bizarre juxtapositions, the black humour, and the near-erotic charge of the lyrical music. Neeme Järvi's account has some things in its favour – it's nicely recorded, and the orchestral playing is excellent.
But it's all so fast, so brusque. Järvi takes barely 70 minutes for the whole work. Fast speeds aren't necessarily a problem, as Roger Norrington proved in his recent Mahler Ninth, but here there's just not enough mystery, with little sense of tension as the levels of dissonance crank up in the introduction. It just sort of speeds up a bit, and then suddenly we're racing off. The first movement's development is one of Mahler's loveliest moments, all distant trumpet calls, wind chorales and soaring string lines, but Järvi sprints blindly through it – and the movement's optimistic close means less because there's no feeling that we've stepped back from the abyss. The middle movements sound more involving, but there's still a lack of mystery and affection. The cowbells in the first Nachtmusik sound nicely cheeky, but Järvi takes us on an early morning jog, not a nocturnal woodland amble.
By the time we reach the bold, brassy Rondo Finale, things are finally sounding healthier. But it's too late, and the movement's structure feels episodic and haphazard. As said, the playing and recording are excellent, and this is worth investigating at mid-price, but Bernstein and Rattle offer so much more. Find Järvi's Mahler 7 on Amazon
Schubert Live - Volume Three Imogen Cooper (Avie)
These performances were recorded by the BBC during concerts at the Queen Elizabeth Hall in 2008 and 2009, the third instalment of Imogen Cooper's Schubert piano survey. This undeniably adds to the tension, awe and mystery here – listen carefully and you'll hear the odd rustle or cough, but it's never intrusive enough to be a problem.
Extraordinary music. I listened to Cooper's D960 sonata, Schubert's final piano work, in one sitting, failing to realise the immensity of its 40-minute span. That's the wonder on display here; such intimacy, stillness and depth, all coming from a man barely past 30. And the bigness of scale is a shock; this is a piano symphony. Cooper doesn't hide the undercurrents, with those menacing trills and E naturals imperceptibly darkening the colours in the opening minutes. Schubert can't help sounding melancholy, even when he's in a major key.
The A minor sonata, D784 never emotes for cheap effect here; it's bleak, weary and deeply unsettling. Unlike Mahler, Schubert never invites us loudly to share his pain; there's never a hint of indulgence. I do wish though that Avie had edited out the applause after the last movement – it's one of those pieces which leaves you wanting to sit in silence.
We also get the unfinished C major sonata D840, the 12 German Dances, the Allegretto in C minor and the D899 Impromptus, where Cooper's left-hand accompaniment to the halting main theme in the third of the four is pure magic. Another treat is the tiny Hungarian Melody D817, using a theme Schubert overheard sung by a kitchen-maid, played here with the same seriousness and honesty as each of the larger pieces. Find Imogen Cooper's Schubert on Amazon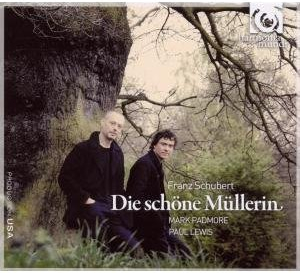 Schubert/Die schöne Müllerin, Mark Padmore, tenor, Paul Lewis, piano (Harmonia Mundi)
Another bittersweet dose of Schubertian melancholy to add to this pair's Winterreise. With these songs, there's always a feeling of imminent dread, that someone is about to die horribly or suffer humiliating rejection. Which is to say that listening to a good performance of one of the great song cycles should be painful. With tenor Mark Padmore and pianist Paul Lewis, the sheer beauty of sound can initially be a distraction; everything sounds almost indecently lovely, and part of me craved a few rough edges.
Die schöne Müllerin was composed in 1823, setting a sequence of poems by Wilhelm Müller, telling of a young miller who follows a brook to a mill, falls in love with the miller's daughter, is rejected and ends up drowning himself. Water permeates these 20 songs, in the texts and sometimes in the glorious, burbling accompaniments, idiomatically and sensitively projected here by Paul Lewis.
Musically it's all so rich; the melodies folk-like, with Schubert's piano writing underscoring the words so well – sample Lewis's slow semiquavers in the central section of Der Neugierige, or his skittishness in the following Ungeduld. Despite the major keys the mood gets ever bleaker, and there's real synergy in a devastating account of Die liebe Farbe. By this stage, I was really convinced by Padmore, and the final two songs are shattering – the different voices are subtly characterized in Der Müller und der Bach, and the closing lullaby is extraordinary – beautiful, yes, but also harrowing.  Find the Padmore/Lewis Schone Mullerin on Amazon
Schumann: Fantasie, Grande Sonate, Three Romances Felipe Scagliusi, piano (Avie)
A debut recording for this young Brazilian pianist. Scagliusi's sheer strength is a defining characteristic of his playing; there's an immediacy and physicality on display here which doesn't overwhelm Schumann's inspiration. The Grande Sonate, Schumann's third piano sonata, is given here in its four-movement version, reinstating the scherzo. It's a dense, edgy work, pushing contemporary piano technique to its limits;  an early edition gave it the subtitle "Concert sans orchestre" (concerto without orchestra). In the faster movements, Scagliusi's accompaniments dazzle, with a phenomenal left-hand technique. Sample the stormy opening paragraph, or the thrilling coda to the last movement. He can relax too, with the slower sections in the third movement's theme and variations beautifully poised and restrained.
Just as impressive is the Op 17 Fantasie. The vast opening movement is so tightly controlled and almost painful to listen to, its hyper-expressive material mirroring Schumann's dismay at having been forbidden to meet his wife-to-be, Clara. It's all intensely personal stuff, and a fascinating display of this composer's darker, more introspective side - a real contrast to the positive affirmation displayed in the four symphonies. We also get Scagliusi's take on the op.28 Three Romances: miniatures by comparism, but by turns beguiling, intimate and open-hearted.
All highly enjoyable – excellent sleeve notes, the usual demonstration quality Avie sound, and how refreshing to be presented with an interesting sequence of pieces, instead of the usual Kinderszenen and Kreisleriana. Find Scagliusi's Schumann on Amazon
Here Scagliusi talks (in Italian) about the CD (youtube):
REISSUES OF THE MONTH
Messiaen: Harawi, Quatuor pour la fin du temps, Vingt regards sur l'Enfant-Jésus Joanna MacGregor (Warner)

Warners have been reissuing some of  Joanna MacGregor's earlier recordings made by the now-defunct Collins Classics label. Some of her excursions into more mainstream territory can fall flat – I didn't enjoy her recent Goldberg Variations, but just about everything on this four-CD set is great – MacGregor is a superb communicator and excels when she's playing unfamiliar music. Not that Olivier Messiaen's music should be that unfamiliar to anyone; two of the works here could now be counted as standard repertoire. The Quatuor pour la fin du temps, written and premiered in a Polish prisoner-of-war camp in 1941, is echt-Messiaen; it's got the lot – snatches of birdsong, eruptions of violence, and juicy chords that could have escaped from a 19th-century organ loft. MacGregor's 1994 performance is excellent, with sensitive support from David Campbell and Madeleine Mitchell on clarinet and violin. Best of all is Christopher van Kampen's cello playing in those extended solos that miraculously avoid descending into schmaltz.
Even better is a 1995 recording of the Vingt regards sur l'enfant-Jésus, a two-hour piano work in 20 movements composed in 1944 during the Allied liberation of Paris. MacGregor makes the piece sing and speak in a way that few other interpreters can manage; I prefer her to the more technically brilliant, slightly chilly Pierre-Laurent Aimard.  Elements of plainchant, gamelan, Gershwin and boogie-woogie crop up, and the more apocalyptic outbursts will make your floorboards shake.
The fourth disc contains a previously unreleased 2002 account of the 1945 Tristan-inspired song cycle Harawi. It's a tougher proposition than the other works in this box, but the performance here, with Charlotte Riedijk, is excellent. And as a bonus, there's a work by Polish composer Zygmunt Krause, his Quatuor pour la Naissance, written in 1985 for the same combination as Messiaen's own Quatuor. Which serves to highlight how bold and colourful Messiaen's original still sounds. The Krause is attractive in places, but nowhere near as bold and ear-catching as its model. Do investigate – hearing MacGregor play the Vingt regards live last year was a life-enhancing experience for me. Find Joanna McGregor's Messiaen CD on Amazon
Music for St Paul's: Choral works by Handel, Blow and Boyce Choir of St Paul's Cathedral, The Parley of Instruments/John Scott (Hyperion)
There's enough spiritual uplift to gladden any cynic in this bargain reissue on Hyperion's Helios imprint, recorded at St Paul's in 1997 to mark the tercentenary of the formal opening of Wren's rebuilt cathedral. The choral sound is so well-captured, suitably full-bodied and immediate but never over-reverberant and muddy. Handel's early Utrecht Te Deum and Jubilate were written in 1713 and set English texts. The musical style is open and direct, largely eschewing the chromaticism which can make the religious music of his contemporary, Bach, a more forbidding, intense experience. Not that I'm having a dig at Handel; he's just a very different sort of composer. I've been listening to both of these works at full volume for several days, and I'm still getting a buzz.
John Blow's 1607 anthem I was glad when they said unto me is a more intimate, restrained work but contains some sparkling moments, notably Rogers Covey-Crump's ornate tenor solo, accompanied by two trumpets. William Boyce's Lord, thou hast been our refuge was composed in 1755. More subdued in tone than the other pieces on this disc, there's still a real thrill when the final chorus opens out; brightly coloured after the more muted textures of the earlier sections. A really enjoyable choral collection; superbly sung and beautifully accompanied – sample the Handel via Hyperion's website and you'll be convinced. Find Music for St Paul's on Amazon
Explore topics
Share this article