Example, Brighton Centre |

reviews, news & interviews
Example, Brighton Centre
Example, Brighton Centre
Ebullient live bounce from rave-pop success story, but lacking light and shade
Thursday, 15 December 2011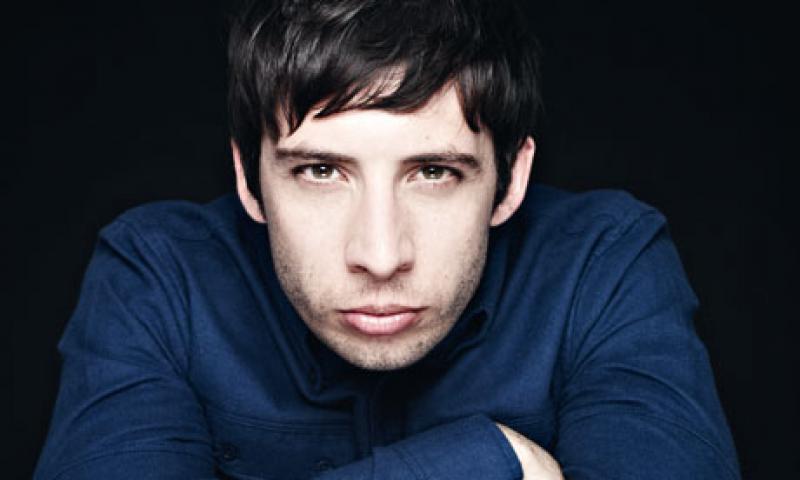 Example giving it 'sullen rock star cool'
Example seems a most unlikely sex symbol but the four-fifths full Brighton Centre (capacity 5100) contains multiple gaggles of young women in their late teens and early twenties who want a piece of 29-year-old Elliot Gleave (EG = Example). My pal Don is bemused. "He looks like a bloke you'd see at a bus stop," he exclaims above female screams. He does, albeit more stylishly dressed and with a hint of Edmund Blackadder (series one) about his severe fringed haircut.
This vocal, partisan crowd – also, it should be noted, filled with men of a similar age - appear willing to lap up anything Example serves. This, eventually, turns out to be much to the night's betterment.
Gleave's rap-tinted dance-pop has given him two UK Number One singles and a Number One album this year, but he's far from an overnight success. He initially dabbled in film-making and stand-up comedy as much as music, taking five years of slowly testing the water to reach this point. He arrives on stage with a full band – guitar, bass, drums – all clad in svelte black like him, and opens with "Skies Don't Lie" from his latest album, which fabulously rhymes "Batcave", "Nick Cave" and "sick rave". It sums up the night's sound, a stew of electronic dance tics given rock band steroids and pop trimmings. The place goes bonkers at once. Even the majority on the balconies are up and dancing from the first moment. This is an unexpected and pleasing surprise.
The general tone hasn't changed for the entire gig. Not once. Nuance has gone on holiday
For a while I'm swept along by the massed enthusiasm, the screams of appreciation, the dub-step headbanging, the drum-and-bass live percussion, the exhortations to form circles and mosh, which the crowd keenly do. Every song is weirdly familiar because they all have that Ritalin-frenzied daytime Radio 1 rave-pop vibe. On the one hand I'm caught up in the pandemonium of dancing bodies, thinking, yes, yes, rave on, rave on, we won, indie is dead, a-ha-ha-ha-ha-ha-ha!, whooping it up as Example plays club remixes of his songs, such as the DC Breaks vs VENT take on the Top 10 hit "Won't Go Quietly" or the Spor version of "Hooligans", a tune Example cut with Dutch DJ Don Diablo. On the other hand, like a hungry man half an hour after eating a McDonalds, I feel an occasional emptiness, a lack of nutrients, especially when Gleave banters with the audience. "I've had a haircut today." Roars of crowd appreciation. "Has anyone here had a haircut today?" More howls. It's as if Example has learnt rave behaviours from a manual and the crowd are learning them again fourth or fifth-hand, but without the guts, all the insane drugginess replaced with way too much Red Bull.
After playing his early hit "Kickstarts" – that'd be last year – he returns with more pounders for the encore, strobes sending everything doolally, and a tough four-by-four beat that could be London gay hard house Mecca Trade circa 1998. But somehow not. The general tone hasn't changed for the entire gig. Not once. Nuance has gone on holiday. There are no highs and lows, just a grinning rictus of candy heaviness endlessly shouting "MTV partaaaaay" into the void. Whereas, say, The Prodigy, have a pummelling depth, a narcotic craziness to their thrills, Example is strictly surface. His concert sometimes seems like the equivalent of a 12-course culinary tasting test that turns out to be a dozen bags of Haribo. Every song in and of itself is a blast but, packed one after the other, they lack highs or lows, or any sense of going on a musical adventure. He ends the show with his 2011 Number One "Changed the Way You Kiss Me" and everyone wriggles ecstatically once more.
Despite such criticism, Example is a lively performer clearly enjoying his time in the sun, albeit nowadays with a snifter of sullen rock star cool (he's not a big smiler). In any case, a gig is as much about the audience and overall atmosphere, and this one bubbled over with spirited attitude. Example was the ringmaster but it was the crowd that were truly great, willing the concert to be 100 per cent euphoric, hurling themselves en masse into every song like dervishes, really, really enjoying themselves. In fact, they were the ones that made it a gig worth attending.
Watch the video for "Changed the Way You Kiss Me"
It's as if he's learnt rave behaviours from a manual and the crowd are learning them again fourth or fifth-hand
rating
Share this article