2011: A Far Cry from Ramsay Street |

reviews, news & interviews
2011: A Far Cry from Ramsay Street
2011: A Far Cry from Ramsay Street
A blast from the past and a couple of corkers from Down Under
Wednesday, 28 December 2011
Mama's boys: Ben Mendelsohn, Jacki Weaver and Luke Ford in Aussie thriller 'Animal Kingdom'
This is probably cheating - because it was released in 1980 - but one of the cultural highlights of my year was the opportunity to revisit the film Bad Timing, which was screened as part of director Nicolas Roeg's retrospective at the BFI in March.
The story of a doomed relationship between the sexually liberated but emotionally vulnerable Milena (Theresa Russell) and cold, clinical Alex (Art Garfunkel) bears all the hallmarks of a Roeg production - the flashbacks and flashforwards, the lush cinematography – and hasn't dated in the least although, admittedly, it's not to everyone's taste. An executive from Rank, the film's distributor, called it "a sick film made by sick people for sick people". I call it compelling, passionate filmmaking.
But back to 2011, and two choices which are both, coincidentally, set in Melbourne. The first, Animal Kingdom, is a riveting thriller directed by David Michôd and starring James Frecheville as J (pictured right). If your patience has been sorely tested by the close proximity of your nearest and dearest over the past few days, just watch this film and you'll soon be thanking your lucky stars that at least you're not a member of the Cody clan. It's an incredibly tense film - Air Supply's 1980s hit "I'm All Out of Love" will never sound the same again, which isn't necessarily a bad thing - with outstanding performances. Jaki Weaver was nominated for an Oscar for Best Supporting Actress and Ben Mendelsohn is horribly chilling as J's sociopathic uncle, "Pope."
My vote for the best television drama series of the year goes to The Slap and whilst the protagonists of this superb ensemble were not quite as extreme as the cop killing Codys, they certainly had their moments.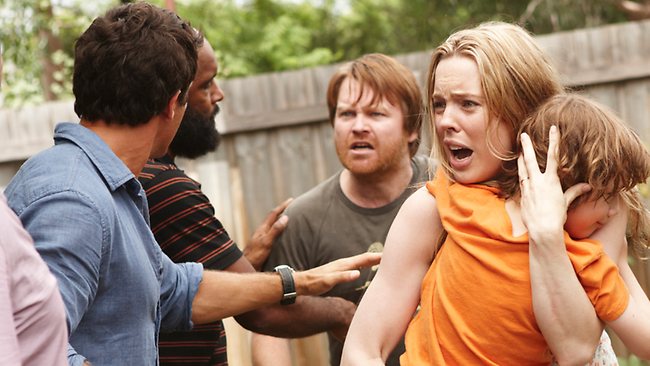 The story unfolds after a family barbeque (pictured left), when Harry, a strutting bantam cock of a man with a Napoleon complex, hits a child at a family barbeque, despite not actually being related to the child in question. The fallout is extraordinary, and although the storylines themselves are nothing new – various infidelities, a teenager's struggle to come to terms with his sexuality – the characters are carefully drawn and the ensuing drama unfolds extremely naturally, the consequence of a series of shockingly poorly-made decisions and plain old human fallibility. Without giving too much away to those who haven't seen it, the final episode is an unusually fine and fitting finale to a superb piece of television.
2011 highlight: A toss up between Animal Kingdom and The Slap.
2011 letdown: We Need to Talk About Kevin – great performances from Tilda Swinton and Ezra Miller but the brilliant John C Reilly is sadly mis-cast and the film fails to replicate the incipient horror of the novel.
2012 recommendation: Mark Rylance returns to the Globe as Richard III and to reprise his role as Olivia in Twelfth Night.