Waiting for the first Black British Godot |

reviews, news & interviews
Waiting for the first Black British Godot
Waiting for the first Black British Godot
Talawa Theatre Company's artistic director explains why Beckett's masterpiece is ripe for reinterpretation
Tuesday, 07 February 2012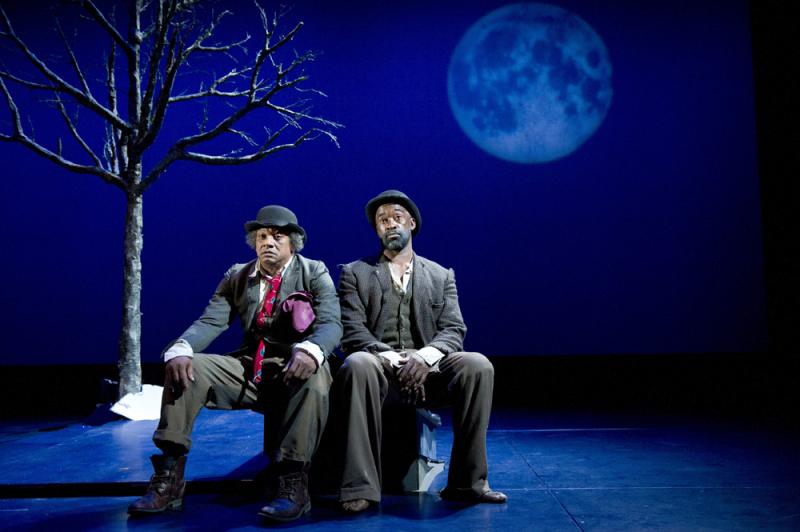 Jeffrey Kissoon and Patrick Robinson as Vladimir and Estragon
When I lived in the Caribbean in my twenties, one of the books I found at the bottom of the remaindered bin of Kingston's largest book shop was Theatre of the Absurd by Martin Esslin. I read it without any real sense of its context but there was something about its central idea that struck a chord with me.
Perhaps it was living in a society where death and violence were part of everyday life, perhaps it was my own rather bumbling efforts at understanding existentialism that made it remarkable. Esslin talked a great deal about
Waiting for Godot
.
Nearly 20 years later I sat in a small two-up two-down in Knebworth, having recently moved back to the UK to live, and watched Waiting for Godot on my tiny television. I was riveted. As a writer I deeply admired how polished and spare the dialogue was. I enjoyed its references to life and death, to farting, friendship and fragility. I loved that the world the play created was so consistent, clever and funny that I could enter into it without any of the unease I felt entering into the more hierarchical worlds of other playwrights.
As I read and reread it, I began to feel that this was a play that talked about a great many experiences that would resonate with Black Britons (pictured right, Guy Burgess and Cornell S John as Lucky and Pozzo). It talks about a world where you wait for someone else to tell you whether or not your life can improve, of constantly having to negotiate with someone who holds themselves just out of reach. It speaks about having to sleep in a ditch and endure regular beatings, of living in uncertainty and fear. It also explores the power of friendships forged against adversity yet it also looks at how power makes those who have it insensitive to those they hold power over.
Much of the English spoken in the Caribbean is shot through with references to the Bible and Waiting for Godot is too. There are many familiar Victorian turns of phrase in the play that reminded me of the Caribbean, language learnt from the Welsh, Irish and Scottish immigrants who settled on the island's plantations as hoopers, wheelwrights, bookkeepers and overseers.
Fifteen years on it is my job to put together a programme of work for Talawa Theatre Company - which describes itself as Black British and whose mission is to explore the Black British experience -that will fittingly celebrate the company's 25th year. Under the founder and first artistic director, Yvonne Brewster, Talawa regularly produced classic plays with Black casts: Anthony and Cleopatra, The Importance of Being Earnest, King Lear. I wanted to pay tribute to her work and include a classic text alongside productions of new devised play KRUNCH and George C. Wolfe's The Colored Museum in the anniversary year. Waiting for Godot immediately sprang to mind. I had been discussing possibly producing the play with Ian Brown of West Yorkshire Playhouse for a good couple of years. He had immediately seen how the casting could create a fresh way of approaching the play. We had already had brief discussions with the Beckett estate and they seemed minded to give us permission to produce the play. There had recently been a West End production with a stellar cast so it became a matter of timing more than anything else. Once dates were agreed, the die was cast. West Yorkshire Playhouse and Talawa Theatre Company would be producing Beckett's classic together.
In theatre, a decision to produce is never made for any single reason (Patricia Cumper pictured left). There are always practical considerations. I pushed hard for Waiting for Godot because the quality of Black British acting talent is beyond question and so the combination of a classic play with a strong cast made it a good bet we would get decent and varied audiences. It consisted of a cost-effective five actors and one set and so allowed attention to be focused on the text and those playing it, an approach I particularly wanted. These five parts had never been on offer to Black British actors before and so I felt we would attract a quality cast who would relish the challenges the play presented. I also felt that the voices the actors would bring to the play would create a different sound, enrich the already poetic rhythms of Beckett's language and their life experiences would bring depth and richness to their interpretations of Didi and Gogo, Pozzo, Lucky and the Boy.
As in Waiting for Godot itself, every reason for doing something could also be seen as a reason for doing nothing. Every instance I've found in the play that might resonate with the Black British experience could equally well be interpreted as totally universal or specific to some other cultural context. That is the genius of the play. It creates an abstract world in which images and incident are fleeting and shadowy, as much in the audiences imagination as in the playing of the play. It is what it is and you have to surrender to it. It is also what you make of it. So to the question, why chose an all Black cast for this production of Godot, I quote Ian Brown. "Why not?"
Waiting for Godot at West Yorkshire Playhouse until 25 Feb, then at The Albany, London (6-10 Mar), Birmingham Repertory Theatre (13-17 Mar), Theatre Royal Winchester (27-31 Mar) and New Wolsey Theatre, Ipswich (3-7 Apr)
Godot talks about a world where you wait for someone else to tell you whether or not your life can improve
Explore topics
Share this article