Wastwater, Royal Court Theatre |

reviews, news & interviews
Wastwater, Royal Court Theatre
Wastwater, Royal Court Theatre
Still waters don't run quite deep enough in Simon Stephens's new play
Wrench of separation: Frieda (Linda Bassett) struggles to let go of foster son Harry (Tom Sturridge)
Wastwater is the deepest lake in England, overshadowed by rugged Cumbrian screes and described by Wordsworth as "long, stern and desolate". In this new play by Simon Stephens, directed by Katie Mitchell, it becomes a central metaphor: terrors may lie beneath its dark, still surface, like the violence and secret suffering behind a suburban front door.
The drama itself, though, takes place in quite different environs: the area around Heathrow Airport. Planes tear through the sky, symbolic of a modern restlessness and bargain travel that comes at a high cost to the future of our planet. And in a world where anything can be bought and sold, money can get you sex, or a child to raise as your own. Something to fuck, something to love, provided the price is right.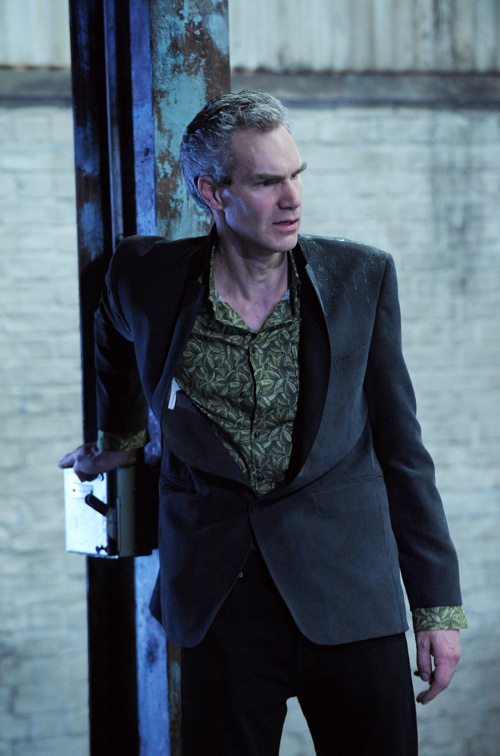 The thread that connects the play's twin images – the stark lake, the sleepless airport and high-tech new Terminal Five in particular – is stretched close to snapping point. There's something too self-conscious, yet insubstantial about Stephens's writing here; and although there's a persistent menace scratching away beneath the dialogue of the three scenes that make up this 100-minute piece, the whole rather lacks conviction. True, its very reluctance to define itself is part of its uneasy compulsion: we learn little about any of the characters, and their stories are deliberately left tantalisingly incomplete. But watching Mitchell's staging is like being confronted by a ticking parcel, and unwrapping its many layers only to discover that what they contain is, after all, nothing more explosive than an ordinary alarm clock.
Still, when the alarm goes off, it's a harsh and unsettling sound – if hardly the wake-up call Stephens may have intended. In the first scene, we meet 60-year-old Frieda (Linda Bassett) and her foster son Harry (Tom Sturridge), who is about to leave for a new life in Canada. It's clear that Frieda nurtured him after events that damaged him as a child; and also that their parting is more painful and difficult for her than for him. With impressive fluidity, Lizzie Clachan's garden-and-greenhouse set – a home under threat of demolition to make way for the airport's third runway – is replaced by the interior of a smart but sterile airport hotel room, where police officer Lisa (Jo McInnes) and art teacher Mark (Paul Ready) meet for an adulterous tryst. As she flirts with the younger, eager man, she assays a skewed sort of seduction in the form of some disturbing storytelling – an account of her heroin addiction, of the porn she engaged in to pay for her habit – and it emerges that her work has left her scarred in more ways than one. So much so, in fact, that she begs Mark to hit her. Are her tales true, or just a pornographic amalgam of the horrors she's encountered in her job? Finally, we're transported to a warehouse, where Sian (Amanda Hale), a well-heeled, hard-faced young woman, conducts a brutal transaction with Jonathan (Angus Wright, pictured above right), who has negotiated to purchase a young girl on the internet – probably as an adoptive daughter for himself and his wife, possibly for more sickening purposes.
Visual, aural and thematic echoes resound through the triptych: anxiety about the future, shame over the past, the commodification and distortion of human emotion and relations, bleeping mobile phones, aeroplane engines, and the humming of the habanera melody from Bizet's Carmen ("Love is a gypsy child"), implying romanticised wanderlust and passion. It turns out that there are faintly traced connections between the characters in separate scenes too – although they never share the stage at the same time. Instead, Stephens leaves it to his audience to join the dots – but no very clear picture ever emerges. What's conjured is more a mood of unease, intriguing but never whole-heartedly engaging.
Mitchell orchestrates her production with meticulous skill and a certain heightened sense of the not-altogether-real, reinforcing the feeling that what we are witnessing is as much about psychological process as external action. And the acting is equally carefully observed. In the end, though, the play is frustratingly imprecise; and for all its undercurrents, it doesn't exert the pull that it should.
Is Lisa's account of her life true – or just a pornographic amalgam of the horrors she's encountered in her job?
Explore topics
Share this article