theartsdesk in Reykjavík: Fanfare for the Harpa Concert Hall |

reviews, news & interviews
theartsdesk in Reykjavík: Fanfare for the Harpa Concert Hall
theartsdesk in Reykjavík: Fanfare for the Harpa Concert Hall
Olafur Eliasson lights the way to Iceland's bright cultural future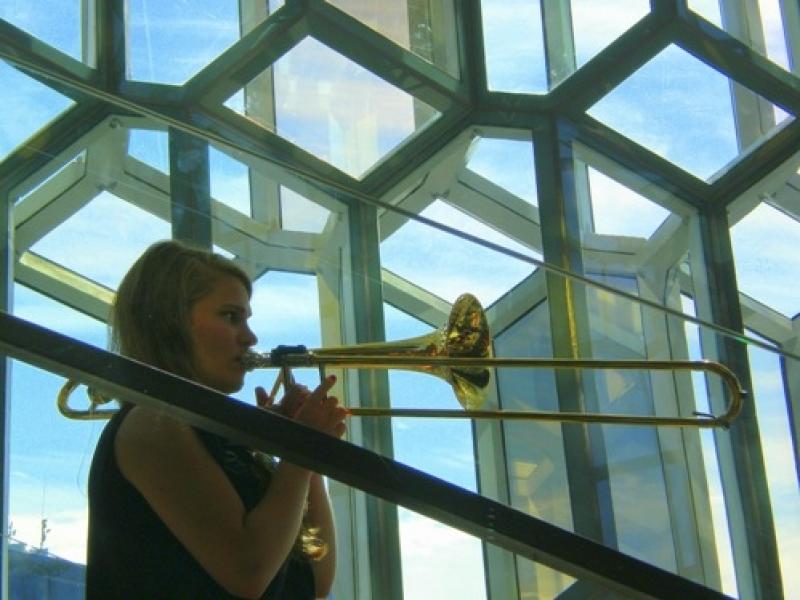 Trombonist officially inaugurates Iceland's pride in a free foyer concert
After three days' motoring and clambering around the most awesome natural landscapes I've ever seen, how could a mere concert hall in a city the size of Cambridge begin to compare?
Well, it helped that the façades in which that great visionary Olafur Eliasson played his part evoke basalt columns on coast and islets, that the welcoming red interior of the Eldborg Concert Hall references the age-old lava flows of an extinct volcano we'd just climbed and that the shifting light which always strikes new visitors to Iceland plays its part in the daily drama of "Harpa", as the harbourside arts centre is succinctly known. Add the platonic ideal of good citizenship on Reykjavik's open-door birthday, and the experience would crown any first trip to this unique land.
Harpa is a mammoth that nearly died out before it could get started. Iceland has been waiting for a decent concert hall for 100 years, and in 1999 the Minister of Culture and Education decided to go ahead with a competition to realise just such an ideal. The winners were Henning Larsen Associates, fronted last weekend by articulate and unflappable Faroese architect Ósbjørn Jacobsen, in association with Batteríið Architects Ltd.
Everyone was clear from the start that Copenhagen-born Icelander Eliasson (pictured right) should be closely involved with his ideas for a structurally active façade; as he said in Saturday morning's debate, "So often artists add their thoughts as an extra layer [in a project like this], or art is brought in as a solution to a corner where everyone ran out of ideas": clearly not the case here. The first plans were laid, of course, before Eliasson achieved cult status with his Tate Weather Project and the miraculous scaffolded cascades transforming the waterways around Manhattan.
Then in 2008 came the great Icelandic crash. Some 40 per cent of the Harpa project had been realised; with any less, the whole thing could have been demolished. In the words of Harpa's vivacious music director Steinunn Birna Ragnarsdóttir (also one of Iceland's finest pianists), "That would have been a terrible blow to our self-esteem as a nation, as if the crash weren't enough - it would have been a monumental failure instead of a monumental success."
That it turned into the latter was thanks to the vision of the then Mayor and Minister who flew in the face of controversy to get work started again in 2009. And just as the Icelandic people showed a different way to the rest of the world in saying "no" in a referendum to bailing out the banks, so their flagship (pictured below © Nic Lehoux) grew.
The title was auspicious: "Harpa" signifies not only the instrument - "Why not 'clarinet'?" Vladimir Ashkenazy mischievously asked Steinunn - but also the name of the seventh, spring month in the old Nordic calendar, marking an end to the upheavals of winter and the bringing of better times.
In May, Ashkenazy conducted the excellent Iceland Symphony Orchestra and a by all accounts overwhelming chorus of 400 in Beethoven's Ninth Symphony. By then the main, 1800-seater concert hall was ready; Steinunn is anxious to emphasise that they began, unlike most such projects, from the inside out, so that the foyer spaces were by then still not fit for purpose.
Even on 19 August, the day of the official inauguration, foreign visitors might have been surprised to find men still at work. But this, I'm told, is the easygoing Icelandic way, which would also have accounted for many provisional changes in schedule.
Make no mistake, though: there's nothing half-hearted about the interior of the Eldborg Hall (pictured left © Bára Kristinsdóttir), largest among venues of various sizes - allowing for chamber music and the much-needed international conferences - which have come to represent the four elements, nor its acoustics. It boasts giant but unobstrusive canopies and coupled acoustic control chambers with mechanised doors. The seating areas behind the orchestra are mobile; lifts can raise and lower the front of the platform to provide an orchestra pit for the Icelandic Opera, which will give two to four operas a season here starting with Mozart's The Magic Flute in October. Money ran out, alas, for an organ, but the panels which will conceal it if finances ever permit are handsome indeed.
Why "Eldborg"? The non-reflective lava red, softer than anyone had anticipated, against ash should give a clue: the name, which means "city of fire" belongs to an iconic volcanic caldera further up on the west coast, fortunately extinct so that we'd been able to hike up and peer inside (pictured right).
The acoustic perfection which puts the Eldborg Hall up there with the best in the world has been achieved by Artec Consultants Inc, led by Damian Doria, Tateo Nakajima and Edward Arenius. Doria (pictured below, with Arenius) came to Artec in 1994 at a time when the company had achieved about half a dozen experiments in coupled volumes - in other words the inner-volume concert hall surrounded by an outer volume which gives a great hall like Birmingham's the air around the orchestra (would that we had such a one in London).
His study and modelling coincided with two other greats, the KKL in Lucerne and the equally wonderful Béla Bartók Concert Hall in Budapest, and he learnt further lessons through working on and/or listening to the results in Miami and Dallas. I asked him whether the lessons of older shoebox halls had applied here, and he said Vienna's Musikverein turned out to be slightly too small an example for a hall which also needs to cope with amplification; Boston, Amsterdam's Concertgebouw and New York's Carnegie were closer ideals.
The results? Well, I only had a chance to hear a sample lollipops programme from the Iceland Symphony Orchestra conducted by Bernharður Wilkinson, but that was enough to register, from a prime seat high up in the first circle, every nuance and overtone of a solo flute in Mozart's D major concerto - Stefán Ragnar Höskuldsson, Icelandic principal of the Met Orchestra - as clear and present, especially in his imaginative cadenzas.
Doria shared my surprise that the immediate leap, with no time for adjustments, to the longer resonances in Prokofiev's Romeo and Juliet "Montagues and Capulets" worked equally well; all inner textures, as in Birmingham and Lucerne, are beautifully apparent, though the articulation and phrasing Wilkinson got above all from his strings certainly helped. Next season will see some spectacular tests: Ashkenazy in Shostakovich, Rozhdestvensky tackling Janáček's Sinfonietta in a typically wacky programme, the ISO's brilliantly chosen music director Ilan Volkov in Mahler and Berlioz's Roméo et Juliette.
'The entire flotilla of harps in Iceland had been enlisted'
Steinunn's real gambit for inaugural day, though, was the lunchtime concert against the ever-changing three-dimensional Eliasson/Larsen façade. The entire flotilla of harps in Iceland had been enlisted for a fabulously subtle piece by Mist Thorkelsdóttir; no wonder that the nice young people who marshalled crowds of all ages held up smiley "Silence!" placards. And the audience - sitting on the stairs, standing, napping, running quietly around - also kept the peace for Anna S Thorvaldsdóttir's nature-inspired fanfare for brass and percussion, conducted by the composer. Atli Heimmar Sveinsson's invocation to Thor rounded out the ritual. Then there was an optional excursion into the sunshine to see the campest troupe of Chinese acrobats I've come across, somersaulting through hoops to a disco track as folk inside and out gazed in wonder.
All this highlighted the extraordinary façade, a "stackable, 12-sided module in steel and glass", as Eliasson calls it, made up of "quasi bricks", many of them fitted with a special dichromatic glass reflecting green, yellow and orange (pictured below © Hördur Sveinsso). He adds that he thinks of the façade "as a skin or a border that mediates between the interior of the building and the city, and reflects the negotiations between inside and outside".
Much fanfare was made about the first lighting up of the façade after sunset on festival day, but Eliasson rejects the gallimaufry of sound and light that makes up sense-bombing spectacle. And this, frankly, just bombed. The red, green and blue LED lights actually made a thing of wonder more like the Elephant and Castle Shopping Centre, and it's worth far more than that by the light of day - or even just with the usual illuminations glowing from inside.
Above all, it briefly made us forget that this is a frontage in tune with the elements, with Eliasson's desire to establish a dialogue between how we walk in a city and how he, especially, has hiked, cycled and driven around Iceland, an experience he claims has played such a major part in his work.
As it can hardly fail to do, given such spectacular basalt formations as these (pictured left) we'd seen earlier in the week on one of the islets of the Breiðafjörður archipelago.
Otherwise, last Saturday was an occasion for celebrating the human. A third of Iceland's population had come in to Reykjavik for a crazy day that began at 8.30am with the city's 29th annual marathon. Reykjavikaners opened their doors and sold their goods on the streets; policemen dished out free hugs to everybody who wanted them along the main drag, Laugavegur; and the excellent English-language Grapevine newspaper listed the 100-plus events we could search out in the town, including such enigmatic manifestos as "a well-dressed couple panhandles and collects bottles to recycle".
In the few hours of afternoon left between Harpa activities and a meeting with the former-comedian Mayor at the 1909 Höfði House, a light and airy building famous for the crucial 1986 summit meeting between Reagan and Gorbachev, I crammed in what I could. All the museums, galleries and public buildings were free and packed with activities: a piano recital in the photo gallery of the splendid National Museum; chalk pavement art in the garden of the house of outrageous turn-of-the-century sculptor Einar Jónsson; communal psalm-singing from 3pm to 9pm in the imposing Hallgrímskirkja on the top of the hill.
'The priority that Iceland places on musical education is why great performers like Björk and Sigur Rós reach such a serious level'
Curiously, though, it was the smaller-scale events which had the greatest impact. Everybody seemed to be out on the streets and making music, many very badly but with great enthusiasm. There were the international youth drummers (pictured right) colliding with good-humoured campaigners telling us tourists not to eat whale meat - I did once, I swear I never will again for ecological reasons rather than those of the taste, which was steaky and good.
There were the screaming Berserker bands who gave us all such a good laugh, at least for half an hour of their marathons; and there was the elderly lady in purple sequinned dress and feather boa singing "I Am What I Am" while pancakes were served in a gritty backyard, locally celebrated Pollianna ("Let me sing and I'm happy", it says on her card).
None of this, huge fun though it was, should obscure the fact that musical training in Iceland is taken very seriously - second only, perhaps, to Finland in the Nordic countries. Steinunn, who first heard of the need for a concert hall in Reykjavik when she took her first piano lesson at the age of seven, insists that the quality and length of individual tuition, and the priority that both city and country place on musical education, are why great performers like Björk and the post-rock band Sigur Rós all reach such a serious, professional level; it's not just coincidence that so many of the best come from Iceland.
As Steinunn points out, it needs to continue if Iceland is not to import musicians for its orchestras from abroad (of the 70 players in the Iceland Symphony Orchestra, only five are not Icelandic; compare that with the Bergen Philharmonic, for instance, an international team by comparison, though a distinguished one). And with Harpa, Iceland's musical identity at last has the world-class platform it needs.
Share this article