BBC Proms: Tetzlaff, BBCSO, Robertson |

reviews, news & interviews
BBC Proms: Tetzlaff, BBCSO, Robertson
BBC Proms: Tetzlaff, BBCSO, Robertson
Not the best of British, but honourable shots at Bridge, Birtwistle and Holst
Wednesday, 07 September 2011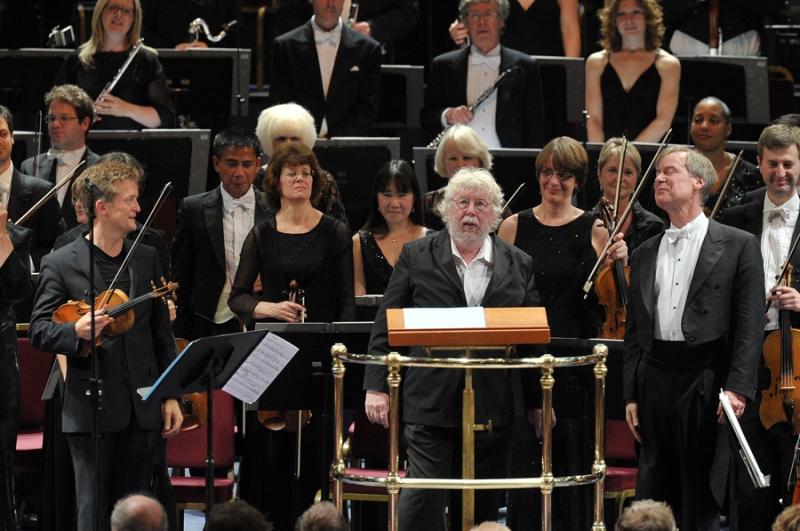 Christian Tetzlaff (left), Sir Harrison Birtwistle and David Robertson take the audience's applause at the Royal Albert Hall
specially who play for him in good, vibrato-drenched shape for late-Romantic music. With good reason did Bridge's relatively early (1906-07)
Isabella
, based on Keats's celebrated tale of the fair Italian and the pot of basil in which she buries her murdered lover's head, sound like a Korngold film score of the 1930s; after all, both Korngold and Bridge took their cue from Strauss's symphonic poems.
I'm sure David Robertson played his part, too, in focusing the memorable orchestral gestures which make up for Bridge's characteristic lack of symphonic sweep – the violas' baleful opening, lover Lorenzo's horn tune and the complementary oboe solo for his Isabella taken with art-concealing simplicity by Richard Simpson, the nocturnal creepy-crawlies leading to the murder.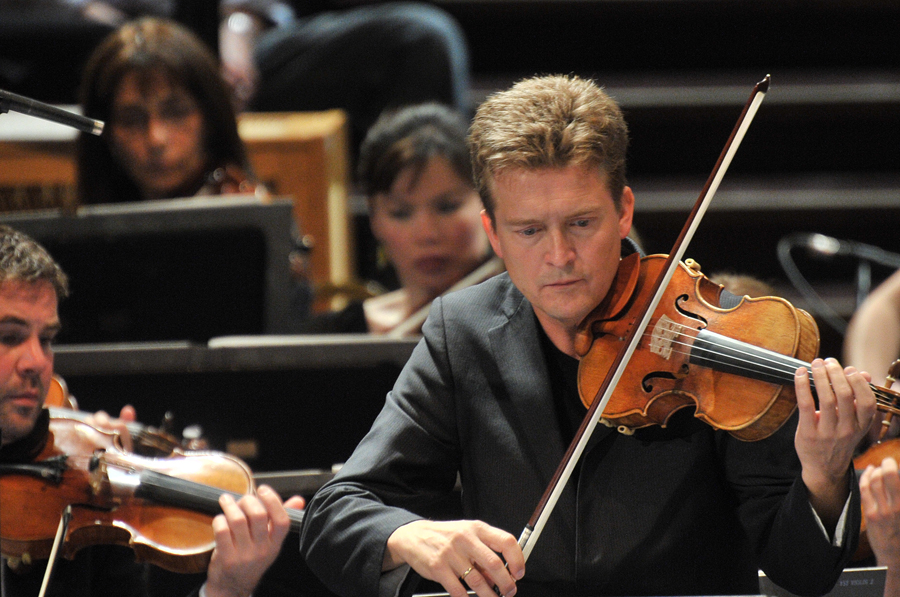 It wasn't so easy to latch on to anything so tangible in the Birtwistle concerto, premiered in Boston earlier this year and receiving its first UK performance. In the last of his Proms appearances this season, dedicated Christian Tetzlaff (pictured right) worked his bow hard in endless, intonation-perfect double-stopping; despite a softer grained fabric than is usual with this composer – and a violin concerto positively demands it - there were the familiar punctuating shrieks from wind and brass, the sporadic clatter of the usual tongs and bones, a hint of dance-rhapsody.
Two novelties leapt out: Tetzlaff's lilting duets with cellist Susan Monks and bassoonist Julie Price, and the final two minutes of dissolve in which the DayGlo dinosaur, having lumbered back and forth, sinks quiescently into extinction. Otherwise, what remains strong is Birtwistle's sense of luminous texturing; for ideas and moods worth revisiting, though, the concertos of younger composers – Larcher, MacMillan, Widmann – surely repay much closer and constant attention.
With the Holst, the many children around me could at last rise from their semi-recumbent torpor and imitate the action of the timpani and side-drum players. Who were splendid indeed in Mars, the Bringer of War. I wondered at first if this sober sabre-rattler would ever truly rise to the majesty of death the field marshal; but Robertson had one climactic trick up his sleeve when the full armoury is suddenly unleashed, sheer heart attack.
There was pure end-of-the-pier comedy in Hicks's deliciously vulgar organ glissando at the end of Holst's Uranus
His Planets otherwise remained cleanly manoeuvred but slightly remote, glassy orbs in an unfeeling universe rather than astrological personifications of intense human emotions. That proved fatal in a deadening Jupiter, not so bad in the slow burn of Saturn's old age, trailing a far from senile battery of audience coughs and one alarming conclusive thud from the back of the arena; I only hope someone didn't enact the rather powerful message of this always curious outsider.
Once you'd given up on any hope of truly vivid characterisation, there was still much to enjoy from discreetly tintinnabulating harps and celesta (the wonderful Elizabeth Burley), and a moment of pure end-of-the-pier comedy in Malcolm Hicks's deliciously vulgar organ glissando at the end of Uranus. No, not a mighty Wurlitzer cue for "I do like to be beside the seaside" but a "beam me up, Scotty" prelude to the outer reaches of Neptune, the Mystic, mercifully following without a break for what had become tiring inter-movement applause. Here the ladies, though more discreet than their orchestral counterpoints, didn't quite fade into infinity but still provided a remote class act in the shape of Stephen Layton's Holst Singers. Not a bad experience, I'm sure, for the many young first-time Prommers who seemed to have turned out in force. Let's hope there's a knock-on effect throughout the BBCSO's enterprising 2011-12 season.
Share this article