Mixed Up North, Wilton's Music Hall |

reviews, news & interviews
Mixed Up North, Wilton's Music Hall
Mixed Up North, Wilton's Music Hall
Verbatim drama in search of a good story
Saturday, 14 November 2009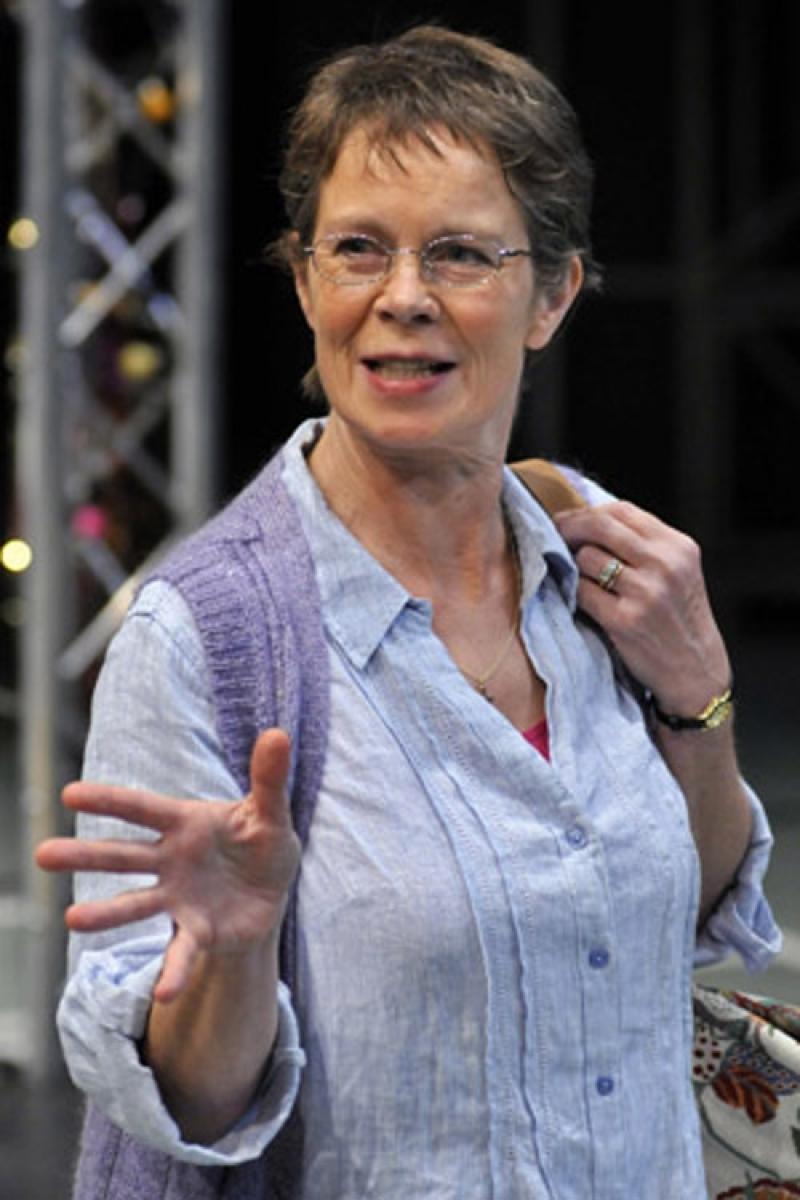 Busy doing good: Celia Imrie as Trish
At first glance, verbatim theatre is a total bore. This form of drama, which collects the words spoken by real individuals and puts them into the mouths of actors, has been a central plank of the rebirth of political theatre since 9/11, but its pleasures tend to be cerebral rather than visceral, moral rather than physical. Attending a verbatim theatre event - such as Out Of Joint's latest show, Mixed Up North - usually makes you feel good as a citizen rather than as a person.
You feel worthy, but don't usually have much fun.
Written by Robin Soans, Mixed Up North (which finishes its nationwide tour at Wilton's Music Hall in East London) is based on extensive research in Burnley, Lancashire. It's a post-industrial town split, often on racial lines, into segregated communities. Curious to see what happened to the place after the much-publicised riots of 2001, Soans went there on several occasions in 2007 and 2008. After interviewing lots of local people, from youngsters to community workers and even BNP supporters, he has edited his material to tell the story of how Trish - a fiftysomething Christian youth-worker - comes to the town to set up a theatre group which aims to bring teens from all backgrounds together. But when her lead actor throws a wobbler and walks out, she decides to hold a public discussion about mixed-race relationships.
This is a play in desperate search of a story
The evening begins with Trish welcoming us to her world, offering the audience cakes and biscuits, and introducing us to its deftly drawn characters. These include Bella, the pregnant director, Jen the community worker, and trainees such as the mesmerizing Uday or the gobby Aneesa, with the bright teens represented by Javed, Maureen, Wendy and Kylie. In verbatim-veteran Max Stafford-Clark's engaging production, there's certainly a riot of issues, from arranged marriages in the Asian community to mixed relationships - and Romeo and Juliet stories which usually end, like the original, badly.
During the public discussion in Act 2, a conflict flares up between a county officer and a community worker about the effectiveness of local government intervention. Some issues remain explosive, such as the grooming by older Asian men of underage white teenage girls, because it's these kind of situations that have been exploited by racist trouble-makers. But, like other Out Of Joint verbatim shows, the painful issues are leavened by humour and the evening ends with a cheerful dance number, a glorious parody of Bollywood performed by the whole mixed-race cast.
Although this is guaranteed to send you out of the theatre on a high, it can't quite distract you from the fact that this is a play in desperate search of a story. Although each of the characters tell their individual stories, and these are moving, fascinating and often funny, there is no dynamic to the overall event. So although Mixed Up North avoids the pitfall of being a verbatim drama stuffed with men in suits, it is certainly – as one throwaway line limply acknowledges – preaching to the converted.
The large cast is a mix of experienced actors, led by the ever-reliable Celia Imrie in radiant form as Trish, with Muzz Khan as Uday and Stephanie Street as Aneesa, along with recent LAMDA graduates such as Kathryn O'Reilly (Bella), Lisa Kerr (Kylie), Rose Leslie (Wendy) and Claire Rafferty (Maureen). Yet despite the enjoyable performances, the show has a static format, and is informative rather than dramatic. Certainly, it does no favours to verbatim drama's reputation as worthy but dull.

The painful issues are leavened by humour and the evening ends with a cheerful dance number
Explore topics
Share this article