Antiviral |

reviews, news & interviews
Antiviral
Antiviral
Like father, like son: body-horror meets Hello! in Brandon Cronenberg's debut
Syd March (Caleb Landry Jones) gets high on his own celebrity supply
Body-horror proves a viable family business with Brandon Cronenberg's writing-directing debut, a chilly, queasy successor to dad David's best work. Cronenberg Sr.'s Videodrome (1983) – which caught its era's potential for bootleg, endemic visual sex and violence and the interdependence of people and screens – is a decent comparison to Brandon's Antiviral, which pushes our obsession with celebrity to satiric extremes.
We follow Syd March (Caleb Landry Jones) in his work at the Lucas Clinic, where celebrity's diseases are stored and fans pay to be infected, sometimes serious sickness a small price to pay for this riskily intimate connection to fame. Syd's unhealthy skin matches the clinic's antiseptic white, made worse by his sideline infecting himself with stars' sicknesses. He carries this contraband from the clinic in his blood-stream for black market sale. But when it's announced that celeb of the moment Hannah Geist (Sarah Gadon, from David Cronenberg's Cosmopolis and A Dangerous Method, pictured on the walls below) has died of the illness Syd's injected, he descends from the clinic's cold purity into a dirty back-street world. There Malcolm McDowell, giving Cronenberg his cult imprimatur as he ponders "something in the human soul that can be appropriated", isn't the worst man he meets.
Cronenberg was inspired by a flu fever-dream in which he considered how his infection entered him from strangers' bodies, and he's concerned with physicality as much as celebrity. The camera keeps so uncomfortably close you can see Syd's pupils expand. Needles pierce skin, an alarm rings gratingly loud, and Syd's gaunt, pallid body reminds us of our mortality like a plague victim. It's in the merging of fame and the physical that Cronenberg teases out his most potent ideas. A literal celebrity meat market sells soulless cell-steaks farmed from the famous, their colourless human fungus carved from kebab-spits. As 24-hour entertainment news ticks on ("She was in China, looking at orphans"), a celebrity's arsehole becomes a tote-bag design. Henrietta Lacks' real cancerous cells, still alive and used for medical research 62 years since her death, are mentioned, as a character realises "the afterlife is getting seriously perverse". Cronenberg's dialogue – "celebrities are not people, they're group hallucinations" – matches his imagery's conceptual wit.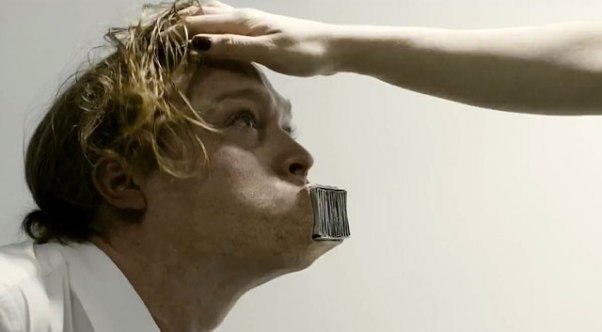 Horror eventually overtakes science-fiction (a possible nightmare is pictured right). Syd becomes a hunched night-stalker with a zombie lurch, a pale vampire creeping towards a sleeping actress's bed. An image where blood is sucked from the vaginal wound in a corpse's arm is fully worthy of pere David who, drawn to higher things these days, can be comforted his genre franchise is in safe hands. Antiviral's cool hermetic completeness, everything serving its strikingly presented though undisturbing ideas, may put some off as much as its blackly bloody, alarming imagery. But it takes nerve to announce yourself with the sort of film cynics will expect. Brandon Cronenberg lives up to his name.
Watch the trailer for Antiviral
An image where blood is sucked from the vaginal wound in a corpse's arm is fully worthy of pere David
rating
Share this article