Total Immersion: George Crumb, Barbican |

reviews, news & interviews
Total Immersion: George Crumb, Barbican
Total Immersion: George Crumb, Barbican
The American octogenarian's wacky spirituality works best on a smaller scale
Saturday, 05 December 2009
Crumb with one of his largest scores in 1967
To summon spirits from the vasty deep is the ambition of too many overloaded contemporary scores. George Crumb is better than most at getting those spirits to come when he calls, yet even he touches the transcendental more surely the fewer instruments he engages. That, at least, seemed the conclusion to draw from the latest of the BBC Symphony Orchestra's perilous but admirable "Total Immersion" days exposing a curious audience to the style of one composer, and here giving us the chance to compare the grandiose and the intimate. If the intimate won hands down, that's no reason to berate the full orchestra's well-placed ability to marshal its cohorts.
The players apparently had a marvellous time during the rehearsal period, captivated by the 80-year old composer's wry, easy presence and his willingness to adapt the score if it wasn't working. The wisdom you will find distilled in last weekend's George Crumb interview on theartsdesk comes wrapped in a deep west Virginian burr, hardly compromised by a heavy cold in yesterday afternoon's talk. Although fellow composer Stephen Montague didn't ask him the burning question, Crumb must have found an ideal of sorts in the soloist and chamber forces who held us in thrall during the first, lunchtime concert.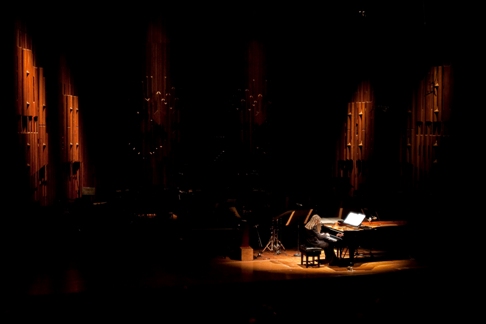 That great communicator of the rich and strange Joanna MacGregor (pictured above by Simon Jay Price) hypnotised with piano phrases on the threshold of audibility, playing with the silence but also summoning bells for the "Little Suite" based on Giotto's Paduan Nativity frescoes and thunder to dog the zodiacal framework of Crumb's first Makrokosmos volume. The sudden emergence of a Chopin quotation, poetically stitched by MacGregor into the moorings of the penultimate Makrokosmos piece, "Dream Images (Love-Death Music)", was emblematic of Crumb's uncanny instinct for opening out towards a sense of the sublime just before resolution or dissolution.
He dares even more in Ancient Voices of Children, perhaps the most celebrated of his many Lorca settings. Here it's the great "farewell" of Mahler's Song of the Earth which the oboist of the chamber ensemble invokes as Lorca's ghost-child turns out to be a symbol of lost innocence sought and regained by the wandering poet. There were bound to be comparisons here with the bewitching conclusion of a late-night Prom earlier this year, but under Richard Baker's expert guidance the students of the Guildhall New Music Ensemble gave a performance of surpassing beauty complemented by the child-voice - clever treble Louis Watkins, previously prevented from participating in the ungodly-hour Prom - and the poise of Anna Patalong, a lyric soprano surely destined for great things (second Total Immersion day photograph below by Simon Jay Price).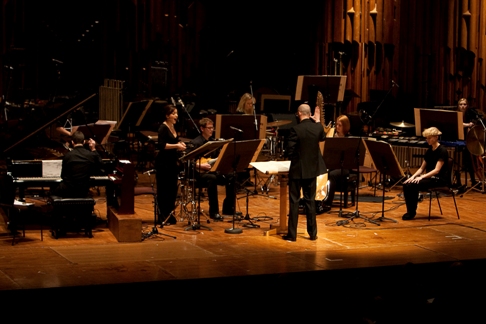 The element of theatricality, present in MacGregor's vocalisations and engagement with the intestines of her piano as well as the stage moves of soprano, treble and oboist, rockets in the handful of big orchestral works presented in the evening concert. Their rigour and focus were in no way matched by Montague's foyer performance piece Lux in tenebras, though that ticked all the right boxes and the right spirit in terms of community involvement.
All credit to the BBC Symphony musicians for gamely processing through the terrain of clock-free space in Echoes of Time and the River, even if acting out easy marching-band mode may not be their natural element. In fact it was difficult not to imagine that a comic or two among the brass might break into a Monty Python strut. Purely as music, though, this felt like a more externalised rite than the earlier revelations.
A Haunted Landscape, composed 17 years later in 1984 for the New York Philharmonic, suggested film-score territory (Crumb turned down the proposal to write the music for The Exorcist). It creates its own images, though, of places on earth where mystery rules, and Crumb successfully emulates one of his models, Varèse, in signposting the way over the double basses' immutable earth with a clutch of strong ideas as well as shifts of colour. Conductor Martyn Brabbins fought against formless impressionism, too, with a characteristically strong sense of underlying rhythmic purpose.
Still, we hadn't quite had our vision by the time the big number everyone had been waiting for, Star-Child, finally hit the hall with a little help from the hard-working stage management. Another first-rate but this time more established soprano, Claudia Barainsky, set the doomy tone against slow-moving string chords with a "Libera me'" uncannily echoed by the orchestra's world-class principal trombone, Helen Vollam. Taut percussion tattoos against wild flailings, the seven trumpets of the apocalypse playing heroically well above the textbook range of the instrument from the gallery and the earnest choristers of the Trinity Boys Choir knocked us sideways and led us upwards towards eternal light.
More enduring than faddish 1970s new-ageism, Crumb's vast canvas engaged us with its ideas but left this soul, at any rate, unstirred in a way that Schnittke's supernova of a Third Symphony last week had not. Yes, there's spirituality in the old sage's many-layered rituals, but his four-conductor-led symphony of several hundred doesn't necessarily represent his most successful way of putting it across. Let's now hear more of Crumb's big-thinking, small-scale gems.
Two of the works in the BBC Symphony Orchestra's evening concert along with A Little Suite for Christmas AD 1979 are scheduled for broadcast on Radio 3 on Friday 18 December at 7pm. Ancient Voices of Children and Makrokosmos Volume One can be heard on Saturday 26 December at 10.30pm.
Explore topics
Share this article
Subscribe to theartsdesk.com
Thank you for continuing to read our work on theartsdesk.com. For unlimited access to every article in its entirety, including our archive of more than 10,000 pieces, we're asking for £3.95 per month or £30 per year. We feel it's a very good deal, and hope you do too.
To take an annual subscription now simply click here.
And if you're looking for that extra gift for a friend or family member, why not treat them to a theartsdesk.com gift subscription?